The year 2022 has been full of many surprises for Pakistanis, our fellow trailblazers represented Pakistan nationally and globally and conquered new heights, some faced their worst fears and came out victorious, while others explored ventures.
To bring this year to an end while keeping these milestones in mind, WOW360 has compiled its annual list of trailblazers who have paved the way for future generations by contributing to their homeland.
Pakistan has always been labelled as a country that limits women, but these remarkable ladies have proven otherwise. Be it the weather, society, or tough luck, they have gone against all odds to prove that they deserve to be here and that there is still a long way to go.
Without further ado, here are the WOW360 Trailblazers of 2022:
Art
Ayesha Kamal
Based in Lahore, Kamal is an Islamic calligrapher widely recognized for her work. Recently, her work was displayed at the  'Contemporary Art of Pakistan' at The National Library of Belarus. She has been painting beautiful canvases, filling them with colour, energy, and much more for 10 years. According to Kamal, she tries to emphasise the message of the Holy Quran through her art as she believes that the soul is connected to calligraphy whether one can understand what is written or not.
Shahzia Sikander
Pakistani-American artist Shahzia Sikander recently won the Fukuoka Arts Award and is based in New York with a background in B.F.A. (1991) from the National College of Arts in Lahore, Pakistan. Shahzia Sikander's work is hanging on the walls of several galleries including the Sean Kelly Gallery. She is an expert in pre-modern and classical Central and South-Asian miniature painting, also called neo-miniature.
Marium Agha
Recently, Agha's 'Hear Hear' won South Asia's biggest art prize –  the Sovereign Asian Art Prize in Hong Kong. Pakistani contemporary visual artist Marium Agha bagged this year's Public Vote Prize. Marium's art portrayed at the exhibit is rooted in the cultural importance of embroidery in Pakistan. She is an amazingly talented artist who has represented Pakistan and has made us very proud of her accomplishment.
Aviation
Huma Batool
Syeda Huma Batool is a Pakistani businesswoman and the owner, first female chairperson of Alvir Airways and the managing director of Vantage Laboratories. She has been awarded numerous recognitions and honorary awards in regard to her services for various causes. She is also a writer, and a poetess and has immense fondness for English, Persian and Punjabi mystic poets.
Business & Finance
Ayla Majid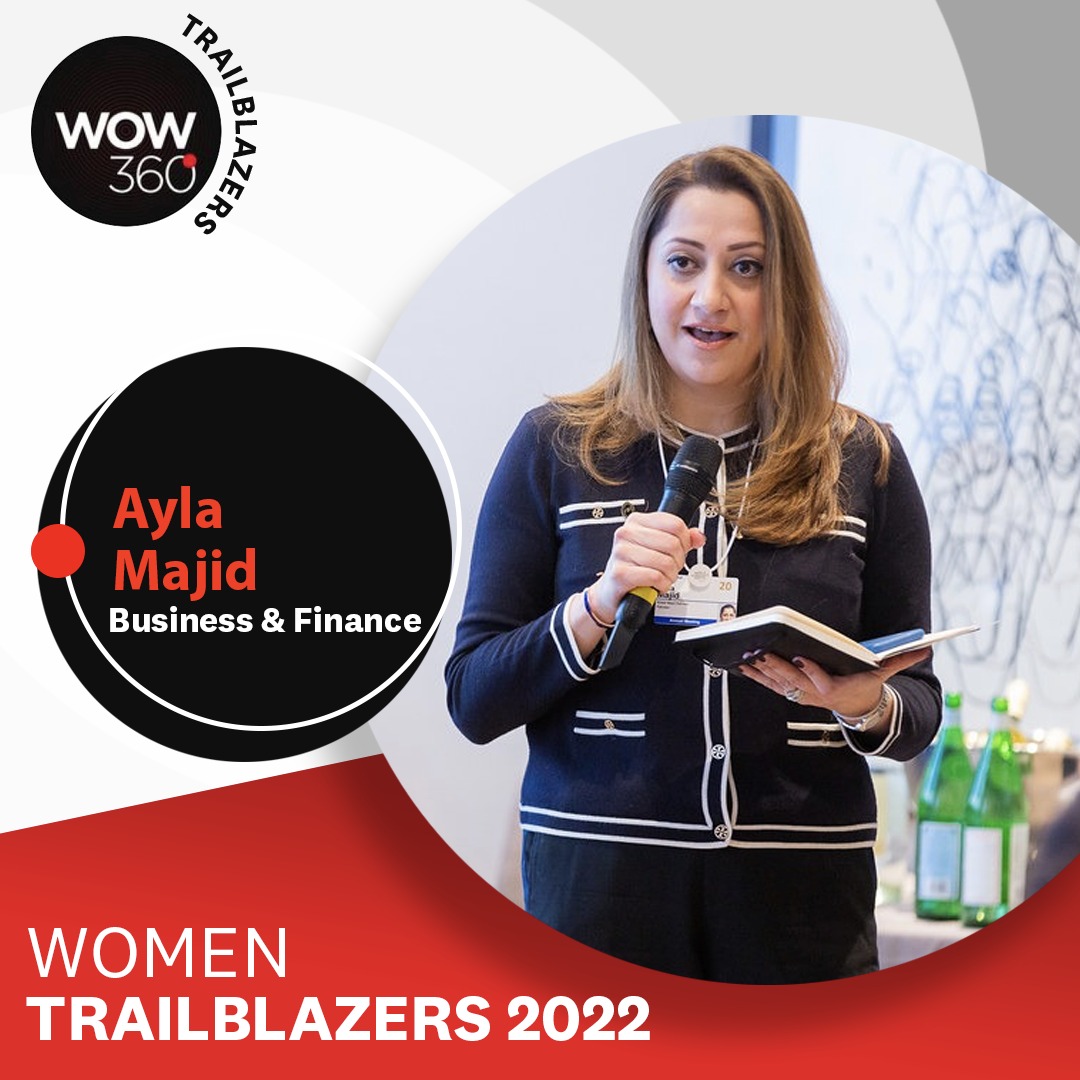 Pakistan's very own Ayla Majid is the first ever South Asian woman to become the Vice-President of the Association of Chartered Certified Accountants (ACCA). Majid was elected as the new Vice President after earlier serving as a member of the ACCA Global Council. Moreover, she was honoured as a Young Global Leader by World Economic Forum's (WEF) Global Future Council on Energy Transition.
Civil Servants (Law Enforcement)
Nosheen Kanwal
Kanwal is the first female SHO of the Railways Police Station in Lahore. She has received this honour under the policy of IG Railways to promote the participation of woman officers in the field posting, as per SP Railways Maaz Zafar. It is brave and competent officers like Kanwal who pave way for women in the police force and show the world that they are no less than their male counterparts.
ADC Nowshera Qurat Al-Ain Wazir
ADC Nowshera Qurat Al-Ain Wazir received massive praise on social media for showing quick thinking and making logical decisions that helped save many lives during the Pakistan Floods. She timely evacuated residents with the help of her dedicated team and went door-to-door in an attempt to rescue families. Her efforts along with her team are what helped keep the loss of life and damages at a minimum during the emergency.
Ayesha Zehri
Zehri also made waves by becoming the first female Deputy Commissioner of Baluchistan, Naseerabad. Previously, Zehri was performing her duties as the Assistant Commissioner Mach Bolan. As per reports, this posting has come straight from the directives of Chief Minister Mir Quddus Bizenjo.
Just hours before this major announcement, Prime Minister Shehbaz Sharif applauded her for her effective role in supporting the flood-affected people in Mach Bolan. He clapped for her in recognition of her contribution to the countrymen in their time of need.
Manisha Ropeta
Manisha Ropeta, a 26-year-old from Jacobabad broke stereotypes, and her success has been an inspiration to women across the board. She is the first Hindu deputy superintendent of police (DSP) of Sindh with distinctions in the public service examination. After her success, her sister has already started following her steps to join the police force and serve her country. We hope that everyone would recognize her exemplary conduct, performance, and outstanding performance.
Sobia Khanum
This year, Balochistan appointed its first female SHO – Sobia Khanam. Khanum was appointed by Abdul Khaliq Sheikh as an officer-in-charge at the Cantt Police Station in Quetta. The IGP, on this occasion, stated that women officers were performing their duties with professionalism. Moreover, the Balochistan Government inaugurated the province's first women's police station in March of this year.
Dr. Anoosh Masood
Dr. Anoosh Masood Chaudhry made history by becoming the first female to be appointed as SSP Operations Lahore. She has served in Lahore as SP in Cantonment and Model Town police divisions, besides serving as an assistant superintendent (ASP). After doing MBBS first, she became a doctor, and then she took the CSS exam. After clearing the CSS, she became the first female ASP of Khyber Pakhtunkhwa.
Syeda Uzma Shah
Syeda Uzma Shah is the first ever woman to have been pointed as the district food controller of Mansehra, KPK. Ms Shah who previously holds the title of first-ever female assistant commissioner in the province in 2015, says that she has worked hard to prove that women can work as hard as if not better than men.
Culinary Arts
Hina Shoaib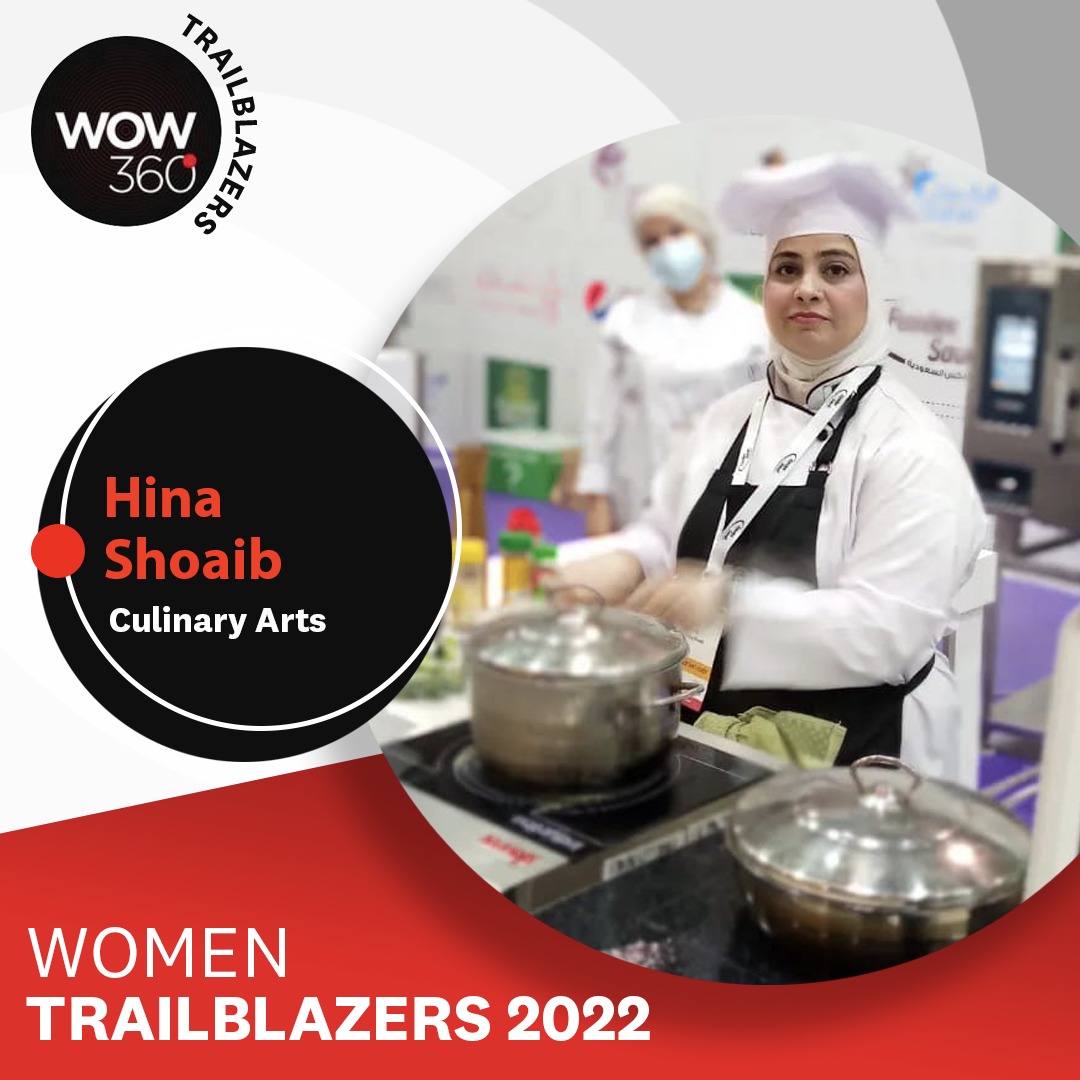 Hina Shoaib has created history as the first-ever female chef from Pakistan to win the honour of winning 3rd place at the Jeddah International Chef Competition. Shoaib represented Pakistan at the international competition and showed her culinary skills. Her meals left a positive impression on the judges and she secured her way to the top 3.
Engineering
Amna Baig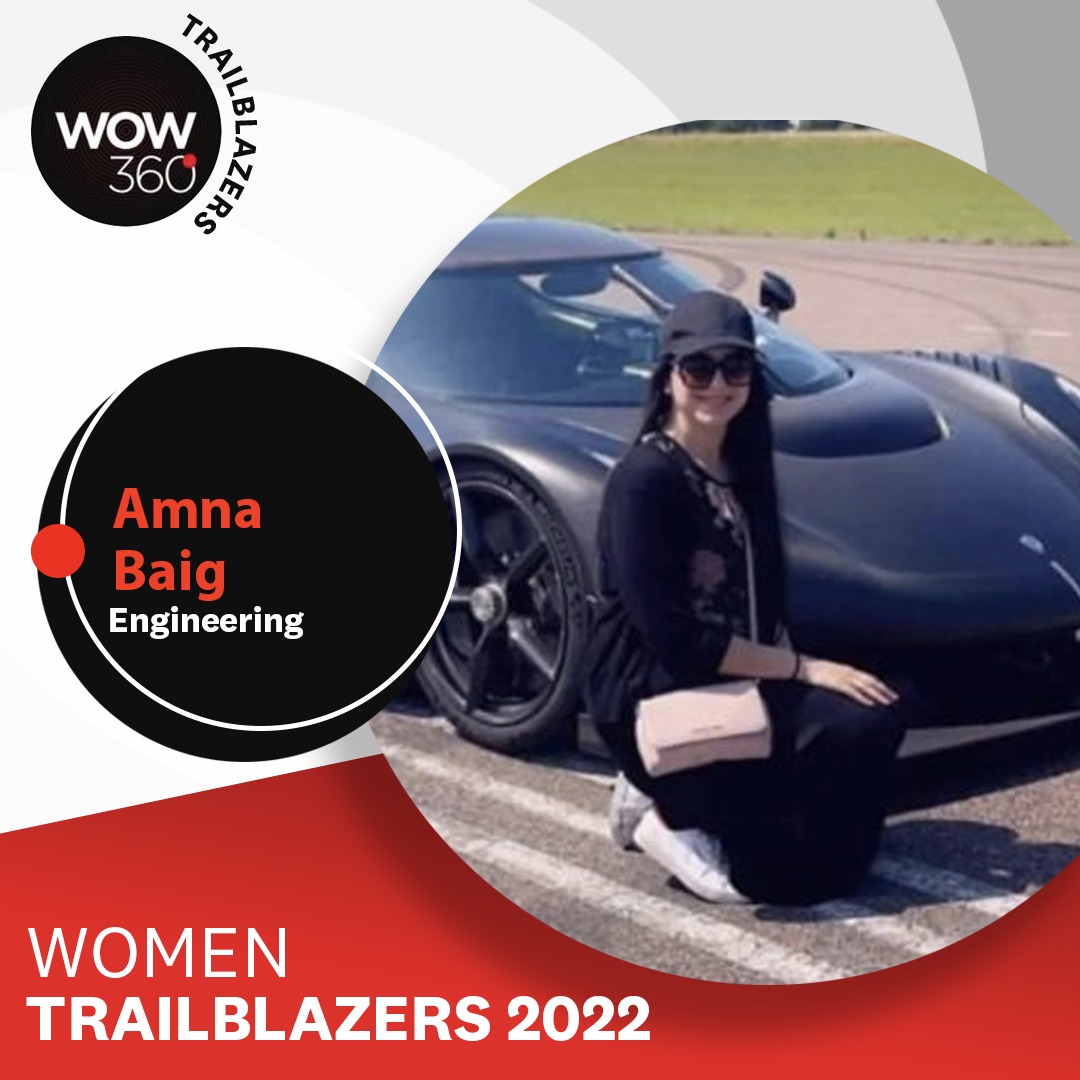 Amna Mustabeen Baig is the first Pakistani woman to join Koenigsegg Automotives as a Manufacturing Engineer. Previously, Farukh Kamran, a graduate of UET became a part of the Swedish hypercar brand. Koenigsegg Automotive AB is a Swedish manufacturer of high-performance sports cars based in Sweden and is famous for manufacturing the world's fastest car priced at around $3 million.
Film & Entertainment Industry
Mehwish Hayat
Hayat is one of the most well-known names in the industry and across Pakistan, and now, she is also a celebrated Marvel Studio icon as well. Mehwish Hayat starred with Fawad Khan in Ms. Marvel, the first-ever Pakistani superhero in the Marvel Universe. She acting has received praise from fans here and across the borders. Hayat has significantly contributed to Pakistan's entertainment industry with hits like Punjab Nahi Jaungi, Load Wedding, and many more.
Sarwat Gillani
Sarwat Gillani has made waves with her outstanding performances in the globally-acclaimed movie Joyland, along with Qatil Haseenaon ke Naam, Churails, and many more. She has represented Pakistan through her projects on international projects and has proved to be a versatile actor who can play any role you throw her way.
Nimra Bucha
Nimra Bucha starred in Ms Marvel alongside Mehwish Hayat and Sarwat Gillani in Churails. She was also in Sarmad Khoosat's Kamli starring Saba Qamar. Bucha has appeared in a variety of TV serials, films, and web series and has also worked in theatre. Shy has not shied away from playing powerful and stereotypical roles on screen.
Pakistani Women Including Mehwish Hayat & Nimra Bucha Dazzle the Red Carpet at Sharmeen Obaid's Ms Marvel Premiere
Mahira Khan
The Humsafar famed diva is one of the biggest national and international names in Pakistan. Khan has had the pleasure of working with megastars from Humayun Saeed to Fawad Khan, Shah Rukh Khan to Fahad Mustafa. She has made some of the biggest names in the global entertainment industry such as Hrithik Roshan and Ranveer Kapoor her fan.
Mahira's 'The Legend of Maula Jatt' is Pakistan's first biggest hit to cross Rs. 100 crore club. In 2018 she made it to Cannes, was named ambassador for UN Human Commission, has dominated the Sexiest Asian Women's List, and has many more features to her cap.
Sharmeen Obaid-Chinoy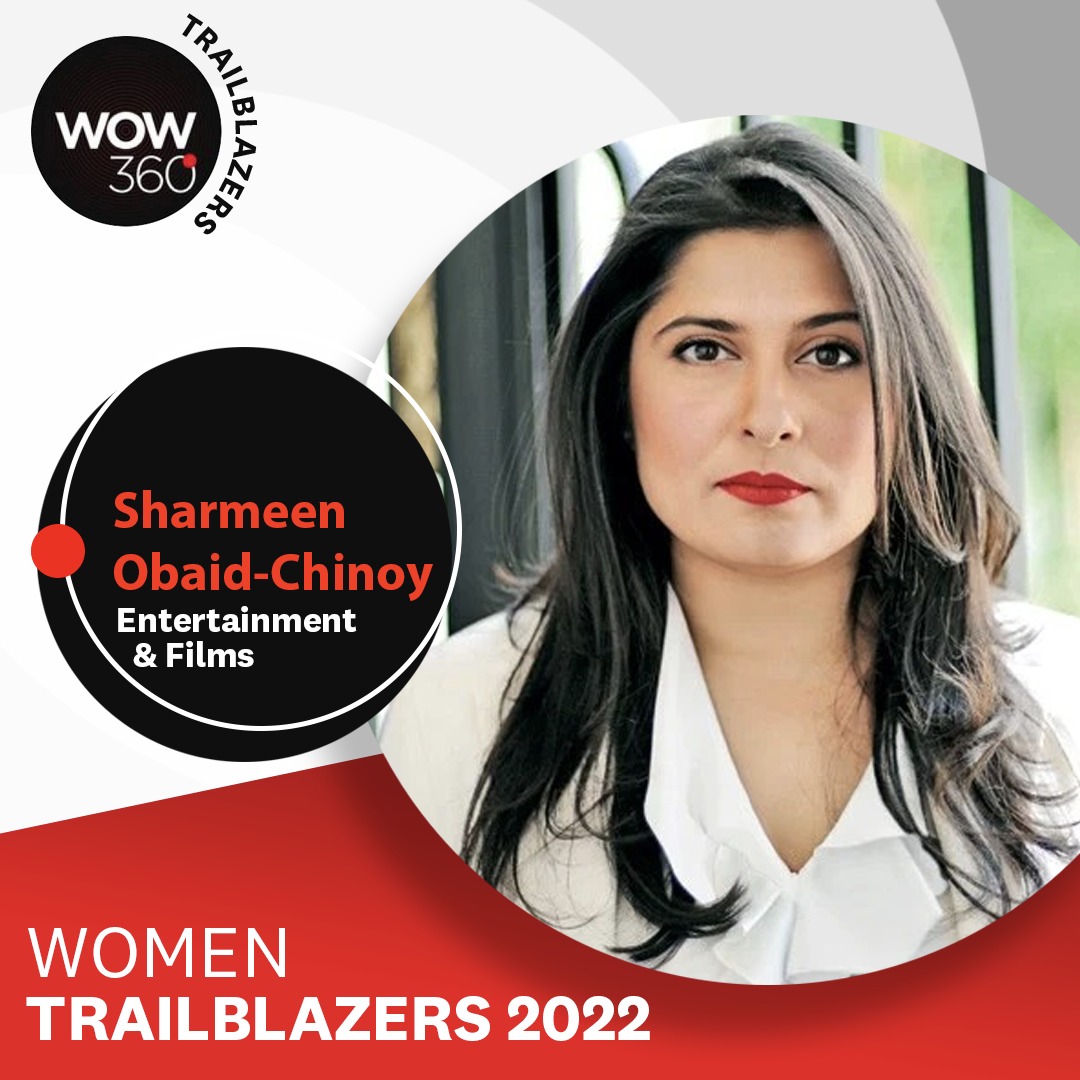 Two-time Academy Award-winning director Sharmeen Obaid-Chinoy has director episodes 4 & 5 of the Ms Marvel series for Disney+. She is the first Pakistani filmmaker to introduce the first Pakistani female superhero from the Marvel universe. Ms  Marvel's depiction of Pakistan and South Asian history is rooted in authenticity and is devoid of stereotypes.
Ms Marvel's 'Time and Again' Picked by Hollywood Reporter TV Critics as one of the Best Episodes of 2022
Healthcare
Dr Tasnim Ahsan
Dr. Tasnim Ahsan became the first Endocrinologist from the country to be awarded the Endocrine Society's prestigious Laureate Award 2023. The award celebrates the success of endocrine researchers and clinicians worldwide, and Pakistan's Dr Ahsan is one of them. She is also Professor Emerita at the Jinnah Postgraduate Medical Centre and the founding dean of the Medicell Institute of Diabetes Endocrinology & Metabolism in Karachi.
She established two new sub-specialities in the Department of Medicine at JPMC i.e, Endocrinology and Rheumatology and was a member of the Pakistan Medical Research Council Advisory Board on Medicine and served as the Dean, of Faculty of Endocrinology at the College of Physicians & Surgeons.
Rozina Karmaliani
Dr. Rozina Karmaliani is the first Pakistani nurse to be inducted as a Fellow of the American Academy of Nursing (AAN), effective from October 29, 2022, in Washington, DC. Karmaliani is the Dean of the Aga Khan University School of Nursing and Midwifery (AKU-SONAM).
Moreover, she is the first alumna dean to have been associated with the Aga Khan University for nearly 3 decades serving the institution in various leadership, research and academic capacities. Besides Pakistan, she has worked for the development and promotion of higher education in nursing in East Africa, Afghanistan, Syria and Egypt.
Dr. Mahwish Sharif
Dr. Mahwish Sharif is the First Doctor in Balochistan with a Hearing Impairment. At the age of 4, Sharif lost her hearing due to sensorineural hearing loss (SNHL) due to eardrum damage. She overcame years of prejudice by finishing medical school and being appointed at the only health facility in the provincial capital Quetta for respiratory and viral diseases, Fatima Jinnah Chest Hospital, as a doctor.
Dr Kashmala Amjad Malik
Dr Kashmala Amjad Malik is Pakistan's first woman surgical oncologist. As per Dr Kashmala's LinkedIn profile, she is based in Lahore District, Punjab, Pakistan but hails from Khyber Pakhtunkhwa's provincial capital of Peshawar. Malik is also an alumnus of Agha Khan University. At AKU, she completed her education in General Surgery. She passed the second fellowship examination in Surgical Oncology from Shaukat Khanum Memorial Hospital (Accredited by CPSP) in Lahore.
I.T
Jehan Ara
Jehan Ara is a Pakistani businesswoman who was the President of P@SHA for over 20 years. She resigned at the end of April 2021 to start Katalyst Labs a startup accelerator and women's leadership program. She also headed the Nest i/o a startup incubator supported by Google and Samsung.
She is known as the Queen of the IT sector in Pakistan and has helped countless startups reach massive heights over the years. Jehan Ara is a passionate, dedicated, kind-hearted community leader and motivator. She is a symbol of success and determination for Pakistani women who wish to set into the world of technology. She has received the Pride of Pakistan award for her contributions by President Arif Alvi.
WOW360 Throwback: 20 Competent Pakistani Women Who Received Civil Awards in 2022
Nida Farid
Nida Farid is a graduate of Aerospace Engineering from the Massachusetts Institute of Technology (MIT) and a Master in Mechanical Engineering from ETHZurich, Switzerland. She is a Pride of Pakistan recipient and has proved that with hard work and dedication, women can conquer the world. Nida has made an immense contribution to the field of aerospace engineering since her graduation.
Maria Umar
Maria Umar is the Founder and President of the Women's Digital League – a social enterprise founded in 2009 with the aim to provide digital literacy training and work to Pakistani women. Since then, Umar has been working for the economic empowerment of women. She has been featured on renowned platforms for her work including Forbes, Mashable, CNBC, and more. Maria is also serving as the Project Manager for WomenX, a World Bank-supported training program for women in business.
Journalism
Bina Shah
Distinguished writer and journalist Bina Shah was presented the Chevalier de l'Ordre des Arts et des Letters by the  Ambassador of France to Pakistan, Nicolas Galey earlier this year. Mr Galey highlighted note-worthy compliments of Shah and shared that she returned to Pakistan after acquiring her higher education in the US.
Since then, she has contributed a tremendous amount because of her passion for literature. She has published no less than two collections of short stories and five novels, among which there's the bestseller Slum Child published in 2011 and A Season for Martyrs in 2014.
Her written work on major social issues has highlighted not only the need for improvement but also highlighted the beauty of the country on its own. Bina Shah is an advocate for girl education and women's rights as well. She has spoken out loud for the support for the millions of women and their families that have been displaced by the recent floods as well.
Law & Order
Justice Ayesha Malik
Justice Ayesha Malik created history when she was sworn in as a supreme court judge. She became the first Pakistani woman to receive this honour, despite the fact that her nomination was intensely opposed by lawyers. She has now become the Supreme Court judge for the next 10 years (till 2031) and will become Chief Justice of Pakistan (CJP) after the retirement of Justice Yahya Afridi in January 2030.
Zahrah Vayani
Barrister Zahrah Sehr Vayani is the first female from Pakistan to be elected at Lincoln's Inn. Vayani runs her own law firm – Zahra S. Vayani & Associates, she practices (not limited to) employment, family, property, human rights, criminal, banking and intellectual property law. Moreover, Vayani is also the founding member and CEO of the Women Lawyers Association.
Sana Khurshid
Sana Khurshid took to Twitter in 2021 to talk about her journey, the accident, and the title of becoming Pakistan's first specially-abled lawyer. A car accident in 2002 left Sana Khurshid paralyzed from the neck down. Moreover, Khurshid lost her sister in a horrible accident. It took a number of months for her to fight against infections, ventilators, tubes, and all sorts of emergency situations before she became stable.
Music
Eva B
Eva B is a Pakistani hip-hop rapper and singer. She comes from a Baloch family, and writes and sings in Balochi and Urdu. Eva B became the first Balochi artist to be featured at Times Square and has represented Pakistan on an international level. She made waves when she made her Coke Studio debut with Kaifi Khalil and Abdul Wahab Bugti in the popular Balochi track titled 'Kanna Yari'. The Balochi rapper is also known for her signature style of keeping her face veiled while donning cultural attire.
Arooj Aftab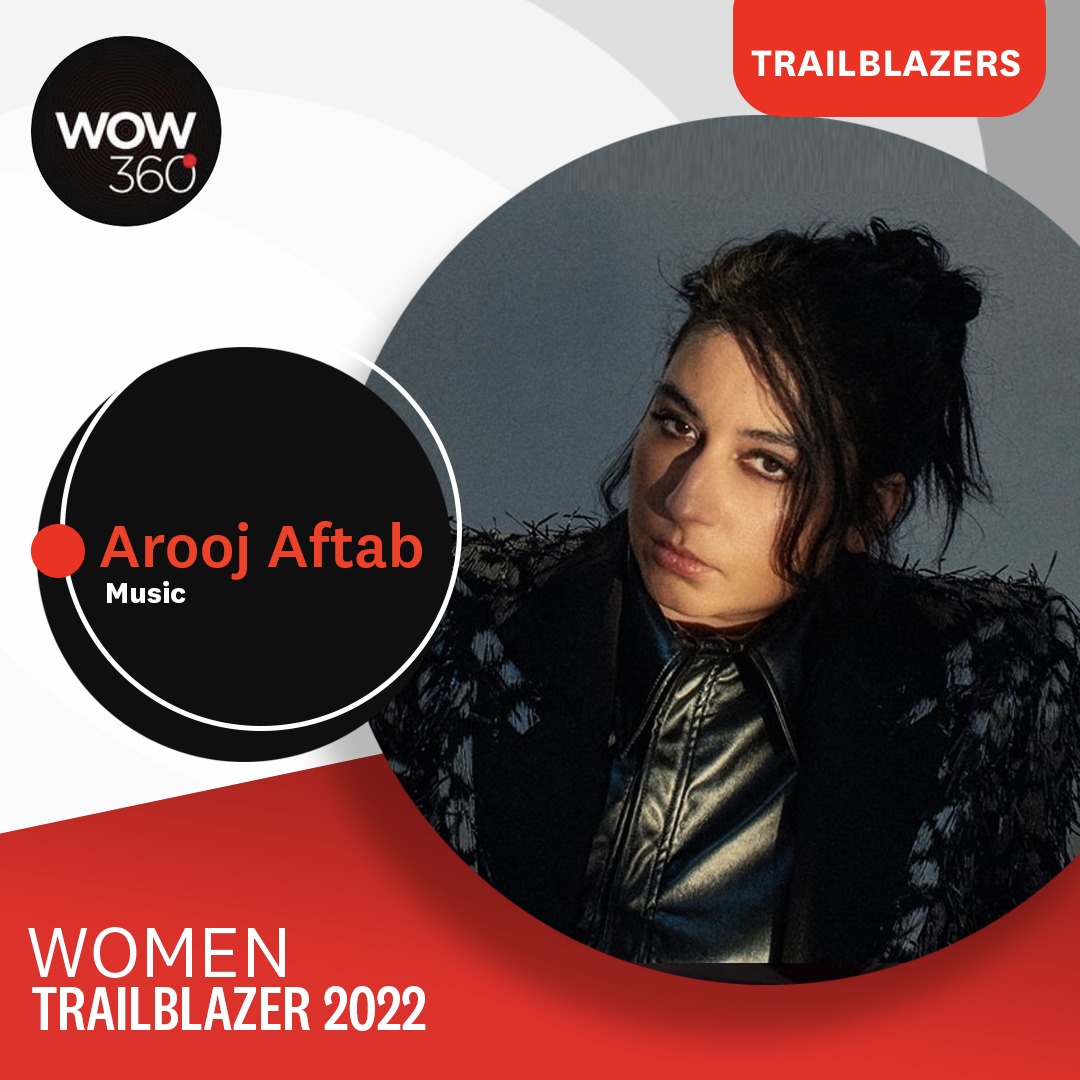 Pakistani singer, composer, and producer Arooj Aftab has made us proud by becoming the first-ever Pakistani artist to bring home a Grammy. Aftab was also featured in Times Square and also is the first Pakistani artist to perform at Coachella, a music festival in California. Moreover, the crooner has been nominated for the Grammys for the second year in a row for her song 'Udhero Na' with Anoushka Shankar in the Best Global Music Performance category.
It's Sad That it Took a Grammy for My Music to be Worthwhile: Arooj Aftab
Shae Gill
Shae Gill aka the Pasoori Girl rocked the nation with her Coke Studio hit. Not only was Pasoori at #1 in Pakistan, but the song also made its way across borders and around the world and was loved by hundreds of thousands of fans including a rendition by the famous Arijit Singh. So much so, Pasoori became the most streamed Pakistani song of 2022. Gill is also a Spotify EQUAL ambassador and has been featured on Times Square. She has been dubbed the  "Dua Lipa of Pakistan" and we can't wait to hear what else she has in store for us.
Politics
First Lady Begum Samina Arif Alvi
First Lady Begum Samina Arif Alvi is more than the President's wife, she is a gem of a person who has been contributing towards women's empowerment by contributing to the healthcare sector of Pakistan. She has constantly stressed bringing change in the mental approach towards differently-abled persons in society and promoting their inclusion, acceptability and accessibility in all walks of life.
Hina Rabbani Khar
Hina Rabbani Khar is a Pakistani politician, who is serving as the Minister of State for Foreign Affairs since 19 April 2022. She was previously appointed in July 2011 as the Foreign Minister of Pakistan at the age of 33, she was the youngest person and the first woman to have held the position. Khar recently made headlines after she was sent to conduct dialogue with the Taliban on behalf of Pakistan.
Sherry Rehman
Rehman has been speaking out loud for the world to hear about Pakistan's suffering due to climate change. The Federal Minister for Climate Change was also named of the Financial Times' '25 most influential women of 2022'. The first minister of Scotland, Nicola Sturgeon wrote Sherry Rehman's profile. In her words, Sturgeon called Rehman a "negotiator with grit", and praised her powerful communication skills. Moreover, Rehman represented Pakistan amongst global leaders at COP27.
Senator Fatima Payman
Fatima Payman created history by becoming the first Hijabi woman elected as a senator in Australia. The 27-year-old gave her first-ever speech, and won several hearts around the globe and on the internet! In her speech, Payman encouraged young Muslim women who live in Australia and even around the world to embrace the Hijab as their identity, and to wear it with pride.
Social Activism
Azima Dhanjee
Being a child of a deaf adult, Azima Dhanjee grew up with the realization that it is very difficult for parents with special needs to communicate with their children, let alone with other people. In an attempt to make life easier for them and other Pakistanis who faced the same problem, she founded ConnectHear the largest Deaf accessibility service provider in South Asia with a major focus on technology.
Since then, her efforts have been recognized on national and international platforms. Azima has received the Diana Award, also with several other recognitions, and is invited to global events to talk about her journey and how she has been empowering thousands of individuals through her platform.
Hani Baloch
Belonging to Lyari, Karachi, Hani Baloch is a human rights activist and trainer of fundamental basic rights. She was an appointed researcher at the Sindh Commission on the status of women in the Government of Sindh. She takes a keen interest in sports and is Vice-Chairperson at Jafa Girls Football Academy Lyari. Hani is passionate about women's empowerment and believes that the nexus of change will come from collective behavioural awareness in men.
Tanzila Khan
Tanzila Khan has become Pakistan's pride, she is the first-ever recipient of the Prince's Trust International Amal Clooney Women's Empowerment Award, sponsored by Charlotte Tilbury. Khan is making a difference for young girls in Pakistan by breaking stereotypes. No matter how many challenges she had to face along the way, Khan has defied all odds and has left us in awe.
Exclusive: Amal Clooney Women's Empowerment Award Winner Tanzila Khan Makes Major Announcements
Sarah Ahmad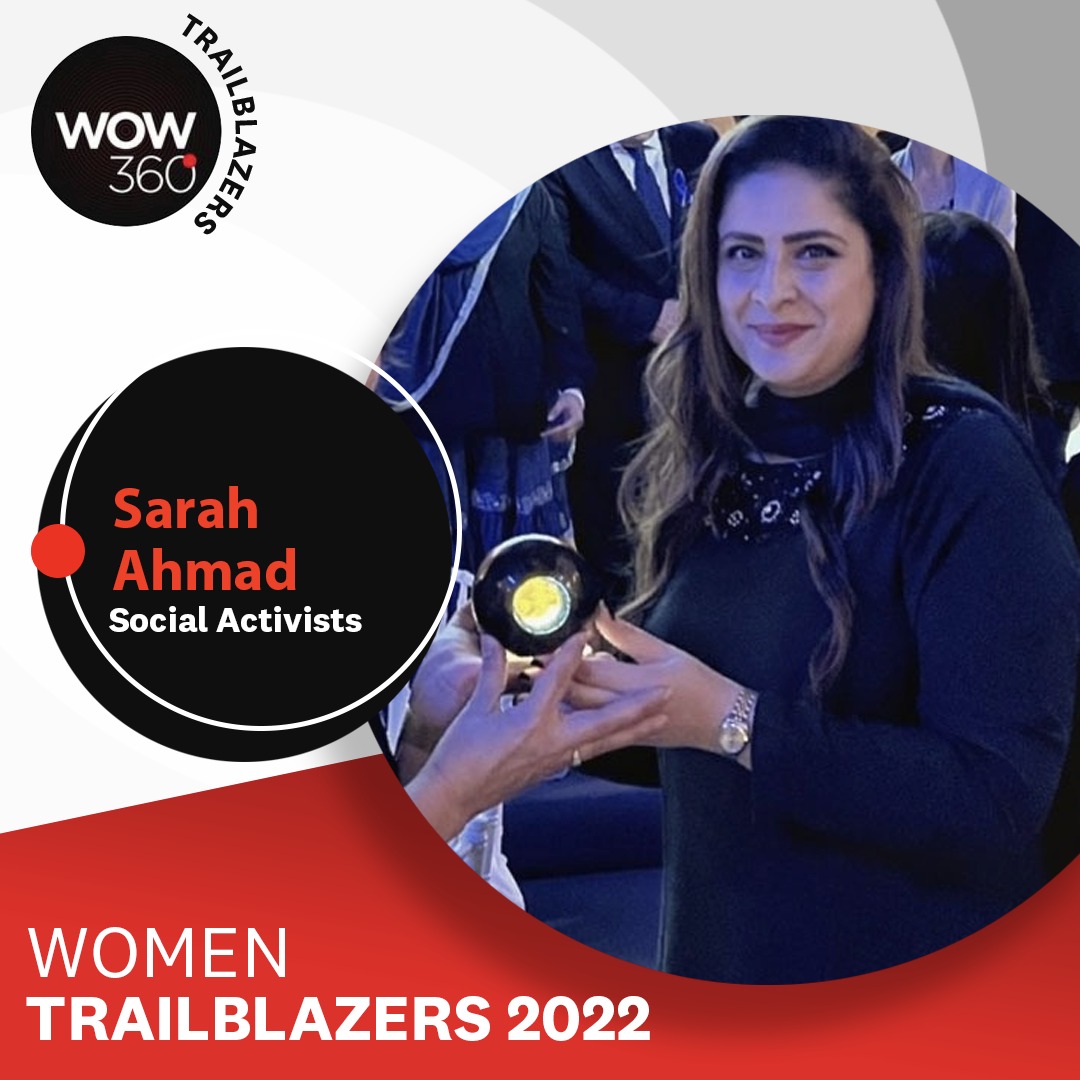 Sarah Ahmad recently won the Heros Gala by Global Collaborative in Rome, Italy for services in preventing kids' exploitation. This is a great honour for Pakistan, as Sarah gets recognized for her services to Children's Safety and Welfare. Ahmad is the Chairperson of the Child Protection & Welfare Bureau (CPB). The CPB chairperson said receiving the award was an honour for her and for Pakistan as well. She said that she had dedicated the Award to all children of Pakistan.
Sports
Bismah Maroof
The Pakistani cricketer and mother of a gorgeous baby girl has widely contributed to the sports industry. Maroof has made significant contributions from the green team's end which has often taken her team down the path of victory. The left-handed batter is also the leading runs scorer in One Day International cricket for Pakistan, scoring 3,017 runs in 117 innings at an average of 30.17, including 18 half-centuries.
Anita Karim
Karim is Pakistan's first female MMA fighter who has proudly represented the country in multiple national and international competitions. She made headlines recently after her marvellous knock-out against her Australian counterpart. Moreover, Anita is the only female Pakistani MMA fighter to have fought, let alone win at the world-famous Lumpinee Stadium.
Here's How Pakistan's First Female MMA Athlete Anita Karim is Making Us Proud!
Naila Kiani
Naila Kiani is a Dubai-based Pakistani banker, amateur boxer, rock climber, and mountaineer. Just a couple of months ago, Kiani became the first Pakistani woman to scale 3 peaks over 8,000 meters. She is also the second Pakistani woman to climb K2, and the first female Pakistani mountaineer to climb the world's 13th-highest mountain, Gasherbrum II.
Samar Khan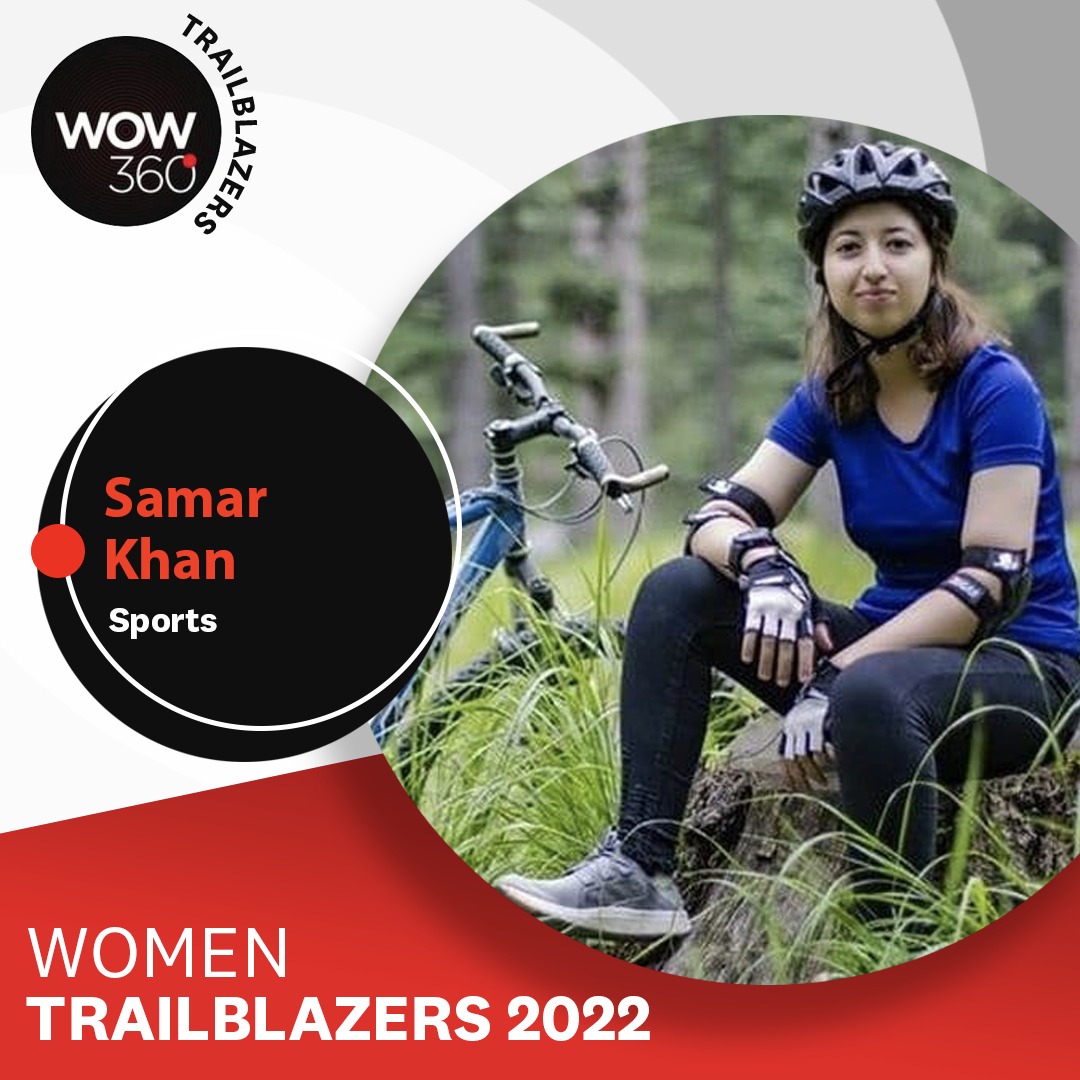 Samar Khan recently became the first-ever person and only female athlete to summit and snowboard on a virgin peak (5,610 meters). In honour of her achievement, the peak has been named 'Ghar-e-Samar'. Moreover, Khan has also successfully conducted the first-ever cycling camp in the history of Landikotal-Khyber. More than 15 girls experienced the joy of cycling because of her initiative.
Haniya Minhas
At the mere age of 11, Haniya Minhas has accomplished something not many people can at her age or even in adulthood.  Minhas created history by defeating Tunisia in her final group match to become the first Pakistani to be ranked in the Top 3 Asian Tennis Sports. Moreover, she won the ''Europe Singles Under 14 Adana Cup Turkey Championship' that took place in Turkey earlier this year.
Fatima Sana
Pakistani pacer Fatima Sana became the International Cricket Council's (ICC) "Women's Emerging Cricketer of the Year for 2021". She also became the first woman to win an ICC accolade by achieving the title. The ICC issued a statement on the occasion saying that Sana has "shown good power and range as a lower-order batter too. Batting at No.8, she has registered impressive scores of 28*, 22*, and 17* against strong sides like West Indies, South Africa, and Zimbabwe, respectively."
Abiha Haider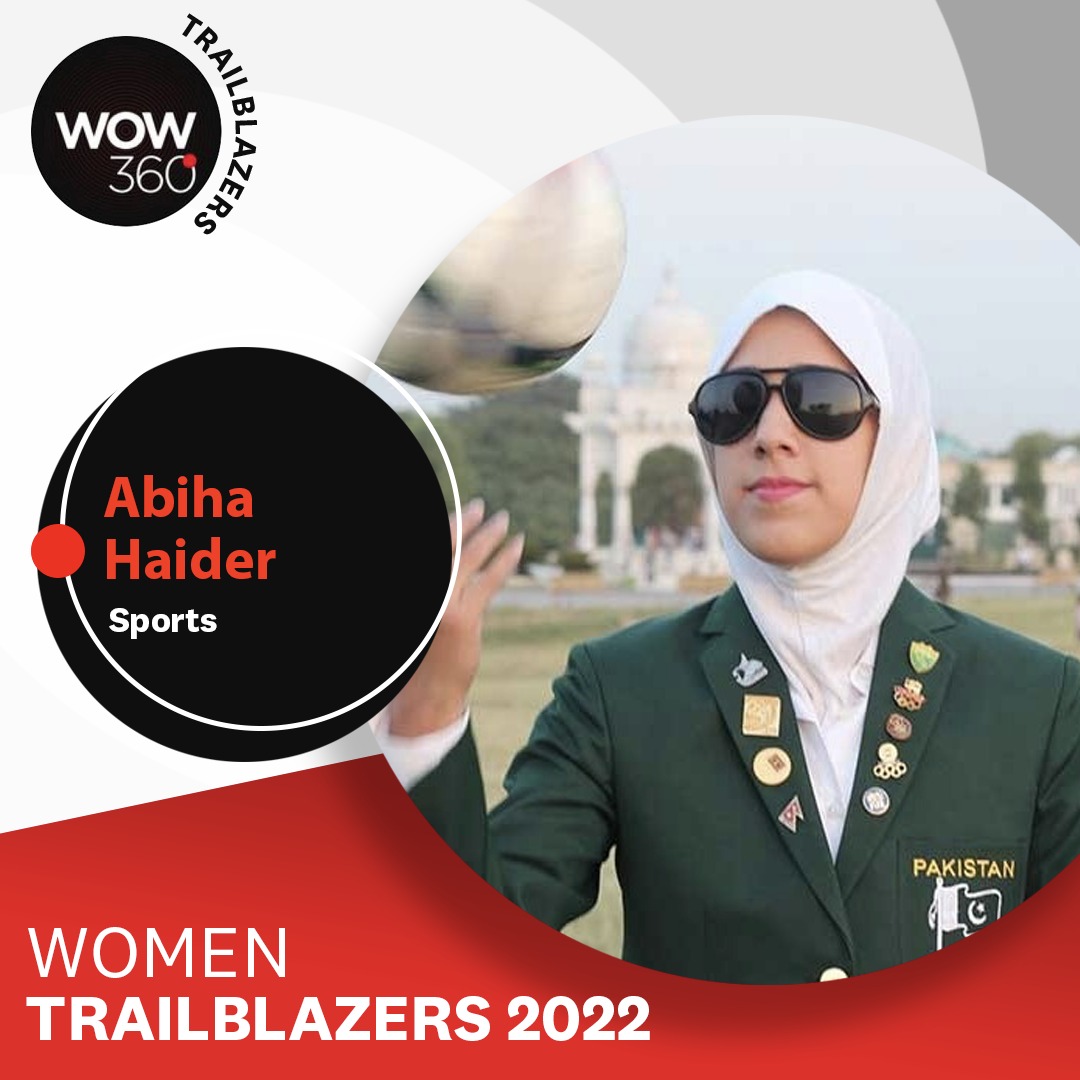 Abiha Haider is Pakistan's youngest female footballer to be featured in FIFA's female heroes documentary. At the mere age of 13, Abiha joined the national team Pakistan. She followed her passion despite the obstacles in her path due to the lack of opportunities for women in sports in Pakistan. At the age of 14, she was invited to the Sports United Exchange program. Quickly she garnered fame for herself with her outstanding performance and dedication.
Transgender Activists
Alina Khan
Alina Khan is a Pakistani transgender actress mostly known for her debut film Darling and her feature film Joyland 2022. From Lahore, Khan faced societal discrimination due to being transgender, but she never let this come in her way. Her movie Joyland received global recognition and clenched a number of awards including the Jury Prize – Un Certain Regard, Golden Pram for Best Feature Film, and Fathy Farag Prize for Best Artistic Contribution, among many more.
'My own brother would lock me outside the house' Trans Actor Alina Khan
Dr Mehrub Awan Moiz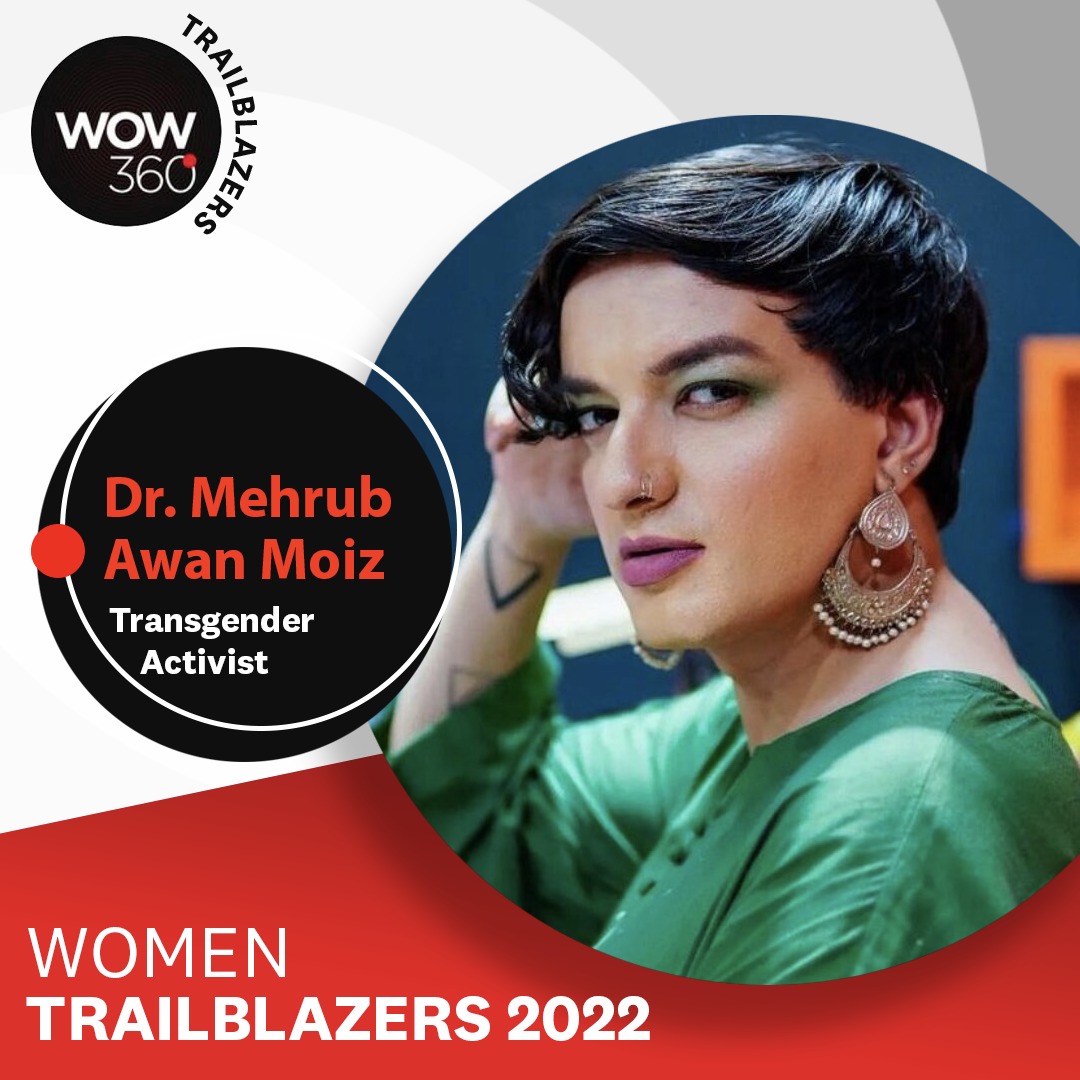 Trans activist and popular social media influencer Mehrub Moiz is a prominent face of the trans community as a leading activist. A researcher, and policy specialist by profession, she has never shied away from speaking her mind out on social media. She has always spoken for the members of the Khawajasira community, has been vocal about women's rights, and has raised awareness about transphobia.
Bubbli Malik
Bubbli Malik is a prominent transgender activist and a guru (traditional elder) of her community in Rawalpindi. She is also a Master Trainer who has been a part of #UNDPinPakistan's capacity-building initiatives. She has been working for transgender rights and empowerment for many years. Moreover, she created history by becoming the first-ever trans individual to become a spokesperson at the National Assembly.
We'd like to give a round of applause for all these amazing women who have carved their names in history. These women are heroes and deserve to be widely celebrated and recognised.
Stay tuned to WOW360.