The year 2022 has been a rollercoaster for celebrities, their families and loved ones. We saw beautiful couples drift away, some relationships come to an end, and some happy beginnings as well.
Although fans have been in shock about learning about their fav power couple drifting away, they have started to also understand that this is life and sometimes things don't work out the way we expect them to.
So let's have a look at the couples who married, divorced, and separated in 2022:
1. Aamir Liaquat and Syeda Tuba – Divorced
Before the untimely demise of Pakistan's well-known host and personality Aamir Liaquat, he and his ex-wife Tuba were facing some problems in their relationship. Tuba and Aamir tied the knot in 2018 and their marriage lasted for a few years. Anwar posted on Instagram on February 9th to share the news with her followers.
"With a heavy heart I want to make people aware of a development in my life," she said. "My close family and friends are aware that after a separation of 14 months, it was evident that there was no hope for reconciliation in sight and I had to opt to take khula from the court."I cannot express how difficult it has been but I trust Allah and His plans," she added. "I would appeal to everyone that my decision is respected during these testing times."
2. Aima Baig and Shehbaz Shigri – Engagement Ended
In September 2022, crooner Aima Baig announced that she and her beau Shehbaz Shigri are no longer together, and have mutually decided to end their engagement. This news came as a shock to both of their fans, later on, the story of Aima's affair made rounds on social media. Reportedly, the two were together since 2019 and officially announced their relationship after getting engaged in July 2021.
3. Sajal Ali and Ahad Raza Mir – Divorced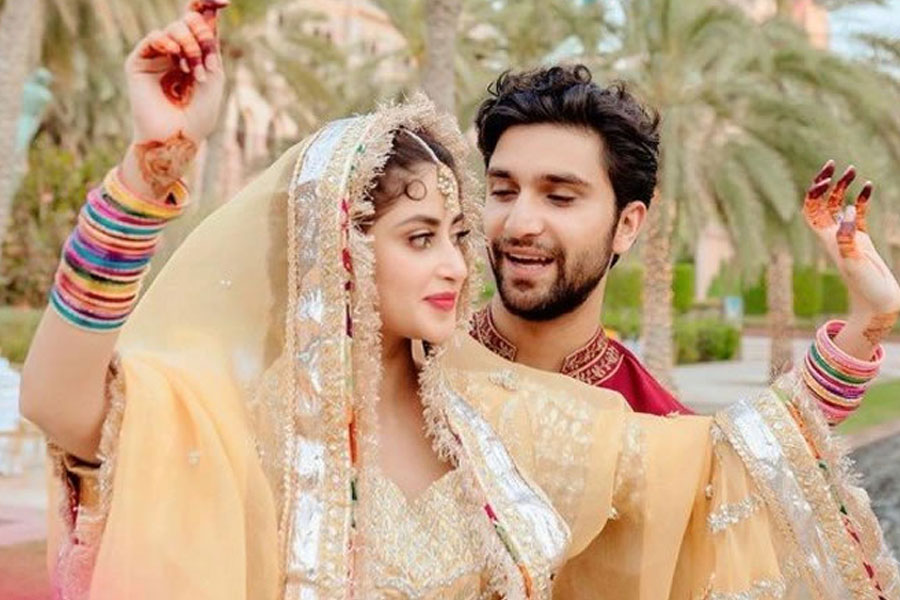 Sajal Aly and Ahad Raza Mir are now legally divorced as reported by senior journalist Amna Isani. The Yaqeen Ka Safar pair parted ways after 2 years of marriage. Rumours of separation had emerged when Ahad skipped Sajal's younger sister, Saboor Aly's wedding in Karachi and attended a wedding in Dubai instead. Moreover, Sajal changed her name from Sajal Ahad Mire back to Sajal Aly on Instagram, hinting that the two are no longer together.
4. Feroze Khan and Aliza Sultan – Divorced
Feroze Khan and Aliza Sultan Khan got married in 2018 and have two children- a boy and a girl. On September 1st, 2022 Aliza announced that she and Feroze are parting ways citing domestic abuse as the reason. Aliza Sultan presented proof of domestic abuse and now the two are settling their children's custody in a legal court battle.
Syeda Aliza Talks About "Infidelity, blackmail, & degradation ' After Separating from Feroze Khan
5. Imran Ashraf and Kiran Ashfaq – Separation
Actor Imran Ashraf and his wife of 4 years, Kiran, have announced separation. The actor and Kiran took to social media and shared news of their parting ways. They took to social media and shared news of their parting ways.
"With a heavy heart, we announce that we have mutually and respectfully decided to part ways," their Instagram post read. "The primary concern for both of us will remain our son, Roham for whom we will continue to be the best possible parents."
6. Sana and Fakhar Jafri – Divorced
After spending 14 years together the beautiful couple has parted ways. Sana Fakhar took her Instagram and shared this news with fans. Sana Fakhar wrote "Breakups hurt. But sometimes breaking a relationship is so mandatory to save yourself to break so much.
7. Madiha Rizvi and Hasan Noman – Divorced
Actor Madiha Rizvi announced her separation from her husband Hasan Noman in a touching post last month on social media.
"With much gratitude for our time together, Hasan and I have amicably finalised our divorce. We've been working hard for well over a year, some of it together, some of it separated, to see what might have been possible between us. And the final conclusion is to part our ways for the best," she wrote.
8. Furqan Qureshi and Sabrina – Separation Speculations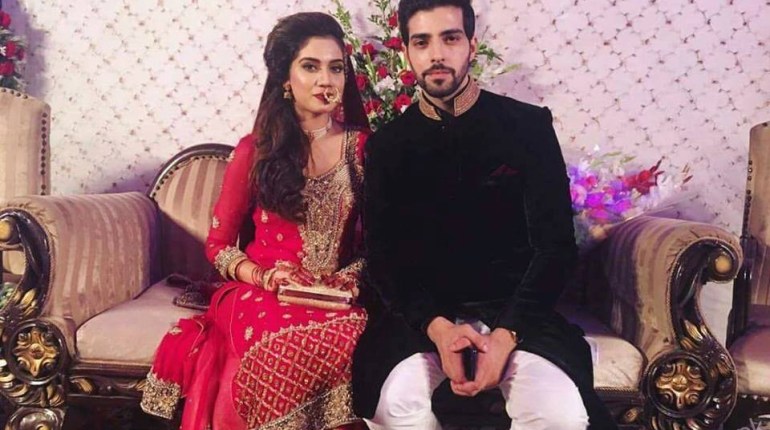 The Mere Paas Tum Ho actor married model Sabrina Naqvi in December 2016. Social media users are speculating that famous actor Furqan Qureshi and his wife are headed towards a split as both have unfollowed each other on Instagram.
9. Urwa Hocane & Farhan Saeed – Divorced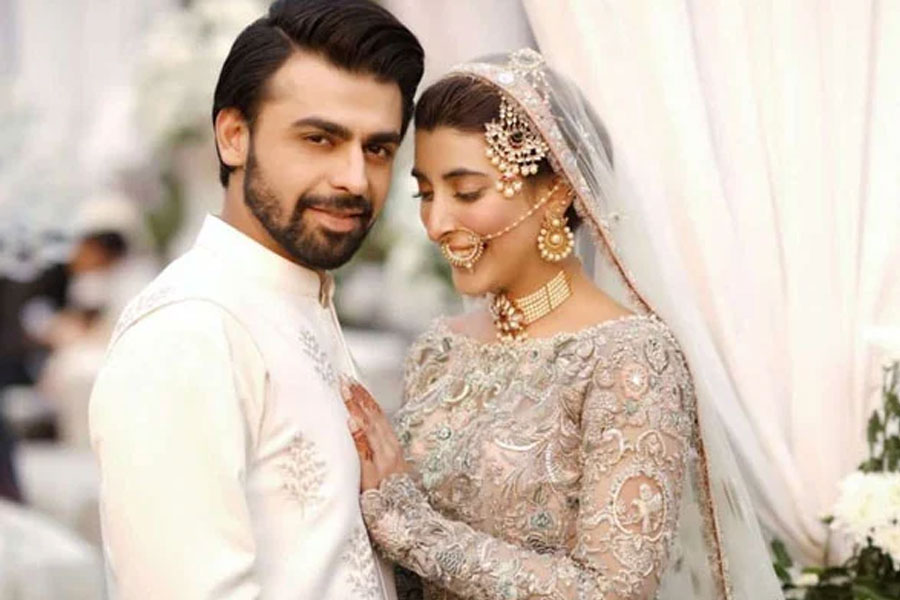 Urwa and Farhan's divorce has been making waves on social media for quite some time. Earlier,  Farhan Saeed confirmed that he and actress Urwa Hocane are no longer together. During an interview, Farhan revealed that Meri Shehzadi Diana is the ex-couples last project together and is unsure if he wants to work with her again. Urwa Hocane and Farhan Saeed tied the knot in December 2016.
Urwa Hocane's Character 'Dania' in 'Meri Shehzadi' is inspired by Princess Diana
10. Mariyam Nafees and Amaan Ahmed – Tied the Knot
Pakistani model-actress Mariyam Nafees tied the knot with fiance Amaan Ahmed in March 2022, during an intimate nikkah ceremony. She got engaged to her beau a year ago and in a daytime event on March 25, officially inked the nuptial bond to her happily ever after.
11. Saboor Aly and Ali Ansari – Tied the Knot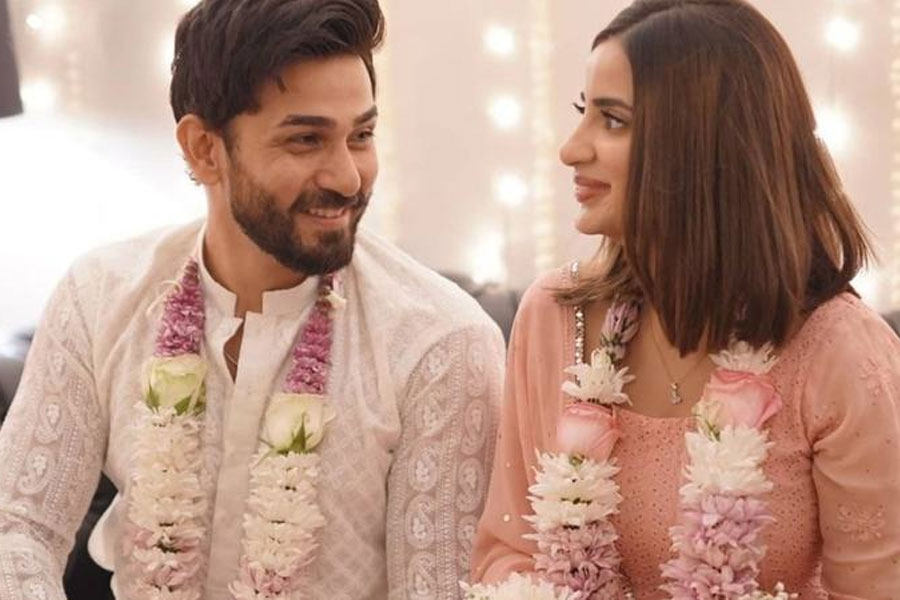 Saboor Aly and Ali Ansari tied the knot back in January 2022.  The lovebirds were joined by family and celebrity friends Friday afternoon for a day-light nikkah ceremony. Bridesmaids, including Kinza Hashmi, Aiman Khan, Zara Noor Abbas and Sadia Ghaffar also marked attendance on the auspicious occasion.
'I am the Shah Rukh, Salman Khan of Pakistan' Saboor Aly Opens Up About Working with Younger Male Co-Stars
12. Varisha Javed Khan and Azlan Shah – Tied the Knot
Pakistani YouTubers, Varisha Javed Khan and Azlan Shah, recently tied the knot in a dreamy ceremony. Shah surprised his bride with a baby donkey and the reason is quite heartwarming. Shah explained the reason behind his unique present. "I always knew that @warisha.jk loves baby Donkeys so here's a wedding gift to her from my side," he wrote. He further clarified that the donkey's child has not been separated from its mother, which is why he has brought her along.
13. Haris Rauf – To Tie the Knot (Speculated)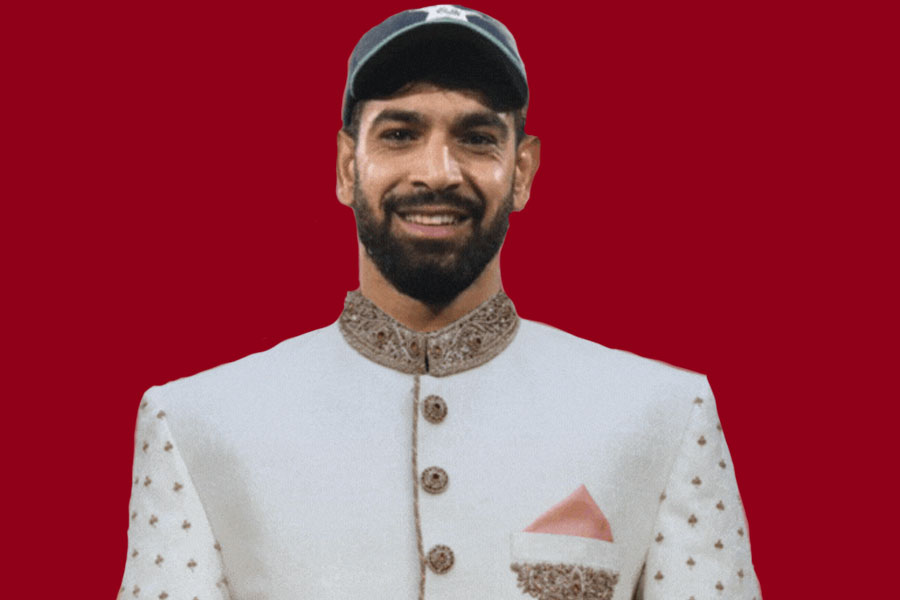 Rumours suggest Rauf is ready to tie the knot to a former classmate next week. Rauf is reportedly set to tie the knot in a nikah ceremony on December 24 while the actual wedding festivities such as the reception and valima will take place a year later. The name of his bride-to-be has not been revealed yet.
14. Shoaib Malik & Sania Mirza – Separation Speculations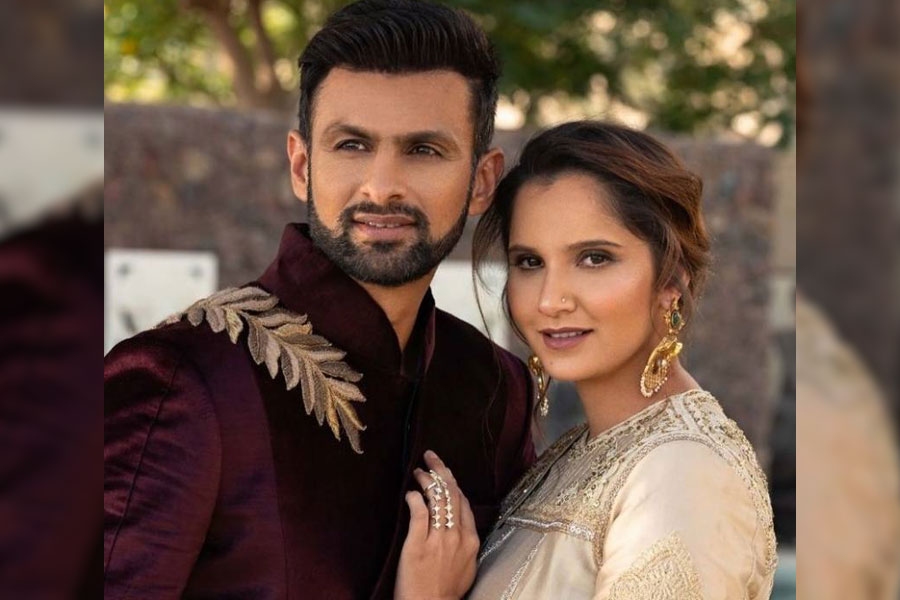 Rumours of Malik-Mirza separation have been spreading for some time now. While some said that it was a publicity stunt for their new show, others still think the couple has parted ways but are trying to keep the news hush-hush.
Have Shoaib Malik & Sania Mirza Separated? Netizens Think So!