News of Aima Baig and Shahbaz Shigri's engagement being called off was uncalled for.
No one had thought that the couple who often posted images of them having an amazing time with one another will eventually part ways.
Aima Baig consoled her fans who are still unable to process the news that it is true and that both of them are handling it well.
She wrote:
Yes, I will always respect this person for giving me a good time. Sometimes, shit happens and happens for a reason. And to answer all your questions, yes, we have parted ways. but we both are doing good and fine so don't worry. I wanted to do it in the most respectful way and so I did. People can choose their ways of expressing their feelings, which defines who they are from the inside. That's me, telling the truth to anyone wondering are they or are they not together? And the answer is Nope, I and Shahbaz are not together anymore. P.S no-more "feeling sorry texts" please! We are doing just fine. Music is life, let's see where it takes us..
Reportedly, the two have been together since 2019 and officially announced their relationship after getting engaged in July 2021.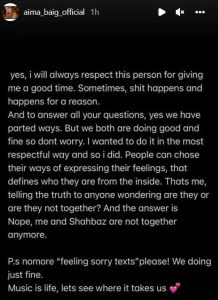 Reportedly, both Aima and Shahbaz had been MIA from social media for some time now. However, it was after they deleted their photos together off their social media accounts that fans started speculating that the two have parted ways.
We wish them all the very best for their future. Stay tuned to WOW360.