Top Pakistani actor Feroze Khan was accused of being a wife beater and abuser. Moreover, his ex-wife Syeda Aliza Sultan alleged that he would also put their children at risk at times.
Following her allegations, social media was divided into two, one group that continued to show their love and support for Khan and the other who supported his former wife.
Some of the supporters of Aliza Sultan have now been issued a legal notice of defamation from the actor. This also includes his former wife, who he says has a major hand in tarnishing his reputation.
Taking to Twitter, the Khaani actor shared, "Defamation legal notice has been served by my legal team to those for [sharing] false and baseless allegations."
– Defamation Legal Notice Has Been Served By My Legal Team To Those For False and Baseless Allegations.

Sincerely yours; FK

— Feroze Khan (@ferozekhaan) January 17, 2023
Feroze Khan Files Petition Against Aliza Sultan for Allegedly Submitting False Documents
Feroze Khan's lawyer has sent legal notices to a number of top actors as per the official documents. These include the following names:
 Syeda Aliza Sultan (Ex-Wife)
Musaddiq Malik (Director & Actor)
Sharmeen Obaid Chinoy (Director/Producer)
Asim Azhar (Singer)
Osman Khalid Butt (Actor)
Mira Sethi (Actress)
Minal Khan (Actress)
Aiman Khan (Actress)
Sarwat Gillani (Actress)
Yasir Hussain (Actor)
Farhan Saeed Butt (Actor & Producer)
Speaking to The Express Tribune, Khan's lawyer, Faique Ali Jagirani, shared:
The artists that have been served have made several false claims on social media – directly or indirectly – about Feroze Khan We have sent defamation legal notices to Feroze Khan's peers, giving them a chance to clarify their position on the accusations. Either bring forth proof to support your claim or apologise publicly.
Khan's legal representative further shared:
In today's age of social media, you can't just get away with anything you feel like. We have taken the legal steps to ensure that justice is swift. We have all the evidence against the aforementioned actors about their part in a malicious campaign against Feroze Khan on social media.
The legal notice addresses the defendants for making "false and defamatory statements on social media against their client, Feroze Khan without any proof or evidence."
The legal notice further read that the "baseless allegations were made for which no official FIR was launched, led to defamation and character assassination as a result of which my client is continuously suffering from the financial loss of approx Rs20 million and mental torture since September 21, 2022."
While the named personalities have yet to issue a statement, Sarwat Gillani's husband, Fahad Mirza took to social media to share his two cents. He wrote 'I don't like to get involved in nonsense, but @ferozekhan is really vengeful and stupid for adding the personal numbers of all these actors and making it public! After this knee-jerk response, he has really proven that he is a moron of the highest order and I am sure whatever his wife says about him, must be true!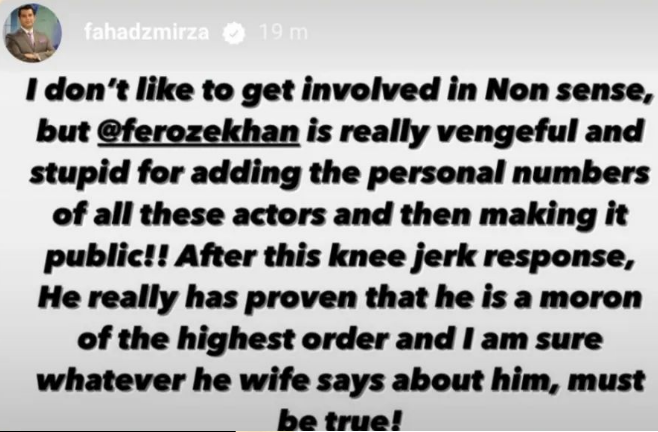 We have yet to see how these other individuals will respond to this legal notice.
Stay tuned to WOW360.
Dania Enwer Shares Horrible Experience of Working with Feroze Khan