In Pakistan, we sometimes come across TVCs/DVCs that are very similar to one another.  At time creatives at agencies have taken inspiration from either local or global ads but, in the process some cross the line and it seems as though the concept and execution is plagiarized. Frame to frame copy-paste is straight-up plagiarism and unethical. Creatives from an agency put their soul and hard work into creating these masterpieces for the world to acknowledge and appreciate and not for other agencies to copy.
In a recent case, we witnessed Deer Tea's latest Ad on digital and tv, and we saw certain similarities with another tea brand called the Commander Lajawab Tea produced by a reputable agency called the 'Golden Circle Advertising'. 
Watch Full TVC Commander Lajawab Tea Here:
Here's the Latest Ad by an Agency Called Expert Vision of which the Concept & Director is Yasir Aamir Sheikh.
Both Ads are made in Pakistan and feature a celebrity. The Commander Lajawab Tea TVC came out about 6 months ago featuring Alyzeh Gabol, while the Deer Tea has just released its latest ad a week ago featuring Hira Mani.
The storyline of both the Ads revolve around the same scenario where a housewife masters the art of preparing Karak chai with love and of course, a little bit of magic of their skills! We have spotted at least 9 shots from the latest Deer Tea Ad, similar to the Commander Lajawab Tea Ad. The similarity among the following shots is sinister and can't be ignored. So let's have a look:
In the Intro Shot, We See Both the Characters Seated on a Sofa Directly Talking to the Camera as the Ad begins
Face Close-Ups of the Celebrities While They Speak
Then Comes The Close Ups While the Characters Prepare Chai
Close of the Stove
Close-up of the Steaming Water in the Glass Kettle
The Close-Up Shot Showing the Product Before Being Added to Water
The Close-Up Shot of Chai Patti Being Added to the Kettle
Top Shot & Over the Shoulder Shot for the Perfect Cup of Chai
We See The Characters Sipping on Chai While Looking Satisfied With Their Hot Cuppa Tea
Ending with an Identical Closing Shot
Clearly, the concept writer wasn't inspired but plagiarized Commander Lajawab Tea's Ad right off the bat. After its official release, the Ad has been criticized online by many.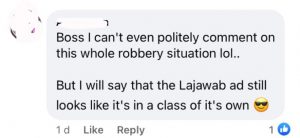 Have something to add? Let us know in the comment section below.
For more news and updates, stay tuned to Wow 360.