Pakistan has been recognized as a Global Leader for protecting the environment by tackling climate change and is honored to host the World Environment Day by the United Nations for 2021.
A documentary has been released on World Environment Day by the Prime Minister's Office that showcases women from local communities of Pakistan doing eco-friendly jobs under the 10 billion Tsunami Project
Watch the full documentary here:
With PM Imran Khan's vision for conserving nature, Pakistan will plant 10 billion trees under the Ten Billion Tree Tsunami Programme. This campaign is the largest-ever tree plantation drive in the history of Pakistan. Through its nature conservation efforts, Pakistan has also created employment opportunities for over 85,000 people during covid.
Noor Jahan from Somiani Village, Balochistan explains how the project has vastly impacted women in the region who are working just as hard as the men. A total of  20  women from this village alone have planted 30,000 plants. The Baloch women protect these plants from animals such as camels and goats and it is because of their hard work that the species of plants are flourishing.
Soosi from Vashi Ghota, Balochistan reveals that she makes a decent income by sewing clothes for others while staying at home. The sewing machine given under PM Imran Khan's scheme not only helps her to earn respectfully but also saves money on the stitching clothes for the family. Women in this village also participate in maintaining nurseries under the program. Hence, they also generate income from plantations.
Saba Naaz from Baldhair, Haripur KP is a Private Nursery Owner who has been working for the past 5 -6 years. She works with 8 – 10 other women in the nursery. According to Saba, the income they make from this eco-friendly job is decent. They are paid on time. After years of hard work, Saba now owns 2 nurseries of her own. Saba says that people from her home have no issues with women working in the field as women and men work separately.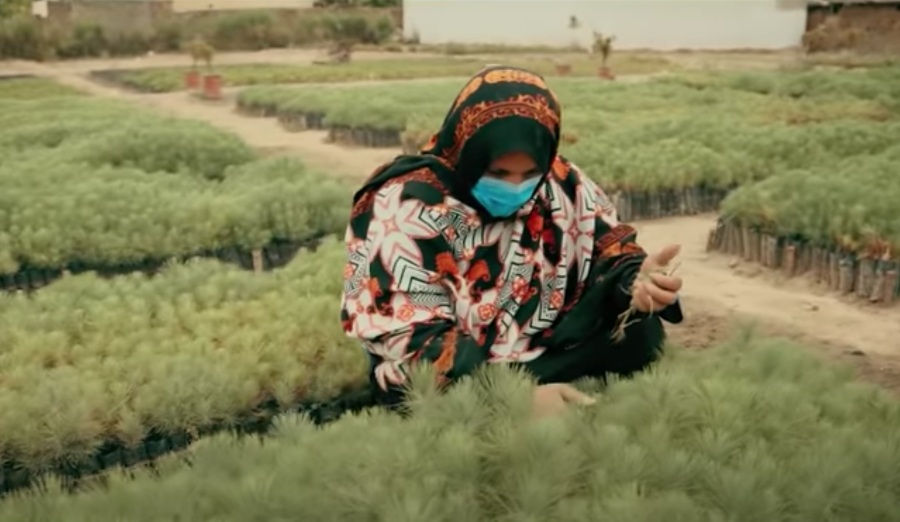 Many such women under Imran Khan's 10 billion Tsunami Project from the local communities have been able to participate economically and work equally harder as men due to eco-friendly jobs generated under the campaign. The 10 billion Tsunami Project has an optimistic objective to generate 7 Lac green jobs of which Pakistan has already provided 183,000 eco-friendly jobs until now.
8 Kinds of Honey Produced in Pakistan & Their Benefits, Billion Tree Honey Project Launched. Read the full story here:
Pakistan is truly blessed when it comes to climate and land, as many things can be grown here due to the favorable conditions. This is why honey can be produced in vast numbers. However, previous governments have neglected the potential the honey market has. Later in 2016, honey production was initiated in Changa Manga, and production increased by 70% due to thousands of trees planted – all thanks to the billion tree project initiated by Imran Khan.
8 Kinds of Honey Produced in Pakistan & Their Benefits, Billion Tree Honey Project Launched
Have something to add? Let us know in the comment section below.
For more news and updates, stay tuned to Wow 360.