A steel sculpture titled "Strength of the Hijab" dedicated to Muslim women who wear the hijab is scheduled to be installed in Birmingham, UK, next month, designed by Luke Perry and placed in Smethwick, West Midlands.
This five-meter-tall, one-tonne sculpture is believed to be the world's first of its kind, depicting a Muslim woman in a hijab with an inscription emphasizing a woman's right to be respected in her choice of attire.
Luke Perry, the sculptor, explained that the artwork aims to provide visibility to an underrepresented community and celebrate their significance, despite the potential for controversy.
---
---
The United Kingdom is preparing to unveil a groundbreaking sculpture  hijab sculpture in Birmingham, the country's second-largest city, next month, according to a report by the BBC. This distinctive steel artwork, conceptualized by Luke Perry, pays tribute to Muslim women who choose to wear the hijab and will find its home in the Smethwick district of the West Midlands in October.
The hijab, a headscarf that conceals the hair, neck, and at times the shoulders of Muslim women, serves as the central theme of this five-meter-tall, approximately one-tonne sculpture.
Titled "Strength of the Hijab," this remarkable creation showcases a Muslim woman adorned in a hijab, with the phrase "it is a woman's right to be loved and respected whatever she chooses to wear" elegantly engraved at its base.
Luke Perry, the sculptor, shared his thoughts on the piece, remarking, "The Strength of the Hijab" symbolizes the women who embrace the hijab within the Islamic faith. It is intended to provide visibility to this underrepresented segment of our community, which holds significant importance.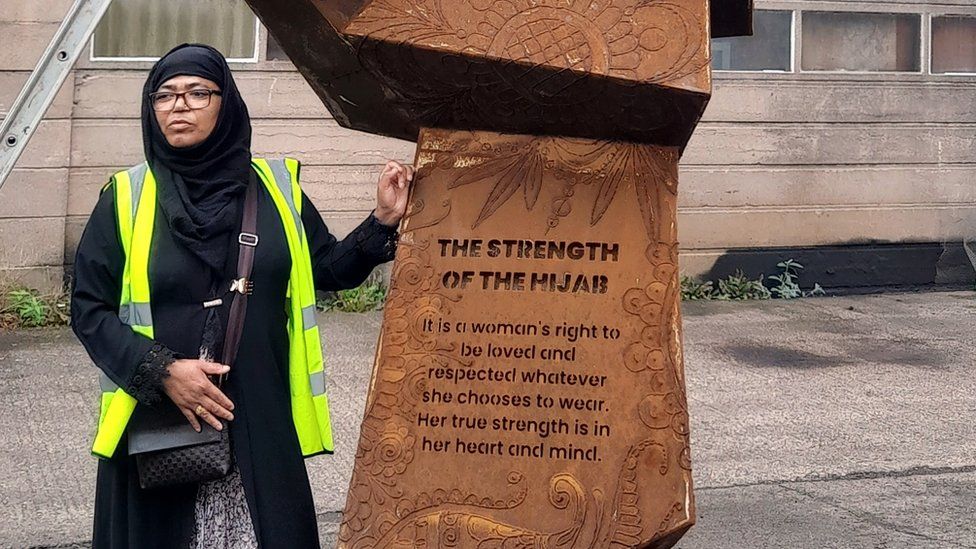 Collaborating with the community to develop the design has been a thrilling experience because the final outcome was uncertain until now."
The chosen location for this artwork is Smethwick, which Perry explained as "a substantial part of the Islamic faith community." He emphasized, "This is a subject that resonates deeply with people, brings them happiness and comfort, yet it remains conspicuously absent from public art, particularly in a celebratory context. Therefore, this sculpture honours those who are often overlooked."
Perry also acknowledged the potential for controversy surrounding the new sculpture but stressed the importance of representing all residents of the UK.
Notably, in the past, Luke Perry collaborated on designing the Black British History and British History sculpture, in conjunction with Canaan Brown, which was installed in the nearby Winson Green area in May.
Stay tuned to WOW360.