A study by Delta Dental reveals that 84% of women aged 50 and older are unaware of the impact of menopause on oral health, despite 79% noticing changes in their teeth and gums with age.
The study highlights the lack of awareness regarding oral health issues related to menopause, with 70% of women experiencing menopausal symptoms not connecting them to oral health problems.
Common oral health issues linked to menopause, such as dry mouth, tooth sensitivity, and altered taste, often go unnoticed or unaddressed by women experiencing menopause, emphasizing the need for increased awareness and communication with healthcare providers.
---
---
A recent study focusing on women aged 50 and older has uncovered surprising findings. It reveals that a significant 84% of these women are not aware of how menopause can impact their oral health, despite 79% of them acknowledging changes in their teeth and gums as they age.
How is Oral Health Related to Menopause?
The study was conducted by Delta Dental and titled "Breaking the stigma: Let's talk about menopause and oral health," this study surveyed over 1,000 women. Within the results, it was highlighted that 70% of respondents who had started experiencing menopausal symptoms also noticed certain dental issues but didn't connect them with hormonal changes.
39% of participants reported experiencing xerostomia (dry mouth), a substantial 77% were unaware of the link between dry mouth and menopause, as revealed in a press release on the study.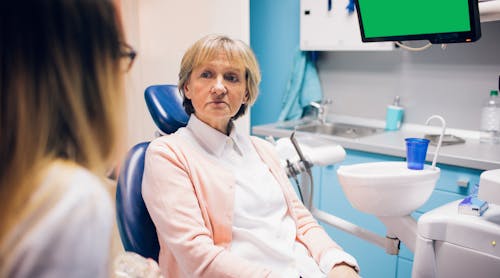 In a related article titled "Midlife transitions and oral health" on RDH, Anne Rice, BS, RDH, CDP, FAAOSH, emphasizes,
"The most significant oral discomfort in women going through menopause is oral dryness or xerostomia. Some women also complain of burning mouth syndrome and altered taste buds."
Sarah Chavarria, President at Delta Dental said while talking about menopause being a 'taboo' topic,
"With menopause a long-stigmatized topic and symptoms going largely unaddressed or even ignored, these findings are stark but unsurprising. Despite the knowledge gaps revealed in this survey, sentiments about menopause are beginning to shift, and women are eager to break the stigma."
She emphasised the role of health care providers to create awareness and create treatment plans that are accessible for more people experiencing menopause.
"At Delta Dental, we are committed to empowering more whole-person care that incorporates oral health into overall physician care and wellbeing, including in menopause. Being more open will help make treatment plans more accessible for all people who experience menopause."
Menopausal Symptoms Often Overlooked
Out of over 1000 women that took part in the survey, 70% of those who had started experiencing menopausal symptoms also have some of the following dental issues:
Dry Mouth
Receding Gumlines
Tooth sensitivity and pain
Tooth decay
Bleeding gums
Altered taste
Reduced saliva production
Burning tongue
These women were not able to associate these dental symptoms with menopause and hormonal shifts. The people who experienced dry mouth were not aware that it can be related to menopause. The lack of awareness for other symptoms was even higher and most women did not bring forth their tooth issues to health care providers while discussing menopause.
Creating Awareness for Oral Health and its Connection to Menopause
The survey findings have highlighted an under-utilised resource for women navigating menopause – dentists and dental hygienists.
Dr. Jessica Buehler, Senior Director of Dental Affairs at Delta Dental, highlights a concerning trend, stating,
"What stands out to me is the limited number of menopausal women who reported discussing oral health symptoms with any healthcare professional. This represents a significant gap in care, as saliva acts as the natural mouth buffer, and reduced saliva production can lead to various oral health issues linked to menopause, such as burning tongue, increased tooth decay, and altered taste."
Follow WOW360 for more.