Pakistan has faced a terrible disaster for the past few weeks as the continuous monsoon system brings nothing but havoc to the country. At least 1000 individuals, including children, women, and men have passed away, moreover, millions have been displaced after losing their homes.
According to the latest statistics provided by OCHA Humanitarian Advisory Team (HAT) from 13th-26th August, at least 116 districts have been affected with 66 districts officially declared as 'calamity hit', since June 1300+ have been injured, and the humanitarian situation is expected to get worse as communities and infrastructures are increasingly becoming unstable with the ongoing rainfall and floods.
An estimated 790,000 livestock has been destroyed, 218,000 houses have been engulfed, and other homes have suffered minimum damage of 500,000, followed by 2mn acres of crops destroyed. This means that 1/5 of Pakistan is in trouble and every 7th Pakistan is in need of dire help.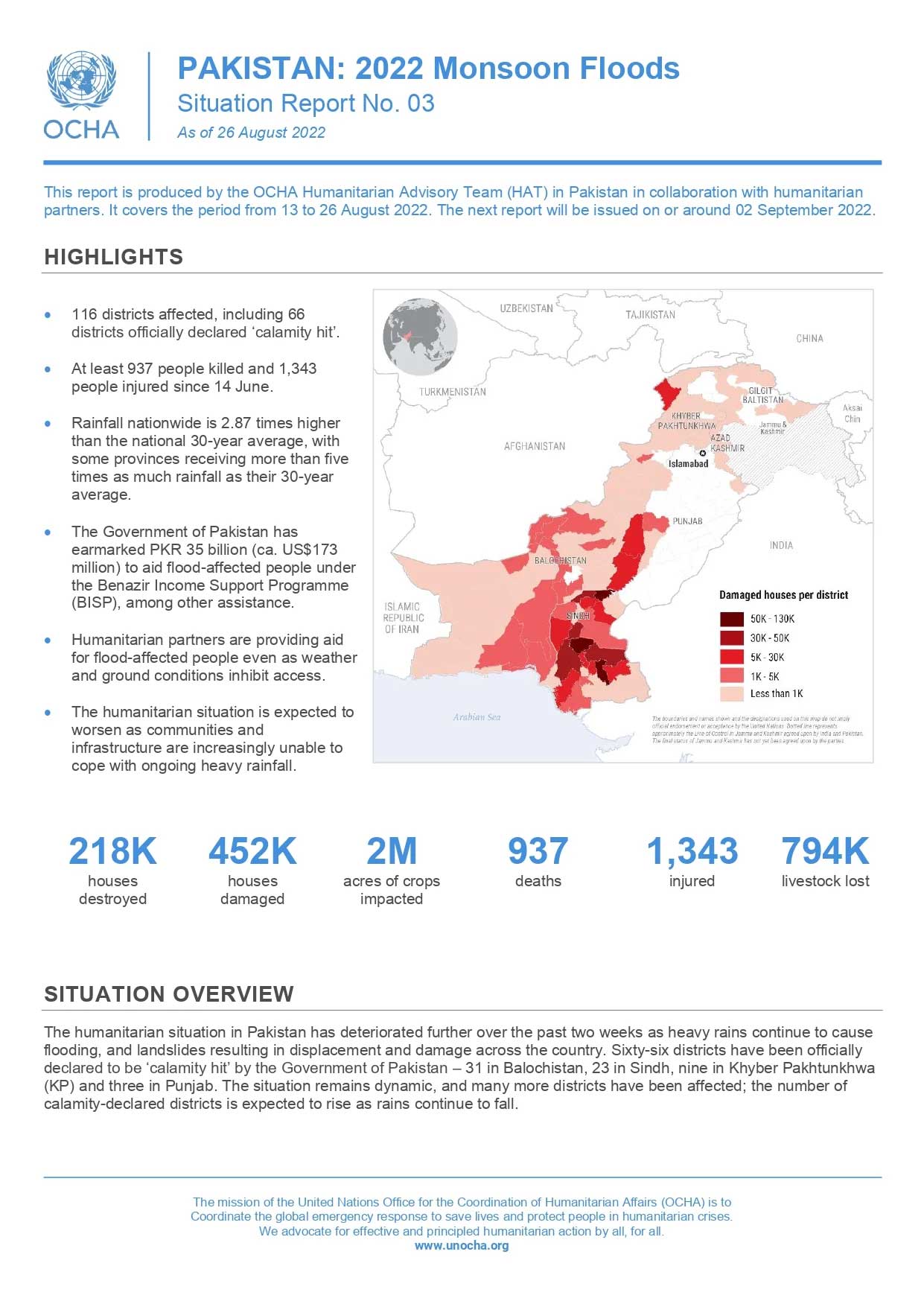 To help the nation and its people back up on their feet, Pakistani celebrities have urged people to donate. Whether it is a big amount or a small amount, through volunteering or by donating unused items such as blankets and canned foods, this is the time when your country needs your support.
Big or small.. whatever one can do. 🙏🏼♥️ https://t.co/jEJzzJeK30

— Mahira Khan (@TheMahiraKhan) August 27, 2022
Collecting donation supplies at the below to help those devastated by floods! In need of food, clothing and medial supplies

LUTF MEGA MART PARKING AREA
NEAR PUNJAB RANGERS HEADQUARTERS
ZARRAR SHAHEED ROAD, LAHORE, CANTT https://t.co/EnE89EwM17

— Hadiqa Kiani (@Hadiqa_Kiani) August 24, 2022
Please donate generously! 🙏🏻#FloodsInPakistan https://t.co/gXkCovYzBU

— Muniba Mazari (@muniba_mazari) August 26, 2022
– Happy to win another man of the tournament & lift another 🏆, I want to dedicate this Win to the flood affectees of Pakistan. We all should rise above everything & come together as a nation. I will be donating my wining prize money to the flood affectees 🇵🇰 #KheloAazadiSe pic.twitter.com/CYSHNXtwbJ

— Shoaib Malik 🇵🇰 (@realshoaibmalik) August 26, 2022
Within seconds this hotel in Kalam collapsed as the water on the otherwise of the building eroded the foundations within minutes. Such is the devastation Pakistan is going through right now. Everyone needs to HELP please. #PakistanFloods pic.twitter.com/NUMyBSByQ0

— Fakhr-e-Alam (@falamb3) August 26, 2022
Whenever I'm giving to charity, like many ppl I am worried about if the money will get to the end recipient. How much of it may go into admin/be pocketed by someone. I've been lucky enough to work with some amazing charities that I trust. Here is one of them: 👇🏽 #PakistanFloods pic.twitter.com/RFvMCZJBYq

— Armeena ✨ (@ArmeenaRK) August 27, 2022
My dear fellow cricketer & brother @SAfridiOfficial & @SAFoundationN are doing a lot of on ground work for flood relief. Please help them out in all possible ways whether through donations or physical presence. I would have been there if i could walk Lala😭.
Still recovering. pic.twitter.com/kD8dy4C1Wo

— Shoaib Akhtar (@shoaib100mph) August 27, 2022
Thank you @wasimakramlive for advocating to support our people in need. Indeed we have to support each other in these testing times; @SAFoundationN is reaching out to the flood affectees across the country. Insha Allah, together we all will come out of this. #HopeNotOut https://t.co/xsmpgWpNDB

— Shahid Afridi (@SAfridiOfficial) August 26, 2022
Prayers for all the flood victims in different regions of the country.

This is the time to stand as a nation and help them as much as possible.

Step forward and do your best.

— Babar Azam (@babarazam258) August 26, 2022
Extreme flooding in Pakistan is sweeping away houses, schools and communities. More than 900 people have died and 33 million more affected, including in my home of Swat Valley.

If you feel compelled, please donate to provide urgent aid and shelter. https://t.co/uN8RMRyw7M https://t.co/ljl6YFdxDj

— Malala (@Malala) August 26, 2022
In this hard time, I request all the citizens to help and donate as much as they can for the sufferer of the flood that has caused great catastrophe in Balochistan, Sindh and South Punjab. Let us come out of this as a nation.

— Shaheen Shah Afridi (@iShaheenAfridi) August 25, 2022
My heart goes out to all the flood victims , praying for my beloved Pakistan.
Help, do charity and please encourage family and friends to do the same.
Our people need us! #FloodsInPakistan

— Farhan Saeed (@farhan_saeed) August 26, 2022
Ya Allah Reham,Tamam Sailaab Zadgaan ke liye khusoosi https://t.co/Qj5HNHnrmO's a time of severe crisis as thousands of families are hit by alarming #flood calamity.We all need to help the victims in whatever capacity we can as priority. Ziada kuch nahi tou dua zaroor kijiye!🙏 pic.twitter.com/yJzcR4Zfkh

— Amar khan (@iamamarkhan) August 25, 2022
Earlier this week, the Pakistan government officially declared a 'national emergency' in flood-hit areas, calling the unprecedented monsoon rains a "climate-inducted humanitarian crisis of epic proportions". Moreover, Nowshera has been evacuated over emergency as floods are expected to hit.
We request all Pakistanis whether in the country or abroad to show their support and help build Pakistan again through their donations. Save humanity, save Pakistan.
Stay tuned to WOW360.