Wouldn't it have been great to be at an exotic location vacationing with your girlfriends, getting Manicures and Pedicures done together this summer? However, things may not have turned out the way you planned. But, if you live in Karachi, then there's good news for you.
So what if your plans got busted due to travel restrictions? You can relax and unwind in your own city by getting a luxurious Mani and Pedi at renowned salons and spas. A few years ago, Karachi didn't offer so many options but now, there are plenty of spots across town where you can take a day off and de-stress.
We have listed down below 10 salons in Karachi that offer this luxurious beauty treatment for your hands and feet that you're sure to fall in love with:
1 – Joie Salon
Located in the Bukhari Commercial Area in Karachi, Joie salon is popular among young working women who like to drop in during their hustling and bustling weekdays and often weekends too. Joie offers their in-house Mani and Pedi along with branded ones that are expensive.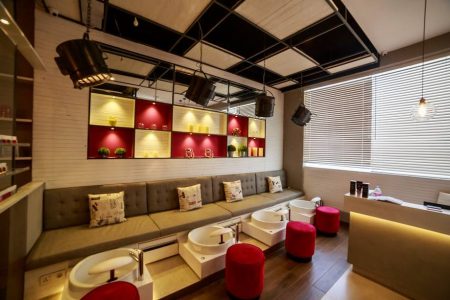 2 – Krysalis
Krysalis is a six-story beauty and wellness sanctuary located in Karachi's opulent DHA. The place is remarkable and so are their services. They offer both branded and in-house manicure and pedicures in the building which takes special care of hygiene. They also have a separate nail bar with an extensive range of nail varnishes to choose from. The OPI Luxury manicure is Rs 2000 and Rs 2200 for the pedicure. The price of the spa manicure is Rs 1400 and the pedicure Rs 1800.
3 – Peng's Salon
Peng's salon is a go-to salon for many women, including working women, housewives, teens, and even girl children. Peng's is located in Karachi's MACHS area and also in Clifton. It offers in-house pedicures and manicures along with a variety of branded one's.
4 – Nabila
Nabila is owned by Nabila herself, a beauty icon in the country. While several salons across the country, there is one flagship salon tucked in Karachi's Clifton area, walking distance from Dolmen City Mall. Nabila offers top quality services, be it a haircut or a Mani and Pedi you'd want so badly. Great place to unwind.
5 – Neelo's Salon
Neelo's is also one of the favourite places that welcome people from all walks of life. So whether it is a Mani and Pedi or a facial you have been waiting for a while, Neelo's accommodates all. They offer great deals and discounts too, so keep an eye on their insta page.
 6 – Saman's Salon
Saman's salon is a luxurious hair & beauty salon lead by Saman Nomani. This signature salon quickly became one of Karachi's go-to salons for many women. The salon offers many services, but what sets it apart from others is its dedicated area for manicures and pedicures with elegant leather seats and a soothing, zen-like atmosphere.
7 – Mint Beauty Solutions
Mint beauty solutions is a small haven of indulgence and well-being in the middle of the hustling bustling city. It is located in Clifton that hosts several other salons too. The salon offers luxurious treatments in calming, and pristine surroundings that will make you never want to leave. Best place to get your manicure and pedicure done.
8 –  Studio 9 Salon
Studio 9 is relatively a new salon based in Karachi's Shahbaz Commercial Area. The two-floor beauty salon offers a plethora of services of which manicure and pedicure is a crowd favourite. This is because of the secluded area for the service on the second floor with oversized couches and serene music. They offer branded and in house manicures and pedicures ranging from 1800 – 2500. They also have a nail bar that comprises branded and local nail polish.
9 – Amethyst by Roohi
Amethyst by Roohi is located in Karachi's Clifton area. It is a high-end beauty salon that provides various beauty services within a luxurious and relaxed environment. The salon offers great services that will leave you feeling brand new. So if you are planning to get a manicure and pedicure and spend quality time, this may be the post just right for you. You can call the salon to their price list.
10 – Toni&Guy
Toni&Guy Flagship salon is located in Clifton, while another branch is located in Karachi's Bukhari commercial area. Toni&Guy is lead by Saeeda Mandviwalla. They offer some exquisite Mani and Pedi's that can be enjoyed by you and your girls. The services are top-notch, like no other; however, it comes with a price tag that not all can afford.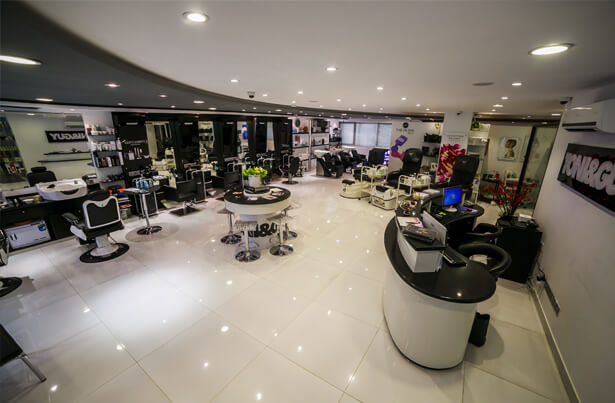 The KRYSALIS: Salon & Spa Review, Price & Location. Read the full story here:
When you enter the six-story building of the Krysalis, you are instantly transported into a luxurious and glamorous atmosphere. One cannot help but admire the tasteful interiors of this beauty and wellness sanctuary.
Have something to add? Let us know in the comment section below.
For more news and updates, stay tuned to Wow 360.