The perfect bridal dress is an amalgamation of grace ,tradition, elegance and modernity. Pakistani designers are known for putting together the craftsmanship of skilled workers with beautiful designs to make the most beautiful bridal dress you've always dreamed of. 
A lot of time goes into creating the bride's dress. It not only holds sentimental value but in some families it is also passed on to the next generation. Designers have to keep in mind all the thoughts that go on in the bride-to-be's head, how conscious she is when it comes to the fittings, cuts, designs and color combinations. It's a once in a lifetime opportunity and all a girl dreams of is her fairytale wedding with just the right outfit, along with the perfect jewelry and accessories.
Here's a list of Pakistani bridal dress designers who have graced many brides with their magnificent skills and ready to wear bridal outfits.
1. Tena Durrani
Tena Durrani is one of the finest bridal dress designers in Pakistan. The delicacy and detailing of her work speaks for itself. We are in love with her latest collection and the wedding ensemble 'Maya'. It is a breathtakingly beautiful bridal outfit for all those bride-to-be's who are not looking for something more contemporary and different to the traditional red bride look whilst keeping keep it minimal yet elegant.
2. Hassan Sheryar Yaseen – HSY
We can't get our eyes off this gorgeous bridal dress by HSY. This beautiful outfit is a deep maroon peplum with heavily embellished signature HSY embroidery details. The material is organza fabric which makes the hand work of alluring delicate details appear all the more stunning!
3. Deepak Perwani
Deepak Perwani introduces his 'Shalimar Bridal Collection' of the year 2020 which consists of some of the most classy traditional and contemporary styles. The  fashion designer came up with versatile designs and variety of latest wedding wear for all the bride-to-be's. Color contrasts of pastels such as blush pinks, lilac with vibrant tones like maroon is the new trend in the Pakistani bridal fashion industry.
4.  Asim Jofa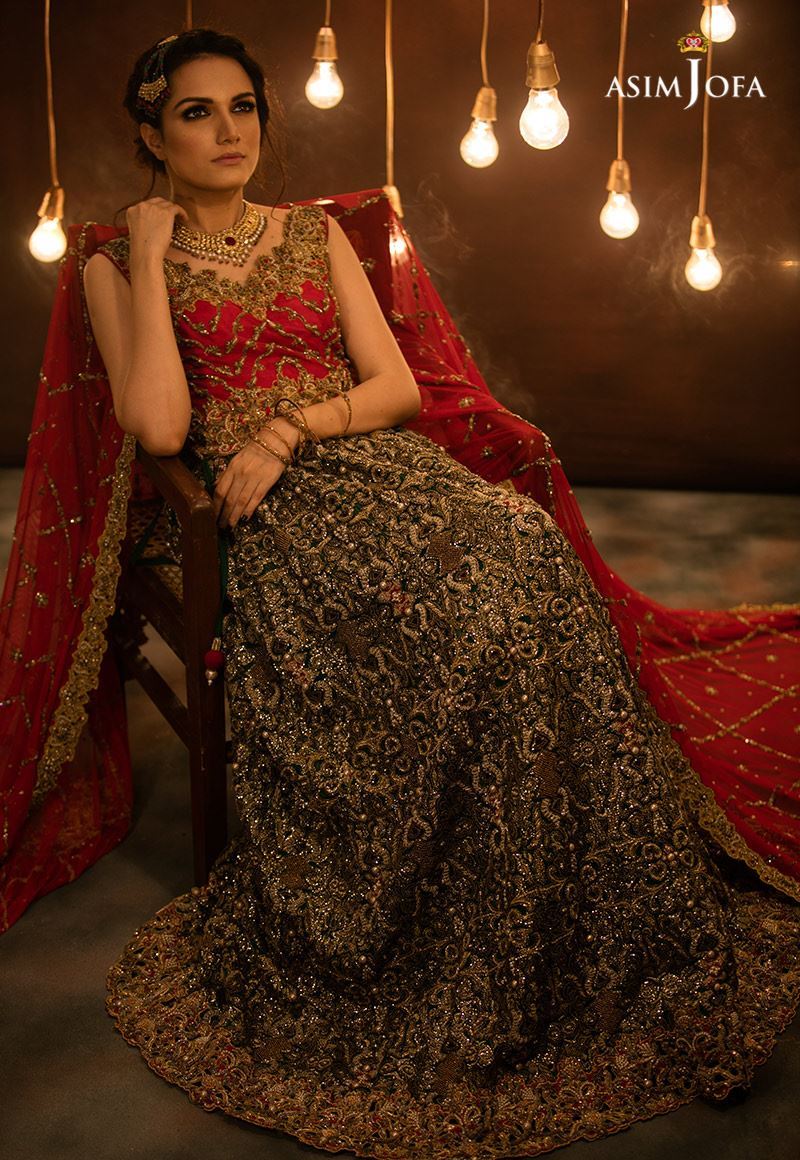 Asim Jofa's collection usually has heavy embroidery and lies in the Banarsi range. We love most of his work on Resham using golden, deep reds and off white colors.  There is no doubt  about the fact that the designer's bridal lehenga and peplum outfits are some of the finest in the industry which is why the brand has won thousands of hearts time and time again on the ramp.
5. Umar Sayeed
Umar Sayeed is known for his spectacular work and his alluring bridal outfits. The designer just keeps getting better and there's nothing that can stop him from creating modern wear that a 2020 bride would love to pull off on her big day. The supremely talented designer's gorgeous muse Mahira Khan has served justice to some of his ethereal traditional bridal wear in her recent movies. This ones from his red bridal collection and the gold embellishments over deep maroon make her look stunning !
Beautiful hand embroidered work in gota, thread, zari and a blend of magical adornments are perfectly balanced in Umar Sayeed's bridal wear
Did you find this article helpful? Let us know in the comments.
Stay tuned for more interesting articles and updates.