Erica Robin, Miss Universe Pakistan 2023, created history by being the first Pakistani contestant to wear a burkini in the swimsuit round, showcasing individuality and cultural respect.
Her choice challenges traditional beauty norms, encouraging inclusivity and diversity on the global stage.
This moment marks a significant step in redefining beauty standards.
---
---
In a ground-breaking moment at the Miss Universe 2023 preliminary competition, Erica Robin, the 24-year-old representative from Pakistan, stole the spotlight during the swimsuit round by opting for a burkini instead of the traditional bikini.
This bold move not only showcased her confidence and individuality but also marked a historic moment as it was the first time a contestant from Pakistan participated. The moment also goes down in history as the first time someone had opted to wear a burkini instead of a bikini in the swimsuit round.
 

View this post on Instagram

 
Erica Robin: 'Personal Choice to Wear a Burkini as a Sign of Respect'
Erica's decision to wear a burkini was a personal choice driven by her deep respect for her culture. In an interview with The National, she emphasized that her choice was a reflection of her commitment to maintaining cultural values while navigating the diverse world of beauty pageants. By choosing the burkini, Erica has not only celebrated her individuality but also brought attention to the importance of cultural representation in international events.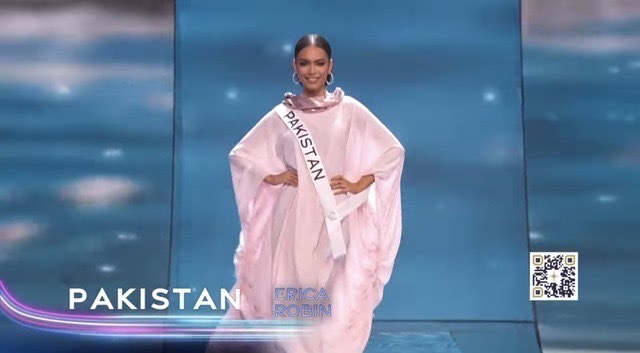 Erica Robin Becomes First Pakistani to Don a Burkini at Miss Universe
Erica Robin has etched her name in the Miss Universe history books as the first-ever representative from Pakistan. Beyond the novelty of her participation, her groundbreaking decision to wear a burkini adds another layer of significance to her journey. Breaking away from conventional beauty norms, Erica has set a precedent for future contestants, encouraging them to embrace their identity and cultural heritage on the global stage.
The Burkini Choice
A burkini, comes from "burka" and "bikini," it is a full-body swimsuit designed to adhere to Islamic modesty standards. Erica opted for a pastel pink kaftan burkini, deviating from the traditional form-fitting style. This choice not only showcased her fashion sense but also emphasized the diversity of expression within cultural and religious attire.
Challenging the Conventional Norms of Age-Old Beauty Pageants
Erica's choice to wear a burkini challenges the conventional norms of beauty pageants, where contestants typically don bikinis during the swimsuit round. Her decision is not only a personal statement but also a step towards a more inclusive and culturally diverse representation in international beauty competitions. It opens up conversations about redefining beauty standards and celebrating diverse expressions of femininity.