The first episode of Ms Marvel has painted the town red. Receiving praises and applauds from all over the world, Iman Vellani who plays Kamala Khan aka Ms Marvel has created history by becoming the first-ever Pakistani superhero.
Not only did we enjoy watching the first episode because of the great cast and amazing animations/edits, but we were also able to relate to almost everything as Pakistanis.
Malala and many others also second the thought:
Via @Malala

Via @malala
"It is not every day that I turn on the TV and find a character who eats the same foods, listens to the same music or uses the same Urdu phrases as me." (1/2) pic.twitter.com/3i6D5cZ4ma

— Ms. Marvel (@msmarvel) June 7, 2022
What a time to be alive. We have a Muslim girl in the MCU. Started watching Ms. Marvel and absolutely loved it. Iman Vellani is a star, the cast is amazing, and the series gets even better over time. Shout out to @MiniB622 for championing this project for the past decade! pic.twitter.com/A2MmQmaFW5

— Hasan Minhaj (@hasanminhaj) June 9, 2022
Social Media Reacts to Ms Marvel's Episode 1 Starring Pakistani-Canadian Iman Vellani
Things From Ms Marvel Every Brown Teenager Can Relate To
Without further ado, here are the 8 things from Ms Marvel that every brown teenager can relate to:
1. The Bismillahs & Astagfirullahs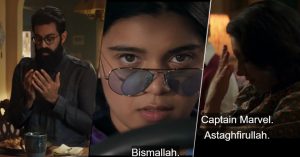 Being a Muslim kid, almost every other sentence that came from your parent's or relative's mouth had one of these words – Bismillah, Astagfirullah, Insha'Allah, MashaAllah, etc. Before you leave your house, start a task, before eating, while praying, literally almost any situation you can think of has an InshaAllah or Bismillah here and there.
2. Over Protective Parents
As per brown parents' logic, everyone who is not a part of your household is legit evil and has some sort of evil plan to kidnap you and sell your organs for money. No kidding, trust does not come easy to them and they will do whatever it takes to 'protect you' from the evildoers of the world and their sins.
3. Traditional Clothes FTW!
No matter if you're living in the 21st century or the 201st, brown parents will ALWAYS pick traditional Shalwar Kameez and Kurtas over a tee and jeans on any given day. It's like they have a secret wish to see their kids walk around in traditional wear 24/7 because it's a part of our culture and wearing western clothes makes us 'bad people'.
Pakistani Women Including Mehwish Hayat & Nimra Bucha Dazzle the Red Carpet at Sharmeen Obaid's Ms Marvel Premiere
4. Galiyan in Urdu are more Meaningful
Swearing in English is no way near as satisfying as a 'Kamina' or  'Kuutta' rolling off of the tongue. I mean come one, simply compare the word dog to the Urdu word 'kutta' and voila, you'll agree that swearing is much more satisfying as it is meaningful in our mother tongue. Admit it, we all have sworn in our language and have gotten away with it too!
5. Buttering Parents to get Permission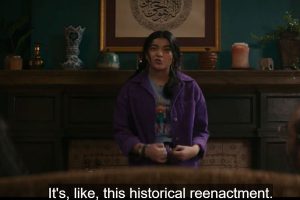 Unlike other children, brown kiddies have to time their permissions perfectly. Imagine you are a lawyer who is representing themselves and that your parents are the Judges who are to announce the final verdict. Not only do you have present evidence of why the permission is essential but also have to provide exhibits of good behaviour. The timing here is key because the happier they are the less likely it is for them to reject your appeal.
6. Brown Boys > Brown Girls
Every born kid, especially the younger ones will always have one compliant, "why does he/she get permission and I don't?" Most importantly, this ALWAYS happens with the daughters. Sons are given permission for just about anything from going on social outings to enjoying events and more whereas girls are given a list of reasons titled 'reasons you shouldn't go' instead.
7. Grooving to Desi Music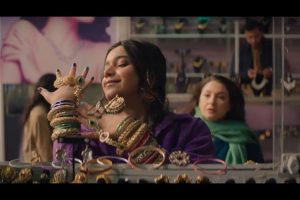 Ko Ko Korina being a part of Ms Marvel, not to forget Eva B, and Coke Studio's 'Peeche Hutt' WON our hearts! No matter who you are and where you're raised, this is a classic Pakistani number that all children have listened to while growing up alongside of a number of classics from Junoon, Strings, Nazia Hassan, and many more.
Ahmed Rushdi's 'Ko Ko Korina', Pakistani film Babul Veer's song 'Sohniye I Love You' by Naheed Akhtar and 'Rozi' by Eva B are featured in Episode 1 and many more amazing tracks are to follow.
8. Trying to Fit In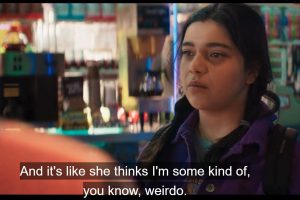 There is a Kamala in all of us who is trying to fit in.
What did you find to be relatable? Share your thoughts with us in the comments.
Stay tuned to WOW360 for more news and updates.
Sharmeen Obaid-Chinoy becomes First Pakistani to Co-Direct Marvel's First Muslim Superhero Film "Ms. Marvel'