Marvel, being the leading Hollywood film studios has hired four directors in which we'll see Oscar-winning Pakistani female Sharmeen Obaid Chinoy who's the first Pakistani to co-direct for Marvel television series starring female Muslim superhero Kamala Khan. 
Marvel has ensured that its upcoming series will be as divergent as possible. Keeping in mind their decision to hire Sharmeen Obaid Chinoy to co-direct the upcoming show written by Bisha K. Ali, 'Ms Marvel' Kamala Khan as a young Pakistani-American teenager makes in clear that they want their projects to be as unique as they can be by having the right people on board.
Ms. Marvel Dream Team – Talk About Inclusiveness
Academy Award winner has teamed up with Meera Menon, Bilal Fallah and Adil El Arbi for the series direction.
The duo currently has the most huge Hollywood film of the year with the Will Smith Bad Boys film grossing about $500 million dollars internationally. They have also worked for Netflix's Beverly Hills Cop 4, to star Eddie Murphy, as not to forget 'Rebel' a Muslim family drama. It was revealed a day later that Tatiana Maslany, the Orphan Black star would be playing the titular character in the upcoming Disney show She-Hulk.
The news got confirmed in May 2018 about bringing the first female Muslim superhero to the screens. Earlier it was said that 'Ms Marvel' be starring in film but according to the recent news, the female character will now be introduced in a TV series.
Pakistani filmmaker Sharmeen Obaid-Chinoy and Indian filmmaker Meera Menon have been chosen to helm the upcoming #MsMarvel series!

Chinoy, a two time Oscar winner, is the first and only Pakistani to win an Academy Award.

Menon is already an MCU and DCEU alum.

Source: @THR pic.twitter.com/PH0ZBq1uP1

— Off Colour (@OffColourInc) September 18, 2020
Director Meera Menon who is also on board for the series has previously worked for shows like The Walking Dead, Farah Goes Bang and For All Mankind.  Marvel Studios are now looking for an actress who can best fit the role of Kamala Khan and who also belongs to Pakistani origin. Yet it's still not confirmed as to when the shooting of the series will begin but it is believed that the shooting will start in the mid of 2021.
Director and Marvel editor Sana Amanat is one of the creators of 'Kamala Khan'
Sana co-created this character back in  the year 2014 and won hearts nationwide.  Sana Amanat is a Muslim American herself and wanted to curate a character that every young girl possessing a similar background to feel included and relatable. No one can beat the diversity here. Way to go, Marvel!
There is no doubt that Ms Marvel will be slaying the upcoming Disney shows that will be portraying  actors from their own perspective and will be set in MCU-Marvel's film like upcoming  The Winter Soldier and Wanda Vision, Falcon series which will cross over into the industry as President Marvel Kevin Feige as assured.
The Character Kamala Khan Possesses
We can not wait for Kamala Khan, a Muslim-Pakistan superhero to join the blockbuster Avenger's game as Ms. Marvel. She will be joining the superhero league including Hulk, Iron Man, Captain America and Black Widow. A Muslim-American teen from New Jersey, Kamala originally belongs to Pakistan and possesses shape-shifting powers.  Kamala Khan was introduced to the readers in 2014 as a 16-year-old Muslim American from Pakistan, who herself is a huge fan of the Avengers. Kamala has grown up in New Jersey and has the ability to shape shift which is to make various parts of her body big and small.
She came into being as Ms. Marvel Moniker, who has been used in the Marvel comic books by different white characters since 1976. Leading her own comic book series, this girl made history by being the first ever Muslim Marvel character to do so.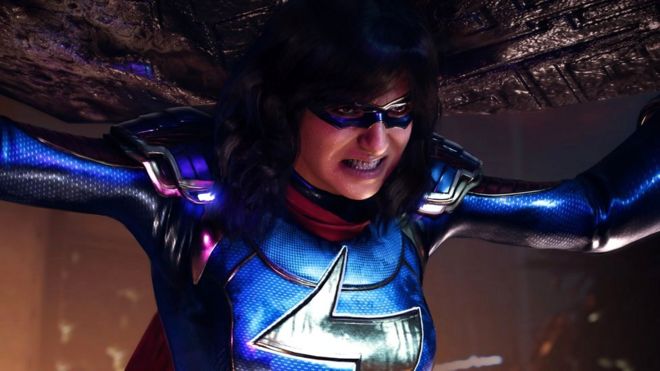 What are your thoughts on this? Share with us in the comments below.
Stay tuned for more articles and updates.