People all over the globe are having fewer children and according to researchers, the world is not ready for the drastic impact this can have on societies, reports BBC news. By the year 2100, the global crash in babies being born can prove to be very problematic for humanity.
According to the new study published in the Lancet this week, more than 20 countries will experience a drop in their population by the end of this century.
As BBC reports, 23 countries are likely to undergo this change and feel the effect intensify over the coming years, leading to a decline by 'half' in their populations by 2100; these countries include, Spain, Japan, Thailand, China, and many others.
The decline in the number of babies being born will eventually lead to countries aging dramatically, with a vast gap between younger generation and the older generation. This means as many people will be turning 80 as being born, resulting in a decrease in the working population.
What is happening globally?
The average number of children given birth to, which is 'The fertility rate' – is falling. If the number declines below 2.1, that is when the overall population size starts diminishing, informs BBC.
The average fertility rate in 1950 was 4.7, while it almost halved to 2.4 in the year 2017 as Researchers at the University of Washington's Institute for Health Metrics and Evaluation depict. However, the study published in the Lancet projects the rate falling under 1.7 by 2100.
"That's a pretty big thing; most of the world is transitioning into natural population decline," says researcher Prof Christopher Murray while talking to the BBC.
Consequently, the researchers project population to peak at 9.7 billion in 2064 and then fall to 8.8 billion by the century's end.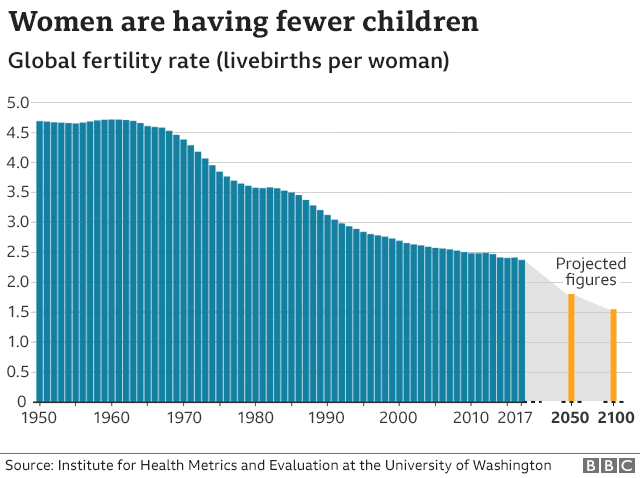 "I think it's incredibly hard to think this through and recognise how big a thing this is; it's extraordinary, we'll have to reorganise societies."
Reason for Declining Fertility Rates
The real reason for drop in fertility rates has nothing to do with low sperm count but females, and couples in general who are planning fewer children. It's mainly because women now have active roles in the professional world; they are more career driven, are more educated and therefore more aware of contraceptives, with easier access. In many ways, falling fertility rates are a success story but may have drastic impacts on humanity later.
Countries at Risk to Falling Fertility Rates
The population of Japan is projected to drop from 128 million in 2017 to 53 million and below by 2100.
China is currently the most populated country worldwide. It is expected to reach a peak of 1.4 billion by 2024 and then drop to nearly half of it i.e 732 million by 2100.
"That is jaw-dropping," Prof Christopher Murray told BBC.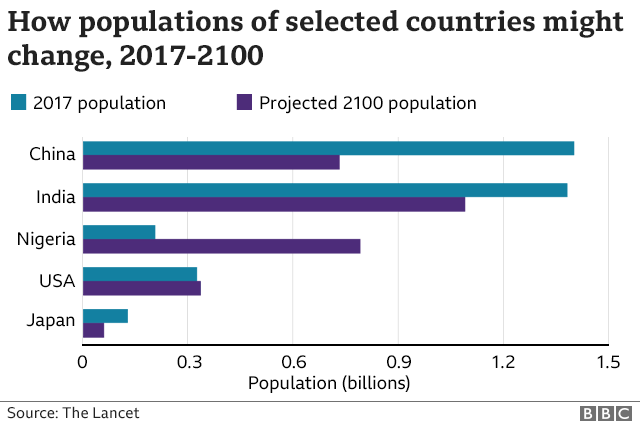 Italy is projected to witness a similar crash in population from 61 million to 28 million over the same period.
Other countries include Portugal, Thailand, South Korea which will likely witness a drop-in population by 50%.
Out of 195 countries, 183 will be experiencing fertility rates going below replacement level.
Why is this a Much Bigger Problem and What are the Possible Solutions?
Now one might think this is incredible for the environment as lesser people would mean reduced pollution, deforestation and carbon emissions. But the world will be experiencing an "inverted population"- more older people than younger people- which is a problem.
"That would be true except for the inverted age structure (more old people than young people) and all the uniformly negative consequences of an inverted age structure," explained Prof Murray.
The Lancet study predicts – the number of people below five, falling to 401 million in 2100 from 681 million in 2017. Moreover, the number of over-80 population is projected to soar from 141 million in 2017 to 866 million in 2100. Prof Murray further added:
 It will create enormous social change. It makes me worried because I have an eight-year-old daughter and I wonder what the world will be like.

Who pays tax in a massively aged world? Who pays for healthcare for the elderly? Who looks after the elderly? Will people still be able to retire from work?
To solve this issue in the longer run, countries like the UK and others, have used migration techniques to compensate for dropping fertility rates. However, this is not a long-term solution because eventually every country's population will be plummeting.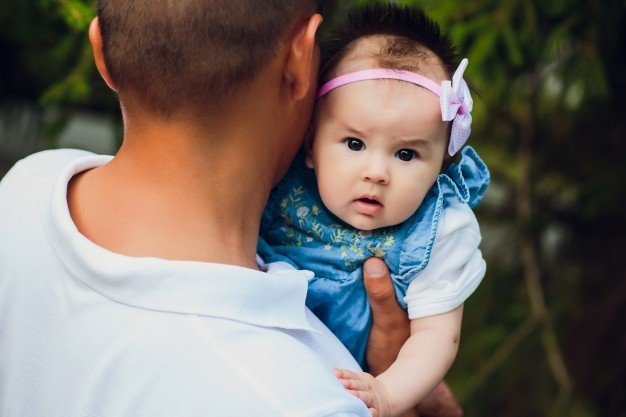 Other countries have attempted to improve maternity and paternity leave, extra employment rights, free childcare, however, there is no one or right solution yet.
"We will go from the period where it's a choice to open borders, or not, to frank competition for migrants, as there won't be enough," contends Prof Murray.
Prof Murray went on to say:
"I find people laugh it off; they can't imagine it could be true, they think women will just decide to have more kids".
The progress on women's education and access to contraception might be under threat, researchers warn. Is undoing the advancement of women really the solution?
"Responding to population decline is likely to become an overriding policy concern in many nations but must not compromise efforts to enhance women's reproductive health or progress on women's rights," said Prof Stein Emil Vollset.
What are your views about this article? Let us know in the comments below.
Stay tuned for more news and updates!