---
Syeda Aliza Sultan & Feroze Khan's divorce was finalized on 3rd December 2022

Sultan has clapped back at haters and has received support from many others

Sultan has set an example for other women that life does not end with divorce
---
Divorce can be a challenging and difficult experience for women, but it does not have to mark the end of their lives. One example of a woman who has shown the world this by example is Syeda Aliza Sultan.
Syeda Aliza Sultan is a mother of 2 and the ex-wife of popular and well-known actor and alleged abuser Feroze Khan.
After her divorce, she dedicated herself to her work and personal growth, becoming a successful and inspiring figure in her community. Doing so, she has been giving her haters the perfect shut-up calls.
Syeda Aliza Sultan & Supporters Clapped  Back at Trollers & Haters
Here's how Sultan and her supporters have been replying back to her haters: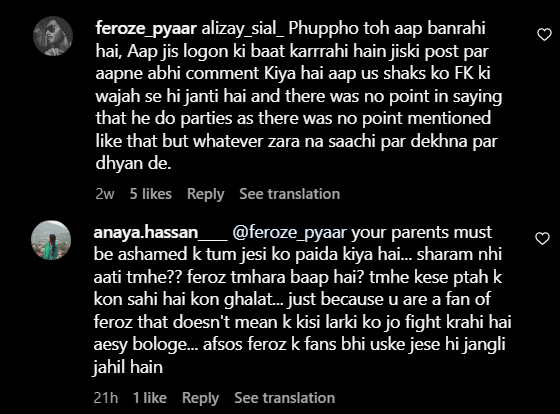 Feroze Khan Files Petition Against Aliza Sultan for Allegedly Submitting False Documents
How Women Like Syeda Aliza Khan are Changing the Narrative
Women have proven time and again that they can rebuild their lives and find happiness and success even after a divorce.
Career Growth: Many women find that after a divorce, they have the opportunity to focus on their careers. Without the responsibilities of marriage and family, they can put more energy into work and often experience growth in their careers. Some women find new jobs or start their own businesses, leading to financial independence and fulfilment.
Personal Development: Divorce can be a time for personal growth and self-discovery. Women have the opportunity to explore new interests, hobbies, and passions. They can also take the time to focus on their mental and physical health, which can lead to increased confidence and self-esteem.
New Relationships: While divorce can be a difficult end to a relationship, it can also lead to new relationships and a chance for love. Women often find new partners who appreciate and support them, leading to healthy and fulfilling relationships.
Financial Stability: While divorce can be a financial burden, women have proven that they can overcome financial difficulties and become financially stable. Through smart budgeting and planning, women can take control of their finances and build a secure future for themselves and their families.
Redefined Family Dynamics: Women can also find new meaning in their relationships with family and friends after a divorce. They can strengthen relationships with children, parents, and siblings, and develop new friendships that bring joy and support to their lives.
Emotional Healing: While divorce can bring with it feelings of sadness and loss, women have shown that it can also lead to emotional healing. They have the opportunity to move past the pain of a failed marriage and find peace and closure. With time, they can find happiness and a sense of renewal, leading to a happier and more fulfilling life.
In conclusion, women have shown that life does not end for them after a divorce. Despite the challenges and difficulties, they have the strength and resilience to rebuild their lives and find happiness and success. They have proven that they can grow both personally and professionally, find new relationships, achieve financial stability, and heal emotionally. Divorce may mark the end of a marriage, but it does not have to mark the end of a woman's life.
Syeda Aliza Sultan has become an inspiration to many. She has shown that a woman's life does not end with divorce and that they have the power to rebuild their life and achieve great things. Her story has inspired many women to pursue their own goals and dreams, regardless of the challenges they may face.
Stay tuned to WOW360.
Sarwat Gillani, Yasir Hussain & Others Call Out Feroze Khan for Leaking Their Private Numbers