Born on the 14th of August 1947, Bilquis Edhi was the wife of the late philanthropist Abdul Sattar Edhi. She had earned herself the title of 'Mother of Pakistan' because of her unfailing gift of giving, compassionate nature and her immense work in giving back to society.
Over the past 46 years, Bilquis Edhi served the nation and her undying support, kindness and unselfish ways has elevated her status for the entire nation. Bilquis Edhi headed the "Jhula project" of Edhi Foundation where they give shelter and raise orphans and unwanted children.
Bilquis Bano Edhi also held the honor of the prestigious 'Hilal-e-Imtiaz' Award, and the '1986 Ramon Magsaysay Award for Public Service'. She also received the 'Lenin Peace Prize'.
Edhi Foundation charity, which Bilquis Edhi contributed to and looked after full time, runs many services in Pakistan including the hospital and emergency service in Karachi.
Bilquis Edhi's Early Years & Background
Not very good in studies, Edhi joined the nurses training course at the Edhi Nurses Training Centre at the age of 13 or 14, while she was still in the 8th grade. She got married to Abdul Sattar Edhi in the April of 1966. She has been associated with the Edhi foundation ever since and hasn't looked back. Under the team leadership of Abdul Sattar Edhi and Bilquis Edhi, the organization that initially aimed to provide relief and support to the poor and needy, and has turned into one of the biggest, internationally recognized relief organization.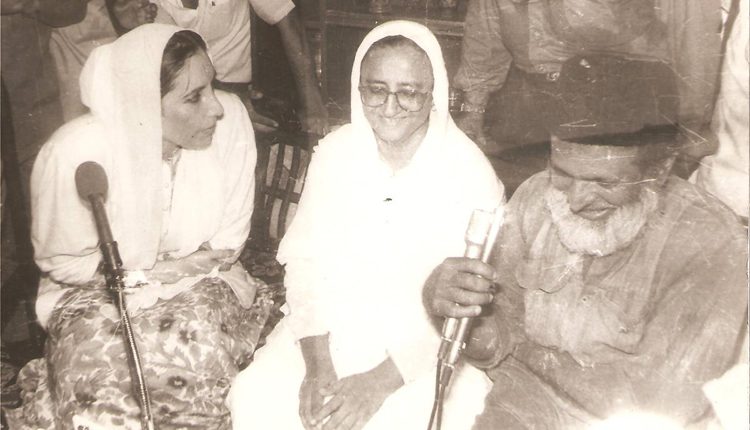 At the time of marriage, Edhi only had a broken car and a small dispensary to his name- even that time, with such limited resources, people would trust their kids to them and Bilquis Edhi would take care of them.
Bilquis Edhi's responsibilities included mainly to look after the women's section and the adoption care facility. Her two daughters worked closely with her while she travelled all across the country to oversee the Edhi facilities and give suggestions for improvement.
Bilquis Edhi Nominated for the Mother Teresa Award
Bilquis Edhi was selected for Mother Teresa Memorial International Award in 2015 for giving shelter to Geeta, the differently-abled Indian girl who was left back in Pakistan.
The Award was bestowed by the Harmony Foundation Board. The foundation's chairman Abraham Mathai said the following:
In view of the noble and humanitarian act of sheltering our dear Geeta, a deaf-and-mute woman who had accidentally crossed into Pakistan, the Harmony Foundation Board has unanimously decided to honour Karachi-based Bilquis Bano of the Edhi Foundation.
Bilquis Edhi has also been honoured along with internationally recognized humanitarian social aid provider Medecins Sans Frontieres (MSF).
The Edhi foundation had take care of Geeta for over a decade until she safely returned to India.
Child Adoption Centre & Childcare Services- The Jhula Project
The Edhi child adoption centre and childcare services dates back to 1949. Bilquis Edhi was supervising the caring and feeding of the babies who are mostly either orphans, or illegitimate, unwanted children that people leave in cradles placed outside all Edhi Centres, across the country. The purpose is to leave the abandoned and illegitimate babies in these cradles- Edhi Foundation's "Jhula Project", who can then be united with good families who would raise them with love and care.
Mostly couples who are struggling with children tend to adopt these babies but are first interviewed by Bilquis Edhi and must fulfill a specific criteria for adoption. The criteria is that the couple must have been married for over 10-12 years and is still childless- prospective father's salary must be sufficient to support a child and wife, he should not be an alcoholic or a drug addict. The age of the mother must be less than 50 and the couple must own a house.
Her foundation doesn't give children to couples who keep changing their house – keep moving from one place to another. Kids who are physically or mentally disabled are cared for by Edhi Foundation.
Edhi Foundation has over 4,000 applications in hand for child adoption. A thorough screening is done by Bilquis Edhi herself before the baby is handed over to a suitable family.
Edhi Foundation is handing over more than 250 babies or children for adoption on a yearly basis. More than 23,320 babies and children have been provided to the childless couples and families uptil now.
Have something to add to this story? Share in comments below.
Stay tuned for more interesting articles and updates!