Every once a while we are forced to pause for a bit and admire the beauty of nature.  Today was one of those days!
As we all are aware, the rain in Sindh wreaked havoc in the province, causing major urban flooding. Several areas in Karachi, such as North Nazimabad, Surjani Town, Shah rah-e-Faisal, were drowning in rainwater.
The Sindh government had declared emergency in the province as many rain related accidents had occurred, taking some innocent lives too and engulfing the sky in darkness.
Despite the heavy downpour predictions for today, the sky started clearing up around noon , giving Karachiites a majestic view to admire. The after-rain sky is at a whole different level- the extra clean air, clear blue skies and the smell of wet soil transports you into a different world and you can't help but stop and admire 'mother nature'.
Here are a few people who shared some gorgeous shots of the magnificent sky today and we couldn't help but share.
Finally blue sky over Karachi. pic.twitter.com/6pEmD8CNmI

— Saadat Ali Zia (@my55cents) August 26, 2020
When Karachi's sky shows off its beauty ❤ pic.twitter.com/4LWukD4O94

— Hamza J. (@ThailayWShezada) August 26, 2020
Shiny Sky with Clouds. Beautiful view of #Karachi from PBC building. National Cricket Stadium can be seen!#KarachiRain #KarachiRains @murtazasolangi @murtazawahab1 @mirzaiqbal80 @zulfqaralishah @DanyalGilani @omar_quraishi @RabNBaloch pic.twitter.com/WPcsHbjSK5

— Yousif Solangi (@Szabistian1) August 26, 2020
I've never seen Karachi's sky this clear pic.twitter.com/4xkV2ZLafC

— H™ (@MahatmaaGanji) August 26, 2020
Karachi skies today after rain 💙 pic.twitter.com/SzAqQm0rci

— Sana Tauseef (@SanaaTauseef) August 26, 2020
Karachi's sky is underrated. pic.twitter.com/34yCZdbian

— Haseeb (@HaseebTheShah) August 26, 2020
Meanwhile, the sky in Karachi. pic.twitter.com/Y1h5qOpMm3

— Faizan Lakhani (@faizanlakhani) August 8, 2020
This one particular Twitter user by the name of Mariam Imrani couldn't help but draw comparisons between the post-rain sky and the city that was sinking. How rain impacts differently to people of different classes! How it is a blessing for the rich but no less than hell for the poor. 
She compared the situation of Karachi with a powerful scene from the Oscar winning movie parasite- a movie on the harsh and heartbreaking reality of life. There was a scene in the movie where it pours heavily in Seoul Korea, wreaking havoc in the city, drowning many basement houses where the poor of the city reside; they end up losing almost all of their possessions.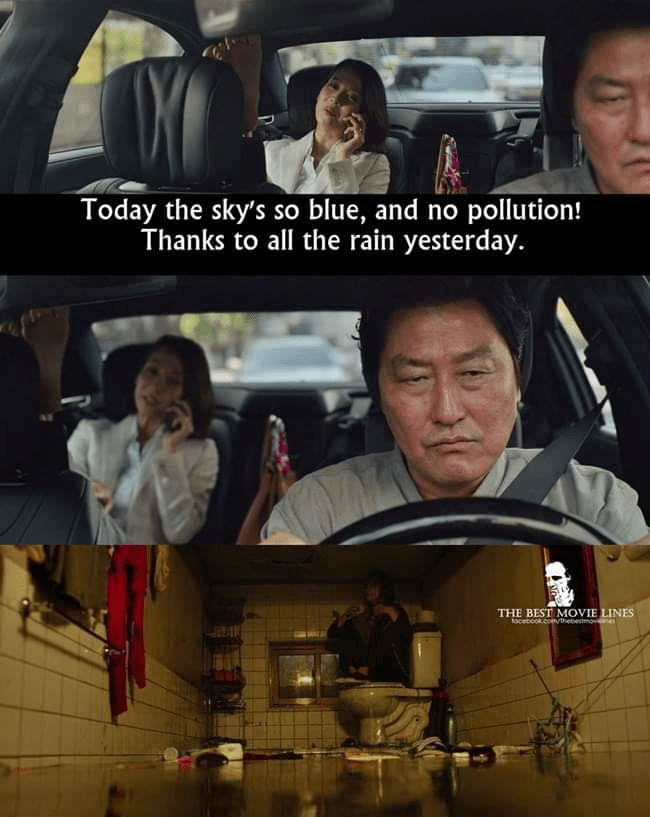 While the blessed ones are busy admiring the sky and the pollution-free air after rain, the poor lament and mourn the loss of their belongings and a roof over their heads.
Rain is not romantic for everyone 💔#Karachirain #KarachiSinks pic.twitter.com/lAzgVObFbA

— QureshiTweet(zuhaib ka 🎂15 oct) (@Qureshitweet99) August 24, 2020
Indeed a harsh reality of life that is difficult to digest by many, but so many poor people in Karachi who can barely make ends meet, end up losing more than just their home every year when it rains. In areas such as Surjani Town and Orangi town, it is every year that their houses are flooded with gutter water and people get trapped inside. As we celebrate the rain, there are people whose houses are being destroyed by the same rain, leaving so many families to suffer.
Stay tuned for more interesting articles and updates!