The State Bank of Pakistan (SBP) has issued a commemorative banknote to mark the 75 years of independence of Pakistan on the auspicious occasion. The bank officially revealed the new banknote on 14th August 2022 as a gift to the citizens of the country.
The note is emerald green in colour and has the denomination 75 to mark the special year – moreover, according to the State Bank, the note will be available to the public towards the end of September 2022.
That's not all, the new note features the portraits of those without whom our precious homeland would remain a dream. They include the Founder of Pakistan Quaid-e-Azam Mohammad Ali Jinnah, his sister who was also a stateswoman and revolution Motarma Fatima Jinnah,  Allama Muhammad Iqbal, and lastly Sir Syed Ahmad Khan.
These personalities and their contributions have been instrumental in elucidating, shaping and supporting the struggle for independence. Moreover, this note has made history altogether as this is the first-ever bank note in Pakistan issued by SBP to feature a female figure.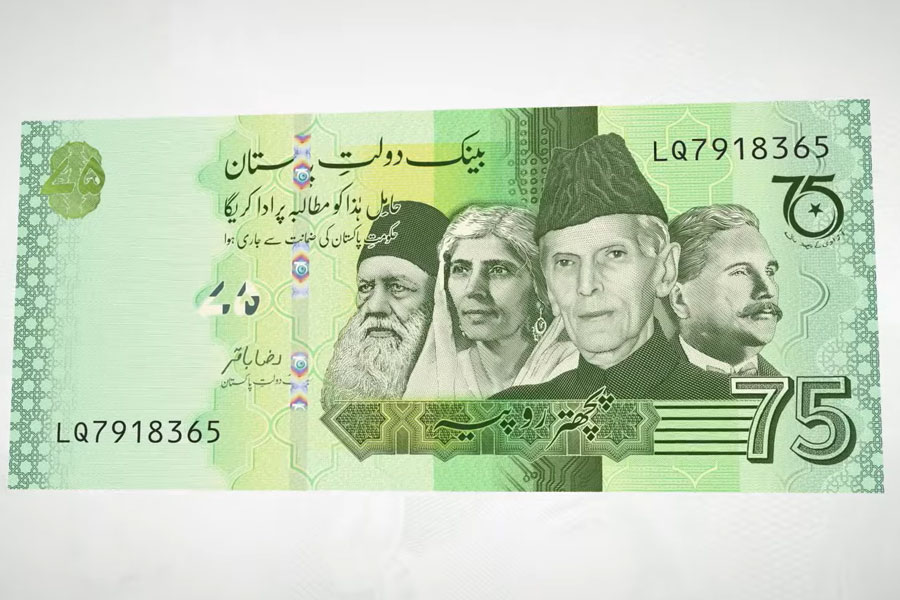 Mohammad Ali Jinnah
The struggle for independence was headed ably and brought to a fruitful conclusion by Quaid-e-Azam, who thereafter became the face of the nation and the symbol of its unity.
Fatima Jinnah
Quaid-e-Azam was supported unfailingly by Mohtarma Fatima Jinnah, whose presence on the banknote serves as a reminder and acknowledgement of the role of women in the freedom movement.
Allama Iqbal
The philosophical underpinning for a separate Muslim identity was provided by the Poet-Philosopher, Allama Muhammad Iqbal.
Sir Syed Ahmad Khan
Sir Syed Ahmed Khan was one of the most prominent Muslim reformers and educationists of South Asia, he advocated modern education and reforms in Muslims' outlook so as to enable them to survive and flourish in the changing environment.
Whereas on the back side of the note, we can see the national animal – Markhor along with Deodar Trees (Cedrus deodara). The vignette on the reverse side of the banknote is inspired by the artwork banknote done by Ms. Sara Khan, a young and upcoming artist from Pakistan. Respectively, these symbols highlight the importance of saving our environment and Pakistan's unique Fauna and Flora. The design provided by Ms. Sara Khan was selected by the State Bank of Pakistan as an inspirational outline for the vignettes on the reverse side of the commemorative banknote.
Previously, the State Bank issued commemorative coins for Benazir Bhutto and Fatima Jinnah, however, the coin featuring Jinnah had flowers in place of a portrait.
Security Features
What do you think about this new approach to mark the country's Diamond Jubilee? Share your thoughts with us in the comments below.
Stay tuned to WOW360 for more news and updates.