On one hand, Irani women are protesting to make the mandatory hijab rule go away on the basis of human rights, on the other, women who want to wear their hijab are being deprived of their rights.
After the news of Sweden imposing a $1000 on women who violate the 'burqa ban' rule, the news of EU's controversial ruling has come forth. According to the ruling, corporations and businesses may restrict the wearing of hijabs or headscarves as long as it is part of a broader prohibition.
This decision was announced after a Muslim woman approached the court with a case against a company in Belgian that refused to give her a 6-week internship because she refused to take off her scarf.
The Court of Justice of the European Union (CJEU) maintained that a general prohibition on a headscarf is not discriminatory against workers on religious grounds and does not violate EU law.
The internal rule of an undertaking prohibiting the visible wearing of religious, philosophical or spiritual signs does not constitute direct discrimination if it is applied to all workers in a general and undifferentiated way – the judges were quoted.
Priyanka Chopra Jonas Slammed for 'Activism of Convenience' Over Hijab Issue in Iran
Moreover, the companies clarified that under a neutral rule, all hats, caps, scarves, and other headgear are banned within the premises.
Other countries that fall within the EU have also implemented a similar ban, including Germany and Netherlands along with France, which was the first.
On the other hand, the Swiss government wants fines of up to CHF1,000 ($1,000) for people who break a ban on face coverings in public places. According to the bill, concealing the face in a public place is prohibited. Eyes, nose and mouth must be visible. This is also a ground rule for football fans as well.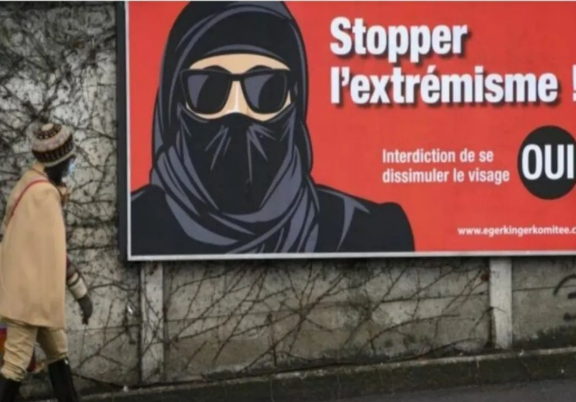 A football fan may, for example, wear a cap or hood, but not a balaclava. A Muslim woman may wear a hijab — a scarf covering her hair — but not a niqab, which shows only the eyes, or a burqa which covers the whole body.
Social Media Reactions
Here's how netizens reacted to the decision:
What are your thoughts about the ruling? Is it fair? Share your thoughts with us in the comments below.
Stay tuned to WOW360.
"Wear Your Hijab with Pride" Says Australia's First Hijab-Wearing Senator Fatima Payman