PPP politician Sharmila Faruqi disagrees with actor Mirza Gohar Rasheed's statement on violence against women. The politician took it to Instagram to school the star who said, "Oppression is a choice." 
A slap scene from Gohar's recent drama serial Laapata went viral on social media. The actor took it to his Instagram to reveal that he took this role only because of this scene that "prove that oppression is a choice."
"If any insecure man with his fragile ego tries his 'so called' muscles on you, make the choice that Falak did without any fear. One tight slap back from a brave woman to such weak man in our society would be a giant leap for women kind."
Little did the actor know his statement will cause a serious backlash due to his timid ideas of oppression. 
Gohar's statement shocked most of us. However, politician Sharmila Faruqi didn't hold back and replied to Rasheed's post. She said, "Oppression is not a choice." "It's a hard reality."
She further added, "Thousands of women are oppressed daily not because they chose to be oppressed but because they don't have the choice to hit back or leave. Marital rapes, domestic violence, acid victims, child marriages are rampant because the victims are helpless physically and financially. They suffer in silence and those who do muster the courage to fight back are either silenced, murdered or divorced with no where to go. The victim blaming never ends, it's a vicious cycle."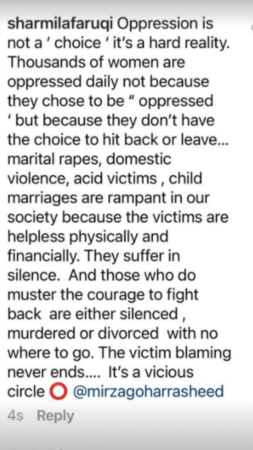 Rashid then replied to Faruqi in a lengthy post. He wrote, "With all due respect ma'am. Then how can we break this vicious cycle? If thousands of women are being oppressed daily, how can we change that reality?" he asked.
The actor then reasoned with his statement. "The main reason why women tolerate all this injustice is because of fear, the norms and taboos that have been created by our unsophisticated society. And now this fear is becoming a mindset for these women and the only thing that can change this mindset is an idea. An idea of not being oppressed, tolerant or fear any injustice or abuse by the spineless men of our society."
"The 'slap scene' depicts a woman standing up for herself and saying no to violence which is a step towards breaking that vicious circle. Oppression is a choice, an idea for the generation to come where no woman should accept being abused or oppressed due to the society norms and if she does tolerate being oppressed then that is her choice not a mindset anymore," he further added.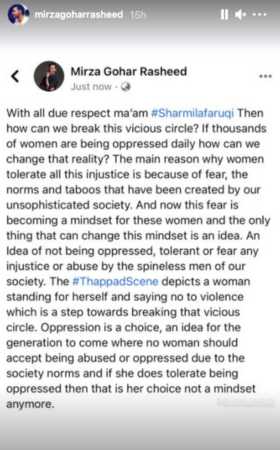 There is no way anyone can justify the slap scene where we see the man slapping a woman, and in return, the woman slaps the man back. Not all cases are the same, nor can all women or men hit back their abusers. In most cases, there will be severe consequences to that.
Many believe that while the scene may have been justified within the serial, the reality is far more complex than what happens on screen. All in all, any form of violence should be not be excused, regardless of the gender of the abuser.
Sharmila Faruqui Lashes Out at Ayeza Khan and Here's Why. Read the full story here:
The ongoing Pakistani drama 'Laapata' is currently doing rounds around the country because of the exceptional storyline and star-studded cast. The cast of the drama includes Ali Rehman Khan, Sarah Khan, Gohar Rasheed, and others. Unexpectedly, both the lead actresses Sarah Khan and Ayeza Khan, share the small screen without stealing each other's limelight.
Have something to add? Let us know in the comments section below.
For more news and updates, stay tuned to Wow 360.