Pakistani actor Naumaan Ijaz has received flak online for making actress Ayesha Omar shockingly uncomfortable during their conversation.
The actor started the topic by claiming, "Controversial cheezain kur jati hain app." He then questioned, "Kya app chahti hain controversies bunain?" Omar replied, "Bilkul bhi nahi."  He then began panning out previous controversies related to the actress, "Kuch apki bold shoots, statements ajati hain."
While hinting at actresses coming out with their harassment cases, Ijaz began by saying that, in his personal opinion, if something has happened in someone's past, they don't need to express it and join the bandwagon. He continued by saying it is risky to damage your reputation in the industry.
About Ijaz's claim, Omar responded by saying she didn't come out with her #MeToo story because she saw other people doing it. While she was trying to continue to explain her side of the story, Ijaz cut her off in the middle. He asked why it has become necessary to completely forget that we live in a society where survival is difficult. The people here are not as literate and may not take the information positively.
Ayesha then answered, "You're correct, I often forget that, but I need to follow my truth to the forefront and be authentic." Naumaan asked her if she gained anything by being honest? Did people praise her for opening up? Omar responded, a little hesitant, "You don't do everything to receive praise or affirmation. You have to answer yourself. Don't you think so?" Ijaz replied, "I don't think so."
He asked, "Who were you following?" The actress replied, "My truth." Ijaz then said who asked you for your truth; she replied it was asked several times. He said, "You then seized the opportunity to say whatever you had to say." Omar replied, "I have never openly spoken about it [Took names etc.]."
Ijaz said, "but it came out." Omar, now defending herself, said, "I don't even know what you're talking about, but I'll say ok."
Omar said, "I got strength when a colleague opened up about it not to gain limelight."  Naumaan then switched the topic and commented on her dress and asked her why she had come wearing a night suit on his show?
Internet users are calling out Naumaan for his conduct towards a female actor and termed it sexist of him to respond to Omar's coming out.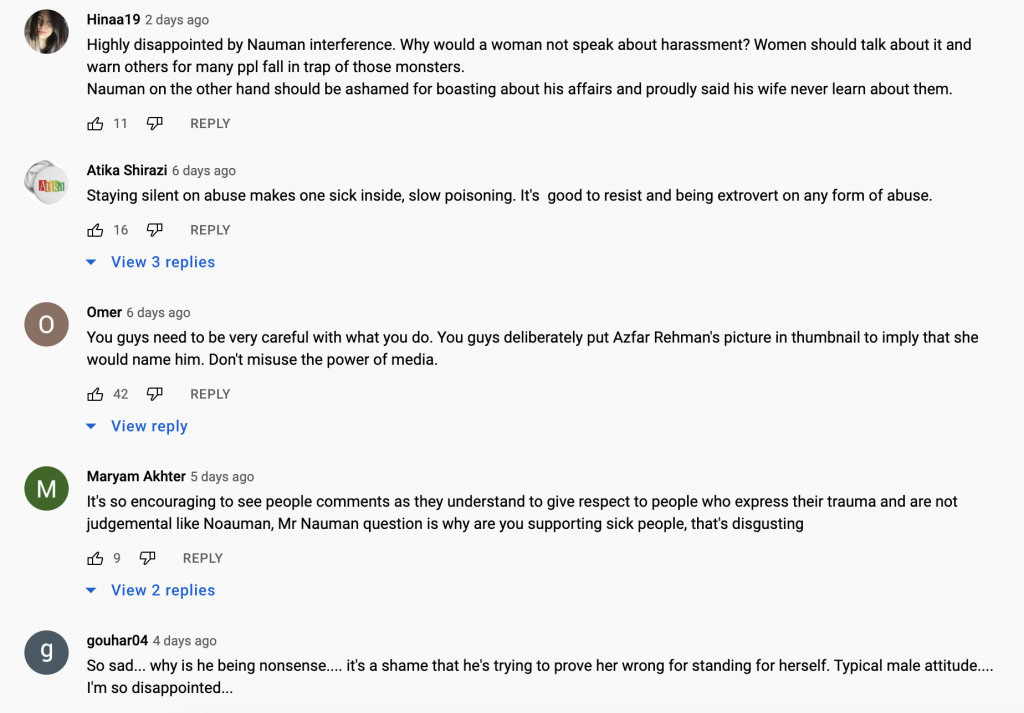 Shoaib Malik & Ayesha Omar Face Controversy After Sizzling Photoshoot Pictures Go Viral. Read the full story here:
Pakistani cricketer Shoaib Malik and film-TV actress Ayesha Omar face controversy after pictures from a sizzling photoshoot for a reputed magazine came out. Both the stars, successful in their fields of work, have revealed quite a bit about themselves to the magazine. However, the photoshoot received massive speculation as Shoaib Malik married Indian tennis player Sania Mirza. Fans wondered how someone's husband/wife could allow such photoshoots to happen.
Shoaib Malik & Ayesha Omar Face Controversy After Sizzling Photoshoot Pictures Go Viral
Have something to add? Let us know in the comments section below.
For more news and updates, stay tuned to Wow 360.