One of the famous and most prominent Tiktok personalities, Adil Rajput has reportedly passed away in a car accident yesterday, Tuesday, reported Dailytimes. However, it was clarified a few hours later that the whole incident was a hoax and clearly a media stunt to gain more followers.
The Tiktoker had more than 2.6 followers on the official Tiktok account and fans were shocked and devastated to hear about the tragic incident. However, not everyone believed it to be true. 
A fan favourite, so many of his fans and followers expressed sadness at the rumoured death of the star. His wife Farah Rajput posted a heart-wrenching video on Tiktok to confirm the sad news.
Twitter has Questions: Is this Real or Fake?
As the video started going viral, people initially thought the news is fake since tik tok stars have become a victim to death hoaxes in the past as well.
According to reports, previously another famous TikTok star, Daniyal Khan also passed away in a car accident in Islamabad.
Fans believe the tik tok star was getting death threats since the past few weeks and he died in a planned car accident.
Sad News it is Famous Tiktoker #adilrajput died in a car accident. May his soul rest in peace pic.twitter.com/EL8FJFFLpy

— ZaMaN MeHaR 🦌🇵🇰 (@Mrinsafian) September 15, 2020
Famous tiktoker Adil Rajput died in planned road accident.He was receiving a lot of death threats from last 2weeks.And today he died in road accident. #adilrajput rip 💔😭 pic.twitter.com/OhWL0VhyPz

— Musa_Official (@Chaudarysahab) September 15, 2020
However, people now believe that this apparently was a hoax and a mere stunt to gain publicity and increase followers.
I am still confused by the whole drama
So is he dead or not? #adilrajput

— Aiman (@WakeUpAiman) September 15, 2020
Anyone can confirm his death is real or a prank? #AdilRajput https://t.co/lz335nHPFm pic.twitter.com/sYBZGjKPaK

— Showbiz & News (@ShowbizAndNewz) September 15, 2020
Even news channels like ARY reported the incident saying how the husband is still alive and has come home now.
#AdilRajput he is alive . pic.twitter.com/LuXQhop8Bg

— Nawab Nouman Qureshi (@NawabNouman) September 15, 2020
Fake news for followers 😐 🤣#adilrajput pic.twitter.com/fbyvovgxpX

— Salman Ali Qureshi (@SalmanAliQ) September 15, 2020
Right Now Pakistani Awam.#adilrajput pic.twitter.com/qDBNfjnZk7

— Its:)Arif (@MazakMastiMemes) September 15, 2020
Thanks God Finally it's a fake News #adilrajput pic.twitter.com/6Q0ZvGUB99

— Sultan Muhammad (@SultanM0hammad) September 15, 2020
I mean seriously…2020 is really messed up.
#adilrajput pic.twitter.com/S78Kev6XlI

— Osama Khurshid (@SwatiStates) September 15, 2020
Wait, WHAT?!
I just received this. Tiktoker Adil is alive? #Pakistan #AdilRajput #BreakingNews pic.twitter.com/Nf4o4XAJRc

— Sarwat Iftikhar (@iftikhar_sarwat) September 15, 2020
Pathtic way to get Followers#adilrajput pic.twitter.com/ER5h0yqTmS

— Razzaq Hussain (@razzaqhussain79) September 15, 2020
That's why I have trust issues.Acting k badshah ho. Asai hi shugal mela lgaye rakho.#AdilRajput pic.twitter.com/79ly6QHUJJ

— Toba's Stan 🖤 (@iamifzi) September 15, 2020
Could this be true? Can someone actually stoop this low merely for fame and popularity? 
The husband wife couple gained massive popularity for creating interesting content and videos on Tik Tok (one of the most downloaded application of 2020).
Here are a few funny and romantic video compilations of the popular Tik tok couple.
About Tik Tok & Statistics
In the past, Pakistan's telecommunications regulator has issued final notices and warnings to Chinese video social media giant TikTok over promoting obscene and vulgar content.The Pakistan Telecommunications Authority (PTA) had earlier pointed out the issue and said that they had already warned the app owners but received responses that were "not satisfactory".
According to statistics provided by Oberlo.com, TikTok was the most downloaded App on the Apple App Store in Quarter 1 of 2019 with more than 33 million downloads.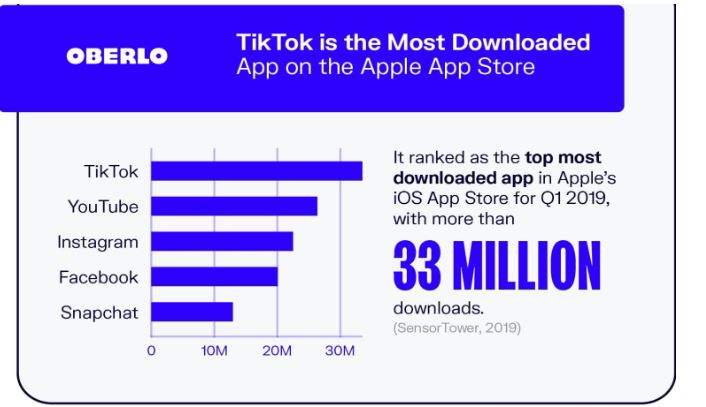 As of 2020,  TikTok's growth shows no signs of stopping. The latest statistics reveal that the popular video app has been downloaded more than two billion times all across the world on both the Apple App Store and Google Play (Sensor Tower, 2020). 
There were a total of 315 million TikTok downloads worldwide in the first quarter of 2020. Not only is this a  58 percent rise from the previous quarter, it is also the highest amount of downloads any app has ever received in a quarter.
Most likely the surge in downloads is a result of the coronavirus pandemic. When in lockdown, people were spending more time on their mobile phones and seeking out new ways of keeping themselves entertainment, maybe this is what drove TikTok downloads.
Read this:
Jannat Mirza: All you need to know about Pakistan's Most Followed Tik Tok Star
Was this all a drama to gain followers on Tik Tok? What do you think?Share your thoughts in comments below.
Stay tuned for more updates and news.