Update 7th September 2022:
Artistic Milliners were in shock when allegations surfaced against the denim manufacturer about gang rape, torture, and murder of a woman. However, after investigations conducted by the police, Korangi SSP shared that the accusations are false.
Moreover, these false accusations were made to defame the company through a fake YouTube channel and Facebook page.
After the incident surfaced on social media and enrage wrath of fury, the company wrote a letter denying the allegations to the Korangi Association of Trade and Industry (KATI). Moreover, they mentioned they will take action against those who have attempted to defame the company and KATI – a fake channel identified as 'Dhoom Plus'.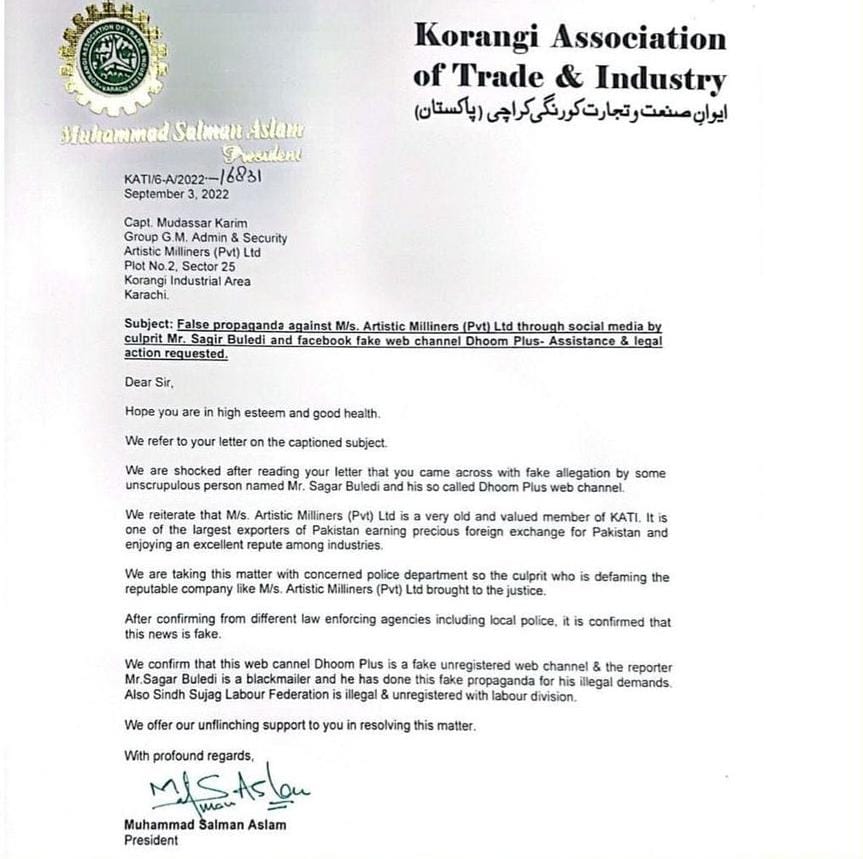 ——————————————————————————————————————————————————————————————
6th September 2022:
Social media just cannot grasp the news of the brutal alleged gang rape and murder of a young woman in Karachi. According to the posts that have surfaced on different platforms, the woman was an employee who has allegedly been raped and then tortured by 20-22 men.
This incident allegedly took place at Artistic Milliners, it is being said that around 6 a.m she finally managed to make her way out of the factory, but passed away due to the injuries and trauma on the premises.
However, the news of the alleged gang rape and torture and death has not yet been officially verified by any institute nor a statement in this regard has been released by the multinational denim manufacturing powerhouse.
Social Media Reactions to Alleged Rape & Torture at Artistic Milliners
A girl working at Unit 4 was forced to stay back in the company after the working hours under the circumstances of overtime. The factory hours end at 5 pm. She was drugged & raped in the HR by 20-22 men all night, inside the office premises

— afa (@afasays) September 6, 2022
Trigger Warning: r*pe case #ArtisticMillinners world's leading denim manufacturerss pic.twitter.com/TDtwpWzren

— churan chutni (@lonenred) September 6, 2022
The rape case about one of the largest exporters of Pakistan "Artistic Milliner"
A girl was raped in the HR by 20 men all night, inside the office premises. She passed away the next morning.
The management was strictly told not to tell anyone.
No news, no hashtags, nothing.

— Momina Khan (@mominarkhan_) September 6, 2022
Not the first time @AMilliners has been in the news for heinous crimes. Won't be the last too unless the authorities take an action. @hamzashafqaat @MJibranNasir @kanwalful pic.twitter.com/Ojw1FBcMu9

— Momina Khan (@mominarkhan_) September 6, 2022
Wtf do you mean by she said. She's dead. She was sexually assaulted by a whole crowd of men until she died. She's not saying anything anymore.

If the news is fake, they can very easily dimiss it. Too many people within it have confirmed it for it to be all lies. Investigate karo

— mrym (@mari_bisc) September 6, 2022
Please retweet to spread this!!!#ArtisticMillinners is hiding this incident. pic.twitter.com/PvnujqaW03

— Ammara (@ammaracadabra) September 6, 2022
Wtf? What reputation? What company? Their company is important than someone's daughter? Someone's life? Bloody b*stards. 🤬 #ArtisticMillinners https://t.co/GFEitcMqNh

— sajal. (@sajalt10) September 6, 2022
I am rattled, hopeless and anxious ever since I've read about how a women was raped in artistic milliners

What can we do to spread the word? How can we get media to take notice? Can we email artistic clients? I know they deal with @hm @mango @zara #ArtisticMillinersRapeCase

— Mahnoor rashid (@maahnoorrashidd) September 6, 2022
https://www.facebook.com/sanaullah.lanjar/posts/3275905919363744
She is not the same girl that was murdered but this video can be an eye opener for many regarding the fact that harassment and blackmailing is routeen for most girls and women working in textile industry.#ArtisticMillinersRapeCase #Artisticmilliners #AGI #harassment pic.twitter.com/WTOdsvrcWs

— Aap ki Awaz (@apkiawaz7) September 7, 2022
According to the news currently on social media, this incident took place approximately 4 to 5 days ago, however, no uproar has been created yet in mainstream media.
It has just begun to pick up momentum as social media expresses its anger and fear, raising the question, are girls ever going to feel safe in their workplaces, homes, streets, city, and country ever again?
Moreover, some accounts that have come forth by those who are related to employees or by employees themselves also claim that the incident is in fact true, however, there is no official authentication yet.
We hope that laws in Pakistan for the safety of women are actually implemented instead of being jotted down on paper and that every man makes it his responsibility to make sure the daughters and sisters of the countrymen are safe and sound.
**THIS IS A DEVELOPING STORY**
Stay tuned to WOW360.
Women Answer 'How Common is it for Them to Feel Unsafe in the Streets?'
Disclaimer: The opinions expressed in this published work and do not reflect the opinions of WOW360 nor the author and they assume no responsibility or liability for any errors or omissions in the content of this site. The information contained in this site is provided on an "as is" basis with no guarantees of completeness or accuracy.