Pakistan announced the first-ever electric car policy this year in June, and now it is all set  to bring battery powered electric buses to the country.
Daewoo Pakistan signed a strategic Alliance Agreement with Skywell Automobile to set up an electric vehicles chain all across Pakistan. According to Fawad Chaudhry, the Science & Technology (S&T) Minister, the objective is to make the vehicles and buses running in Pakistan be emission free.
"Since Pakistan is moving towards an electrical vehicle regime, these new fuel-driven vehicles will help the country achieve that goal at a fast-speed," said Fawad Chaudhry at the signing ceremony.
Chaudhry referred to the agreement as a big leap towards the fulfillment of another promise.
"Pakistan will be having electric buses from this year and in the next three years we shall be in a position to manufacture them locally," added Chaudhry.
After buses, motorbikes will also be shifted to electric power, says Fawad Chaudhry. Previously, first electric vehicle charging station had also been installed Islamabad, Jinnah avenue.
WOW 360 got an exclusive from the CEO Daewoo Pakistan Mr. Faisal Siddiqui. Here is the run down on the much-hyped electric bus launch in Pakistan this year, from Daewoo's CEO himself:
What motivated you to sign this deal ? In which cities will the buses operate?
Electric mobility is the future, there is no doubt that the combustion engine will be extinct in the future. Pakistan as the 5th largest population in the world represents an attractive market with high potential. China has already made huge strides in that a vast number of electric buses have already been added to public transport fleets. And Pakistan needs to start.
We propose to operate buses in the big cities to start with namely, Karachi, Lahore, Islamabad, Multan, Faisalabad. But we intend to offer to all city governments to consider electric mobility
Will there be separate buses for women being launched ?
Definitely being considered. The feasibility of such a service increases as the fleet size in a given city increases so we do hope that provincial and city governments will wake up and help in bridging this gap.
Will we be seeing electric cars in Pakistan ?
Eventually, yes. But for the moment electric cars are much more expensive that petrol cars. So for the first phase the focus will be electric buses and light trucks
Will the electric buses be less expensive to operate compared to normal buses ? What is the expected ticket price ?
The capital cost of electric buses is much more than for diesel buses, but the operating costs are much lower. The all-in cost of capital cost plus operating cost is lower than for diesel buses.

Whether they be electric buses or diesel buses, the fact is that the all-in cost of a public bus service is more than what a normal bus taking citizen can bear. So, the ticket price (which is regulated by the provincial governments) covers perhaps 40% to 60% of the total cost of owning and operating a bus. This is not unusual, and Pakistan is by no means unique. Public transport systems in the world over rarely cover their costs through fare revenue. For lower income countries this can be as low as 20% of costs. But this does not mean that public transport should not be provided at all.

The same analogy could be used in primary education for the poor i.e. just because the cost of providing the service outweighs the user's ability to pay does not mean than you just do not provide the service. Even in Pakistan's electricity sector, consumers who consumer below say 300 units per month are charged a lower tariff than larger consumers even though the cost of electricity is the same per unit.
Cities around the world usually choose to subsidize public transport, not because they want to profit the bus operators but because enhanced mobility has numerous positive externalities including: less congestion, fewer accidents, enhanced economic productivity, lowers barrier to economic opportunities for women, children and the disabled, reduced pollution, etc. In Pakistan, for some reason, public transport has not been a huge priority which needs to change.

Lowering the cost through electric buses plus showcasing the positive impact they will have on the environment will hopefully sway decision makers toward supporting public transport.
Hybrid to battery-powered buses
Environmental responsibility has been one of the focal aspects of Pakistan Tehreek-e-Insaf's (PTI) manifesto and the government been putting in efforts to boost environment-friendly vehicles and enhance the quality of air in the country.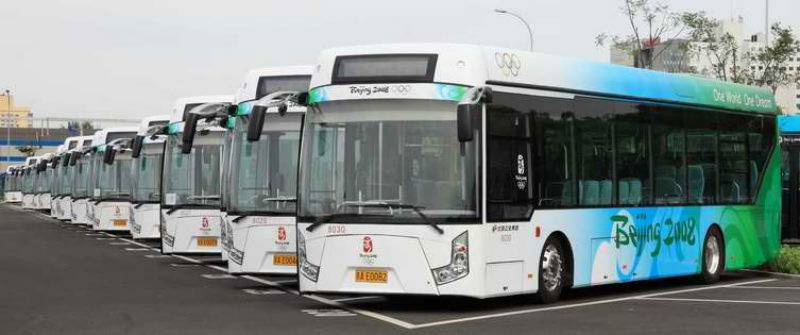 Umar Ayub Khan, Federal Minister for Power Division announced setting up 24 more electric vehicle charging stations at the time of inauguration of the first electric station in June.
 A high investment
Zubair Warraich, an automobile industry's expert mentioned how the Pakistani auto-industry will undergo major changes in the upcoming few years.
"We are going to benefit from China's unprecedented advancement in this sector", he said.
The company will be making an investment of US$30 billion in bus units. In addition, he added that China's Skywell  and diesel bus manufacturing company Yutong are considered top leading companies in the transport industry; this move and agreement will be creating various employment opportunities in the country and help boost the economy.
Shehryar Hussain, Daewoo's representative said that the transport industry of Pakistan is undergoing a transitional phase from diesel buses to hybrid buses. 
"We have seen in Peshawar's BRT buses and now from hybrid to electric buses regime. Above all, its impact on our environment would be quite positive", he said.
Stay tuned for more interesting articles and updates!