One of our wardrobes most essential items is a good blazer. The best kind of blazers are the one that go with every occasion.
A chic and well-tailored blazer can be accompanied with not just suit trousers but casual denim jeans, a cute sundress and even for a night out ootd.
Today we're going to discuss 5 places where you'll find the best blazers for your work meetings, presentations and even for fun events – all at the same time.
1. Debenhams – Navy Ponte Blazer
This one from Debenhams gives out a perfect blend of minimal yet feminine look and can be paired up with a pant suit as well as super casual wear if you play around a little with the sleeves by folding them upwards and tucking in one side of the blazer into your pants.
2. Mustards by Mantra
We can't take our eyes off this beautiful mustard blazer by Mantra  which is super cute and chic and can we worn on every occasion. Want to know the best part? You can accessorize with a few chunky jewelry pieces for that perfect modern look. Pro-tip: Always go for neutral color outfits if you want to wear a mustard blazer on top.
3.  Burgundy Suit Blazer by Mango
Clearly, you'll instantly get the feeling of telling yourself "you're the boss!" right after imagining yourself in this gorgeous Burgundy suit blazer by Mango. This one has Lapels Quilted panels on the shoulders and long sleeves with flaps and pockets. Not to miss out on the subtle shoulder pads to get that edgy 80's fashion vibe.
Wear this to work – heck even switch those matching pants with a pretty black skirt and pair that blazer just by layering it up on your shoulders without having to put your arms in the sleeves for a more classy streetstyle look.
4.  H&M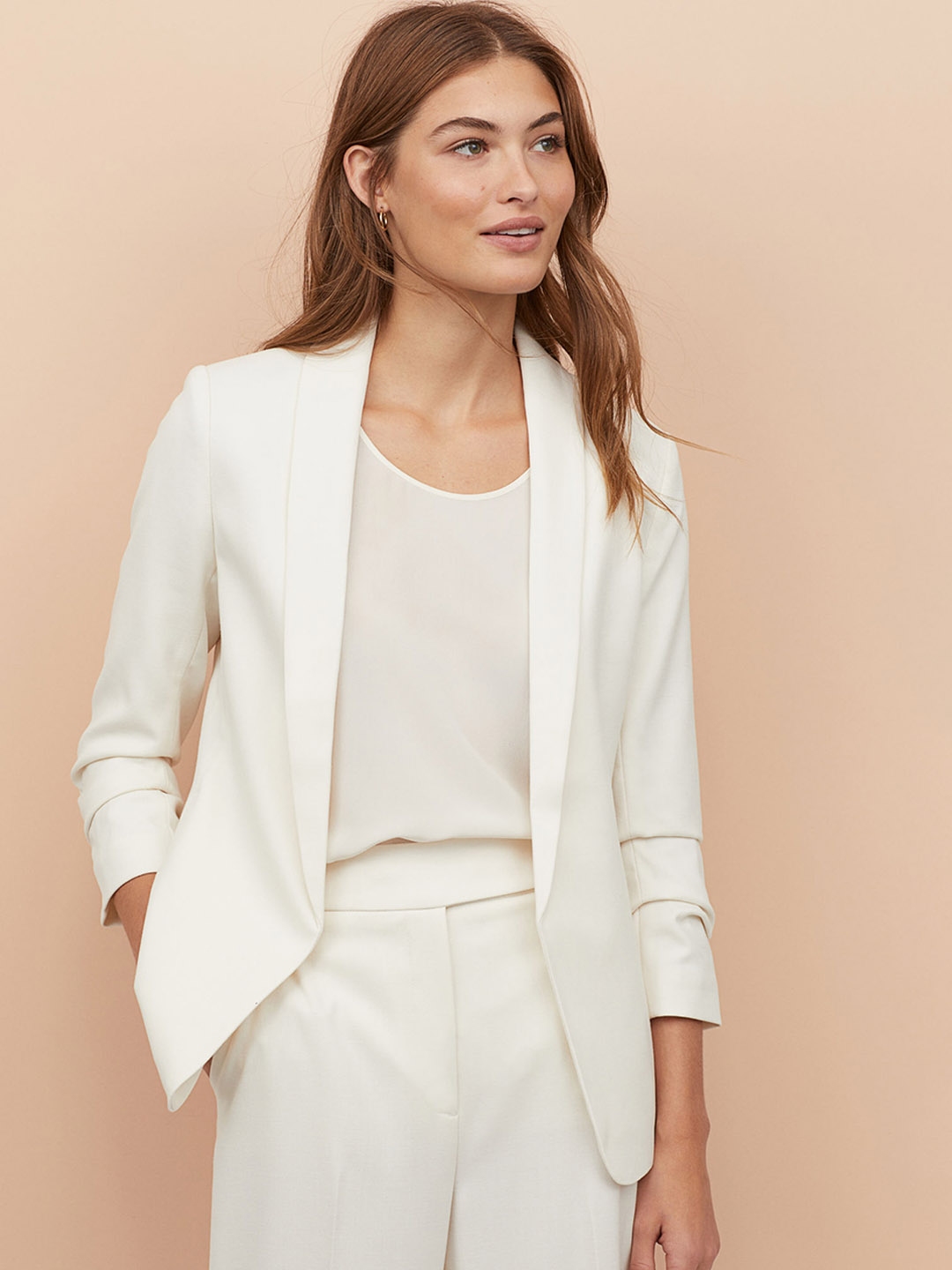 How stunning is this basic white blazer by H&M to instantly boost your confidence at work and even for casual lunch dates with your girl friends to take super stylish Instagram worthy pictures. Just accessorize with delicate golden hoops and double layered gold necklaces that go with your aesthetics and create a whole new look out of this corporate pant suit.
5.  Next
One of the best places in Pakistan to get amazing blazers. The perfect stop for chic fashion! We love this light grey blazer that looks corporate like and casual all at the same time – you can wear it with black pants too if you're not into 'matching separates' or not into following dress codes for corporate office meetings.
On the other hand, pair it up with comfy mom jeans for that effortlessly stylish yet casual look.
To sum it up, blazers work as a must-have staple for all occupations and occasions so you might as well choose the right one.
Was this article helpful? Let us know in the comments below.
Stay tuned for more aticles and updates.