Karachi's top hair treatment salons offer a spectrum of treatments, from traditional options like protein treatments to advanced methods like Laser Keratin and Metal Detox for sleek, healthy hair.
Leading salons like Neelo's, Sabs, Saman Nomani, Studio 9, and Joie's excel in providing unique, science-meets-luxury hair treatments for radiant transformations.
Hair treatments are a rejuvenating trend, enhancing hair health and aesthetics globally.
---
---
In the ever changing world of beauty and self-care, hair treatments have emerged as a rejuvenating experience for those seeking to enhance the health, vitality, and aesthetics of their hair. From the bustling streets of Karachi to cities around the globe, salons and spas are offering an array of innovative hair treatments that cater to a diverse clientele.
These treatments range from traditional favourites like protein treatments and oil massages that provide deep nourishment and repair, to cutting-edge techniques like Laser Keratin and Metal Detox treatments that promise sleek, frizz-free, and radiant locks without compromising hair integrity.
Here are 5 of Karachi's premier salons and their signature hair treatments, each offering a unique blend of science and luxury for your hair.
Neelo's Salon and Spa
Neelo's Salon and Spa is a renowned establishment in Karachi, stands as a trusted haven for women of all walks of life, from working professionals and housewives to teenagers and even young girls. Neelo's has multiple hair treatments to offer such as X-tenso and Keratin amongst others that leave the hair silky smooth.
Their special hair treatment is the L'Oreal Metal Detox treatment that is curated to remove metals from the hair leaving the hair healthier, shinier and glossier and gives the perfect color to the hair.
 

View this post on Instagram

 
Sabs The Salon
A new hair treatment has taken the world by storm, the Laser Keratin Treatment, also known as photonic straightening or photon hair treatment. It is a revolutionary technique in the world of hair care and styling. Lucky for Karachites, the treatment has recently been introduced at Sabs.
 

View this post on Instagram

 
Unlike traditional straightening methods that often rely on harsh chemicals and high heat, this approach utilizes the power of laser technology to achieve straighter, smoother hair without causing damage to the hair fibres. Other helpful and affordable treatments include a hairfall treatment priced at Rs. 4,500 that will help reduce breakage and prevent hair loss.
Saman Nomani Studio
The famous scalp treatment offered by Saman Nomani Salon is a must have for Karachites, the high humidity in the city leaves hair feeling limp and oily. A good scalp treatment is the new skincare for hair and a must-have for all Karachites!
Other relaxing and highly beneficial hair treatments at the Saman Nomani Studio include a express herbal oil treatment that gives immediate results, a Keratox Hair Botox treatment for frizz free and voluminous locks, and various hot hair oil massages that are sure to leave you refreshed and relaxed.
 

View this post on Instagram

 
Studio 9 Salon
The latest buzz on the streets is Studio 9's hair botox treatment which has multiple raving reviews from popular influencers and makeup artists alike. It is the ultimate treatment for hair that is damaged and frizzy, it leaves the hair frizz free, healthy and gives a voluminous look.
Studio 9 Salon also offers one of the best protein hair treatments in the city, for women who suffer from dry, frizzy and unmanageable hair, a protein treatment can do wonders by giving the dead hair a shine,return the texture and deeply condition the hair resulting in a glossy look.
Joie's Salon and Spa
Joie's Salon is your ultimate destination for the latest trending hair treatments. With a team of highly skilled hairstylists, one can choose from the array of options offered at the salon.
The newest chic hair treatment that people are opting for is the Hair Botox and the popular smoothening treatment which leaves the hair smooth and shiny. Another popular choice by salon goers at Joie's is the Keratin Hair Treatment that leaves the hair the volume and shine that it needs.
 

View this post on Instagram

 
Joie's Salon also deals in an Oxygenating Hair Treatment that targets the hair follicles and the scalp. The hair follicles get revitalized by getting oxygen, vitamins and minerals, so they become stronger and the hair becomes thicker and more dense, while the scalp becomes clean and regains its original pH balance.
The salon is known for its innovative treatments and also offers a Micro Mist Treatment,  a specialized hair treatment that uses a device to create a fine, lightweight mist of product that is applied to the hair.  Joie's Salon is your go-to place for hair transformations that leave you looking and feeling fantastic.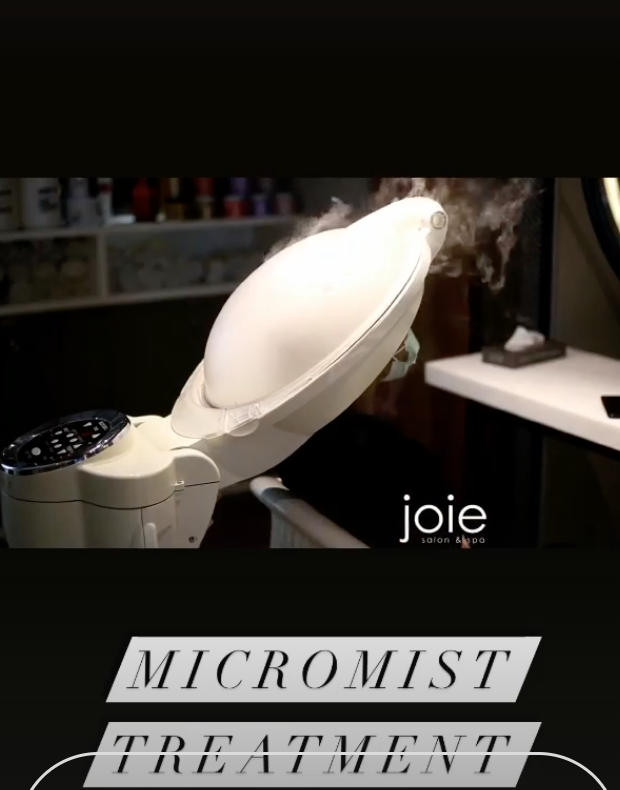 Follow WOW360 for more.