Floods in Pakistan have caused massive damage to not only the infrastructure but also the physical and mental well-being of the victims.
Account details of the survivors have been surfacing with goosebumps giving details.
One such account came forth about a young girl who was kidnapped and gang-raped by a rickshaw driver and his accomplice 2 days before they let her go.
Identified as Khalid and Dilsher, the accused have been taken into custody. The victim shared that the two lured her in by offering ration, then drugged her and raped her. She recorded her plight in a video that is now going viral over social media platforms.
"The victim and her family said the girl was kidnapped by a rickshaw driver and his accomplice," said a police officer. The victim claims she was drugged, after which she was gang-raped.
"I was going to take vegetables where I was told that I would be given ration," she added. The girl said that rickshaw drivers named Khalid and Dil Sher Macchi sexually abused her.
"They promised her to give her ration and relief goods provided by the government and welfare organizations for the flood victims. But they took her to their hideout, where they kept the girl for two days and raped her. The girl returned to the family after two days and shared her ordeal," said the official quoting the girl's family.
Sindh Minister for Women Development Shehla Raza has urged the police to arrest all the culprits. Minister has assured full legal support will be provided to the girl and her family.
Netizens are furious over the account as top celebrities such as Ayesha Omar and others have penned down their disappointment and anger.
"Is there any end to the shamelessness? Just abuse, steal, loot, violate, torture, and suppress. On every level. I don't even know what to feel. Or what to think," wrote Ayesha Omar on her Instagram account.
She went on to comment, "How can we change all this? Every day, I sit and ponder over this question. What is it that I as a Pakistani woman could do to change this dark situation?"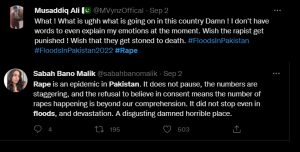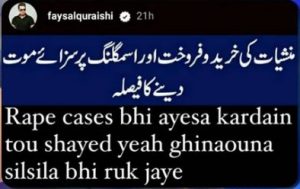 Pakistan Floods 2022: World Leaders Urge Rich Countries to Accept Responsibility & Provide Help
Share your two cents with us in the comments below.
Stay tuned to WOW360.