This inspirational video about an old Indian grandmother making 1000 samosas a day was posted on the internet and has garnered over 20 million views.
The grandmother is winning hearts on the internet as people watch her videos from all over the world and admire her will to work at this age.
Making 1000 Samosa a day from scratch at such an old age, that too so hygienically and with so much love is an awfully challenging task and she does is so effortlessly!
Watch the interesting video below:
People are showering love from all across the globe. They adore her smile and the heartwarming way she cooks. The happiness with which she prepares meals just melts your heart!
She then feeds these treats to the people of her village. How lovely! She truly is an inspiration, worker for the greater good even at this change and spreading love and positivity.
It is delightful to witness how even at such an old age, this woman has the will to work and help the society. Her resilience is commendable!
This is proof that if you love to do something, specially something that you're skilled at, there is no shame in pursuing it- specially if it puts food on the table and a smile on people's faces.
The YouTube Channel Veg Village Food has over 3 million subscribers. Hats off to this kid for coming up with such interesting food videos. 
Seems like Samosas aren't the only thing the grandmother has cooked at such a massive scale; there are recipes on dairy milk shake, homemade doughnuts, aloo parathay, rainbow pasta, halwa-styled rasgullahs, cheeseballs and so much more.
Watch a few of her videos below!
This one is a lovely, Diwali special video- the smile on those children's faces will warm your heart. 
Watching her videos make you crave delicious, homemade food and just makes you miss your own grandmother so much more.
Veg Village Food has been posting these videos since over 2 years now and the viewership has increased from 3 million to over 20 million these past years.
The simplicity and love with which the granny cooks huge portions and gives a desi twist to even western recipes, is what attracts people to these videos. 
Watch this giant Orea Cake being cooked in all its glory:
Some more love for the granny: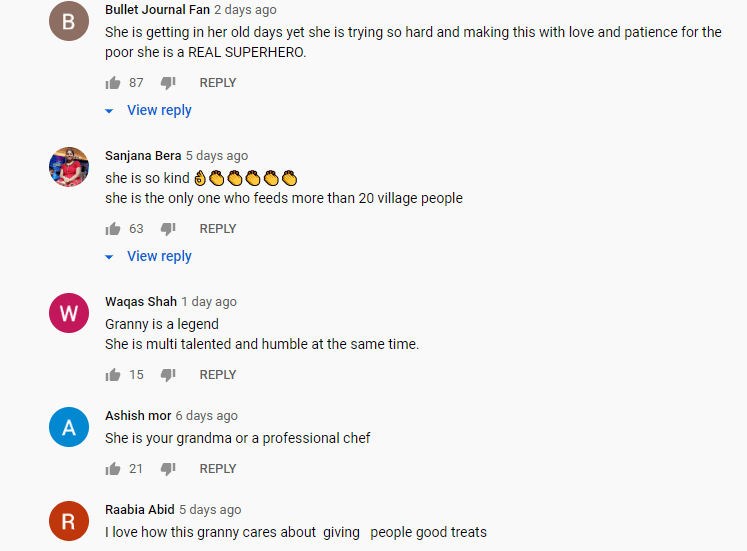 Here are some more videos:
This woman deserves international recognition and media attention for sure.
When we talk about inspirational Pakistani women who decided to break stereotypes and work in male dominated sectors, I instantly think of Zahida Kazmi- the first female Pakistani taxi driver.
When her husband passed away, she decided to step out and take fate in her own hands. Aged 33 when she first started driving, she was scared being a female taxi driver but now, she drives her cab from the crowded markets of Islamabad to the remote tribal areas.
It truly is a big deal today in this male dominated society of ours.
Parveen Saeed is another inspirational Pakistani woman who founded Khaana Ghar- based in Surjani Town (Khuda Ki Basti) Karachi, the venture feeds 300 people just under 3rs on a daily basis.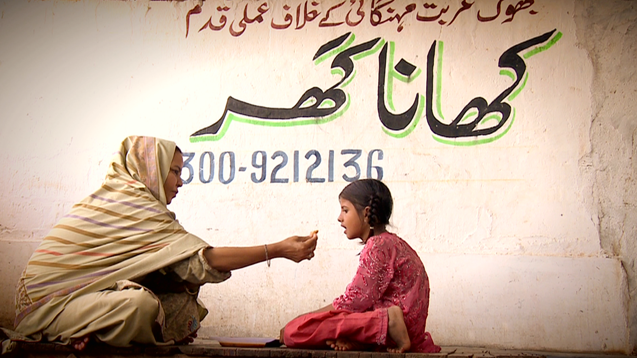 So what are your views on the granny cooking delicious meals for the whole village?
Stay tuned for more updates?