Pakistani women are often expected to keep their feelings hidden deep inside and have certain roles to play in a household which people expect to be restricted to the kitchen.
Truth is a woman is more than that, she is a person with feelings, someone who has her own thoughts, wishes, dreams, and most importantly her rights.
However, a Twitter thread has opened a discussion about how Pakistani women are unable to express their thoughts, even with their husbands. One example given in the tweet was of a woman who shared that she has not shared the same bed with her better half for 22 years.
Many other women poured in with similar stories of how they and their husbands, or couples around them have lost their intimacy and are facing other domestic issues.
The other day an anonymous post on Soul Sisters Pakistan about lack of intimacy in a marriage by someone who hadn't slept in the same bed with her husband for the last 22 years – had a domino effect.
Hundreds of posts poured in. Thousands of women were in similar marriages (1/3)

— Kanwal Ahmed (@kanwalful) April 8, 2023
This started a conversation on Twitter with others adding on to this.
Pakistani Women & Men Open Up on Twitter
Here's what social media thinks:
'A similar rather same case in my family. That woman says her husband never sleep in her bedroom for the last 26 years.
They have kids and the kids are not on good terms with the father though he daily comes to stay/sleep at that house. She's soo lonely. I always pity her. She is old now' writes Nadia Syed.
Elon Trump shares 'Intimacy is seen as an act, not as a bond that has a purpose. Some make it worse by reinforcing misleading take on intimacy between spouses. A glue that brings two people closest to each other to form a tight bond of mutual understanding & respect for a rewarding relationship.'

'It's indeed quite difficult to engage in an honest dialogue for the reason that the perverts believing in exhibitionist religiosity will come out in hordes to circumvent the issue. Marriage is not a license to free sex. It's a contract to grow & harmonise in togetherness!' Claims Faisal Yousaf.
'Not sure what kind of men are those who avoid their wives and fail to enjoy the most beautiful relationship Allah has created. It's also a societal issue in which both partners need to step forward and think beyond their kids and daily chores and stresses.' Shares Anas Noorani.
'Honestly, it's way better to be single and alone than be in a relationship that makes you feel alone. I'm just shocked hearing what's happening in our society behind closed doors. no wonder why we are a frustrated nation' expresses Yumna Owais.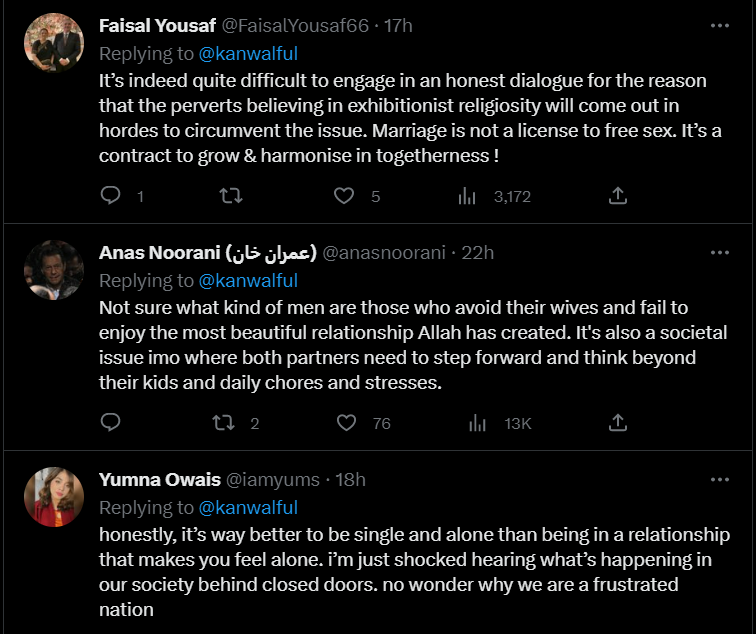 Other Pakistani women wrote: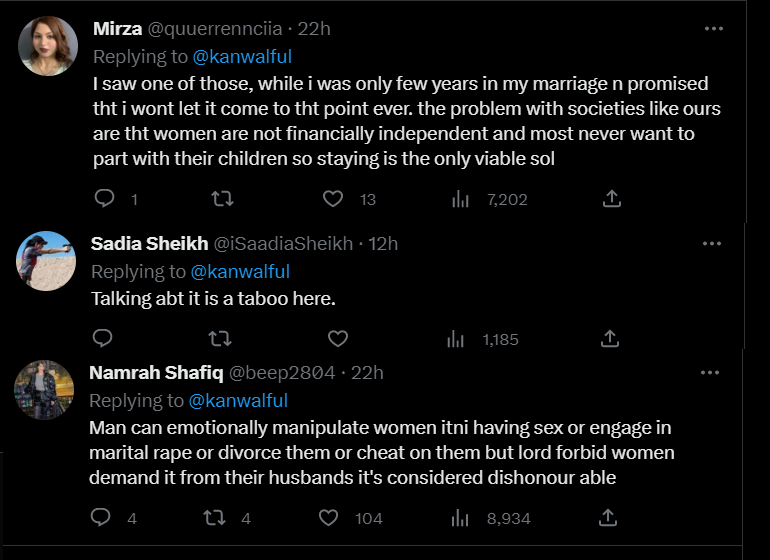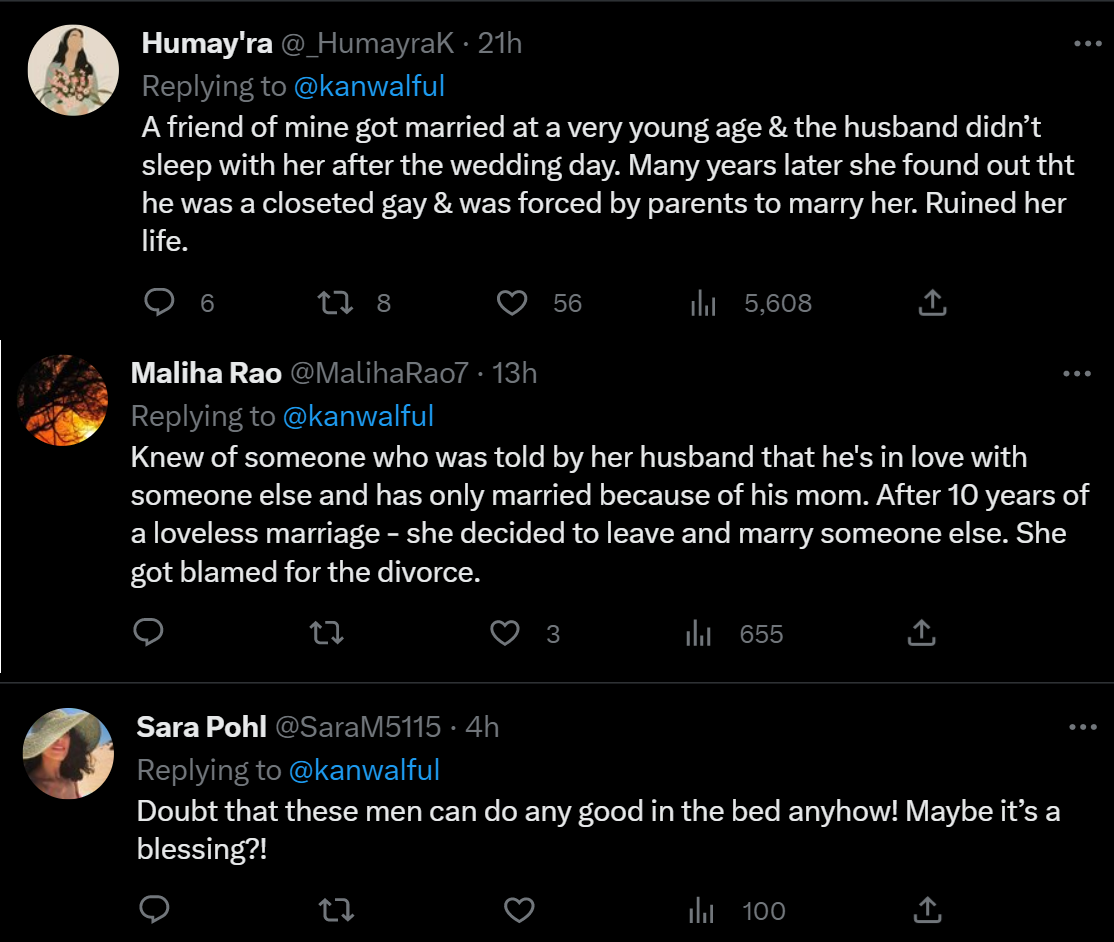 Possible Reasons Why Intimacy Ceases Between Couples
There are many possible reasons why intimacy may cease between couples, including:
Lack of communication: When couples stop communicating effectively, they may also stop being intimate with one another.
Differences in sexual desire: Couples may have different levels of sexual desire, and if these differences are not addressed, one partner may feel neglected or unfulfilled.
Stress: External factors such as work-related stress, financial pressures, or family issues can cause couples to feel emotionally and physically distant.
Infidelity: If one partner cheats on the other, it can cause a breakdown of trust and intimacy in the relationship.
Health issues: Illness, chronic pain, or other health problems can make it difficult for couples to be physically intimate.
Resentment: When one partner feels resentful towards the other, it can cause a breakdown in intimacy.
Changes in priorities: As couples age or their life circumstances change, their priorities may shift, and they may prioritize other aspects of their lives over their relationship.
Lack of time: Busy schedules and conflicting priorities can make it difficult for couples to find time for intimacy.
Boredom: Couples who have been together for a long time may become bored with each other and lose interest in being intimate.
It's important to note that every couple is unique, and what causes a breakdown in intimacy may vary from relationship to relationship. It's essential for couples to communicate openly and honestly with each other to address any issues and work towards maintaining a healthy, fulfilling relationship.
Maria B Takes Another Dig at Sar-e-Rah for Being 'US-Funded'
Share your thoughts with us in the comments below.
Stay tuned to WOW360.