Fashion designer Maria B has once again made controversial comments on transgender issues, this time regarding the Pakistani drama Sar-e-Rah starring Saba Qamar with other stars such as Muneeb Butt and Sunita Marshall.
Maria B used her Instagram stories to discuss what she called a "plaguing issue" and "huge global movement – transgender". She went on to criticize the show, which had initially referred to the character as a transgender, but later edited the caption to "intersex".
Maria made it a point to highlight in an earlier story that dialogue is key, especially since the situation remains persistent, "even in Ramazan". However, her comments have been widely criticized as anti-transgender and harmful to the already marginalized transgender community in Pakistan.
In her Instagram stories, Maria expressed her disapproval of talk shows inviting transgender individuals and claimed that "transgender means men. Men who have a disease, and view themselves as women due to gender dysphoria. They put on makeup and change themselves. Their relationships are abuse – they're homosexuals".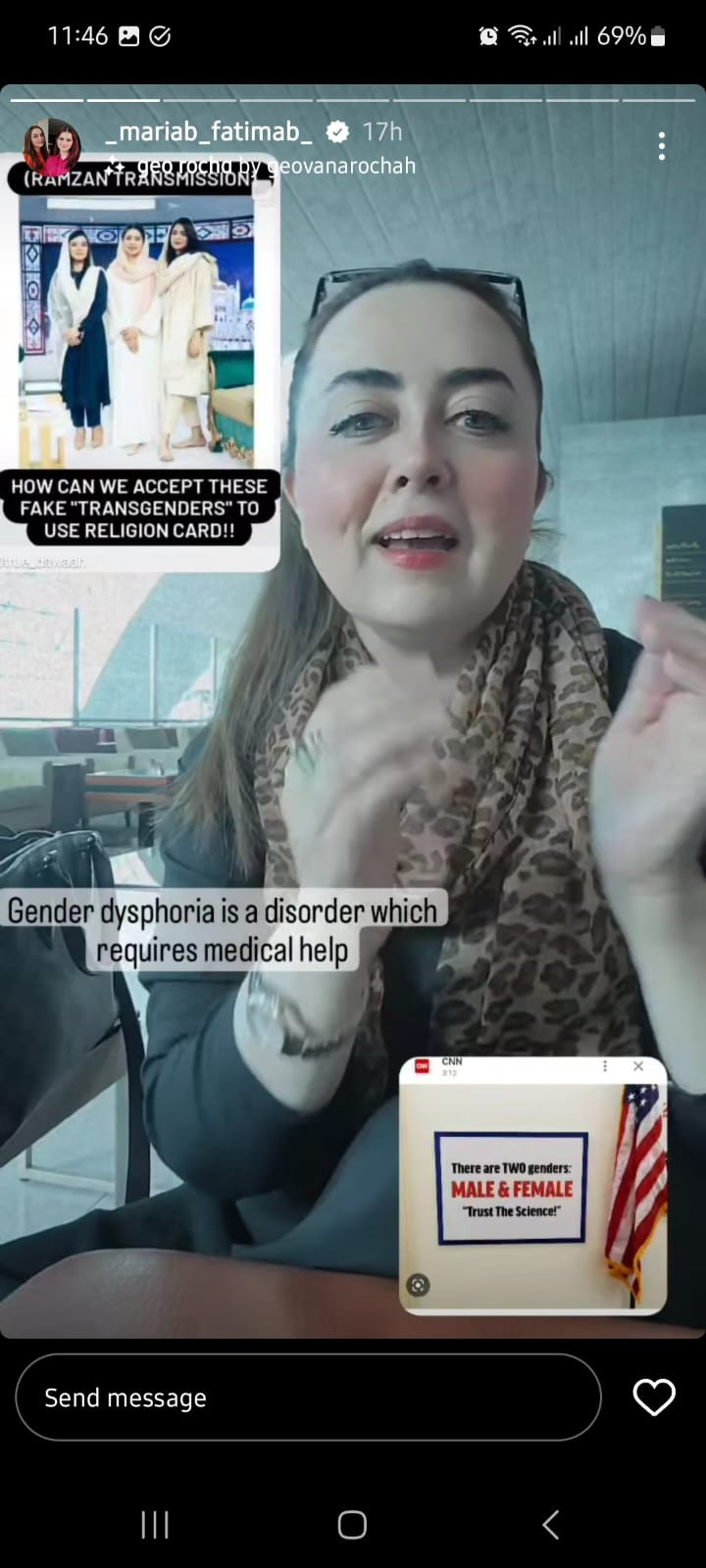 Drama Serial Sar-e-Rah Promotes Gender Fluidity, Maria B Lashes Out!
She further stated that inviting transgender individuals is forbidden in Islam and claimed that it had been declared un-Islamic by the Sharia court.
Maria also shared a post by another Instagram user titled "Ramadan Transmission or Indecency" which attacked transgender activists claiming they are homosexuals.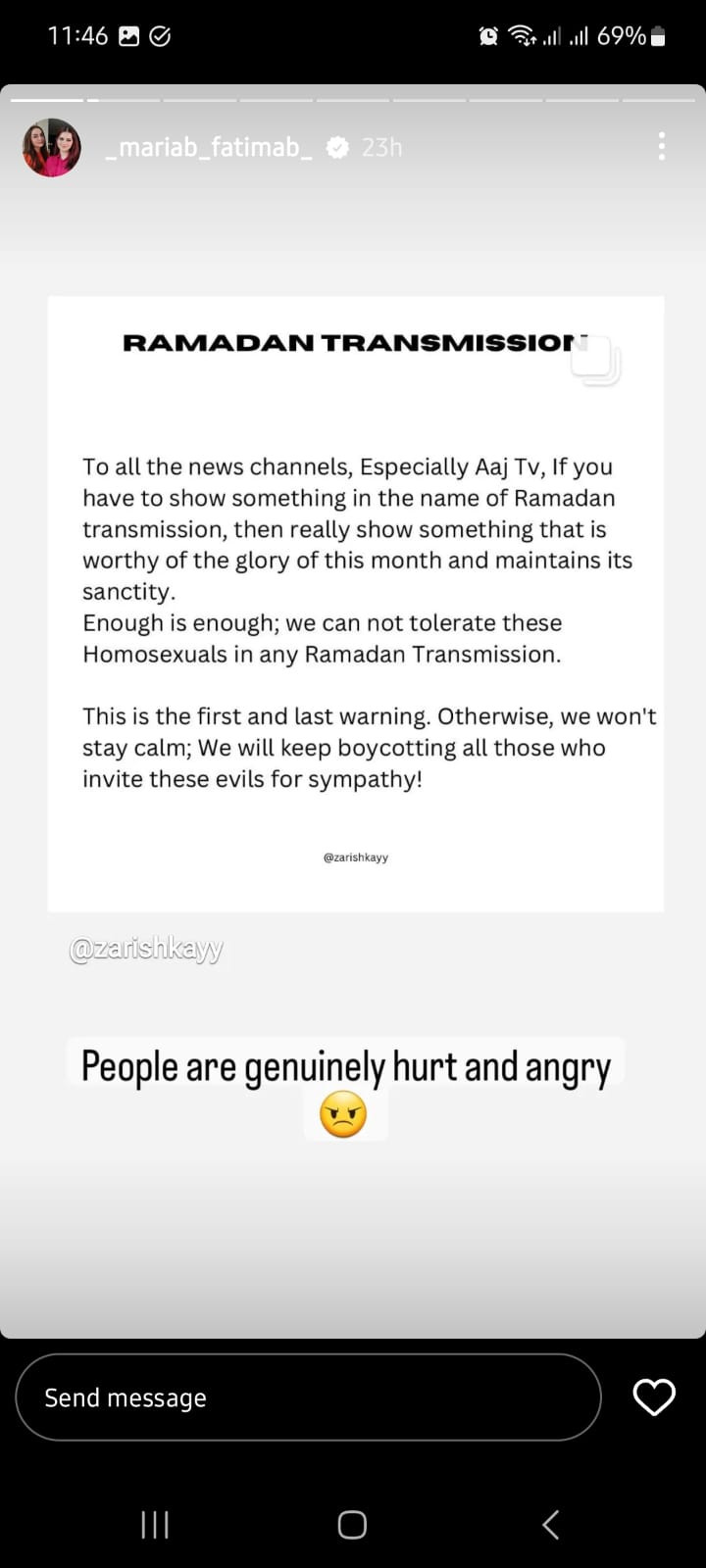 Furthermore, alleged acid attack close-calls faced by the activist were termed "scripted," while proof was demanded of the legitimacy of the attack. The post ended with a "first and last warning," threatening a boycott.
Her comments have been widely condemned by members of the transgender community, human rights activists, and members of the public. Many have pointed out that her remarks are transphobic and harmful to an already marginalized community. Pakistan is notorious for lacking legal protections and rights afforded to the transgender community. Members of the transgender community are often forced into begging, dancing, and sex work as a means of survival.
Transgender activist, Kami Sid, responded to Maria's comments on Twitter stating "Educate yourself Maria B. Instead of being transphobic, try and understand the issues and challenges that trans individuals face in our country."
Moreover, Maria's comments have been widely criticized for the harm that they may cause to the transgender community in Pakistan. Members of the community have expressed fear that her comments may incite violence against them, particularly given the history of violence against the transgender community in the country.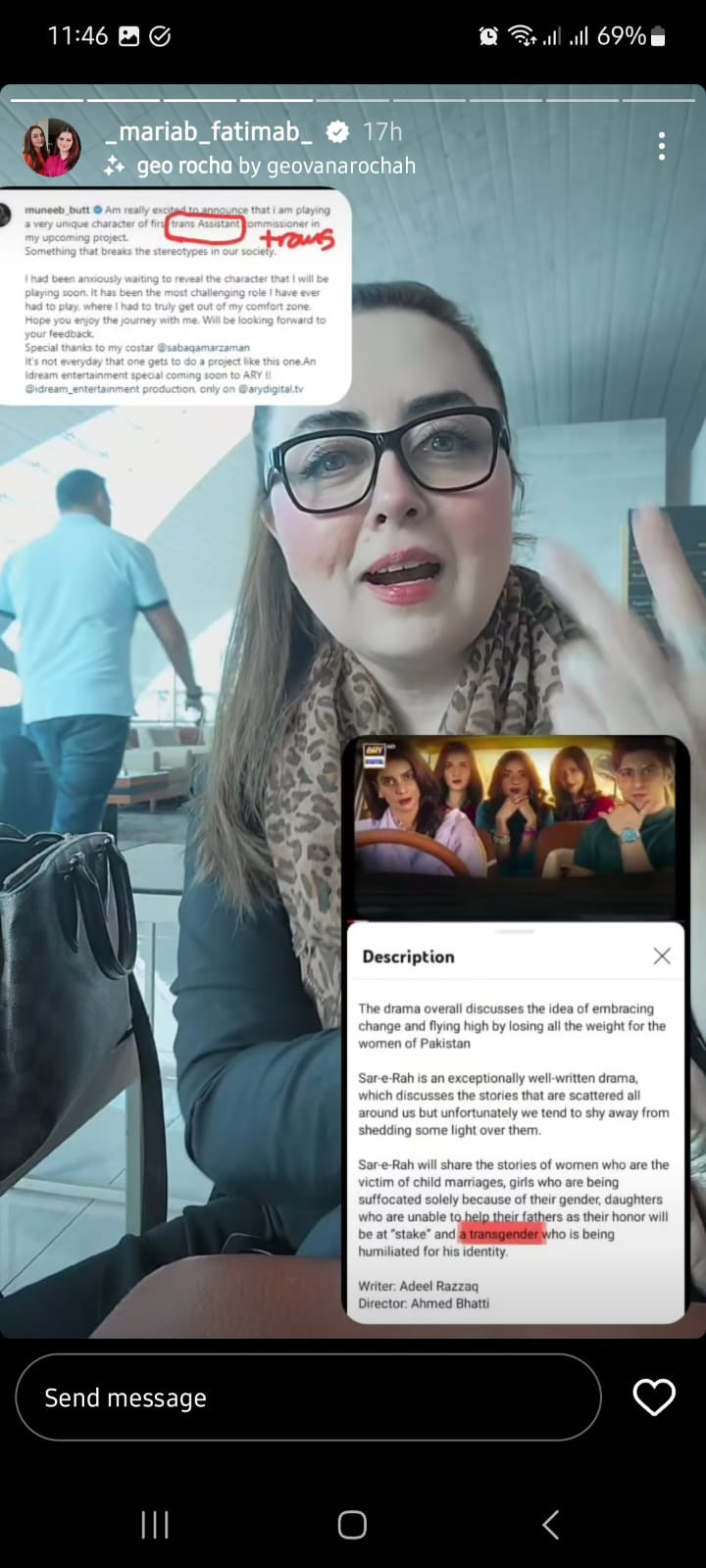 "In Our Society A Man's Problem is Kept Hidden" -Sunita Marshall
Pakistan has a history of violence against the transgender community. In 2018, a transgender woman, Alesha, was shot and killed in Peshawar. The same year, another transgender woman, Julie Khan, was brutally beaten by a group of men in Islamabad. The attack left her with multiple injuries, including a broken arm and leg.
In response to the backlash, Maria has issued an apology on her Instagram account, stating that she did not intend to hurt anyone and that her comments were based on misinformation. She further stated that she is committed to educating herself and learning more about the issues facing the transgender community in Pakistan.
"I think nobody understands that this huge global movement – transgender – is unscientific. A normal-born male, asks their parents – when they change their sex, get an operation done, think about those parents. We have kids too. If kids run away and get into bad things, how do the parents feel? We're just highlighting that intersex is the khusra community who are born that way, and I know many people like this." She completes her note by sharing a story of Julie Khan addressing a group of people.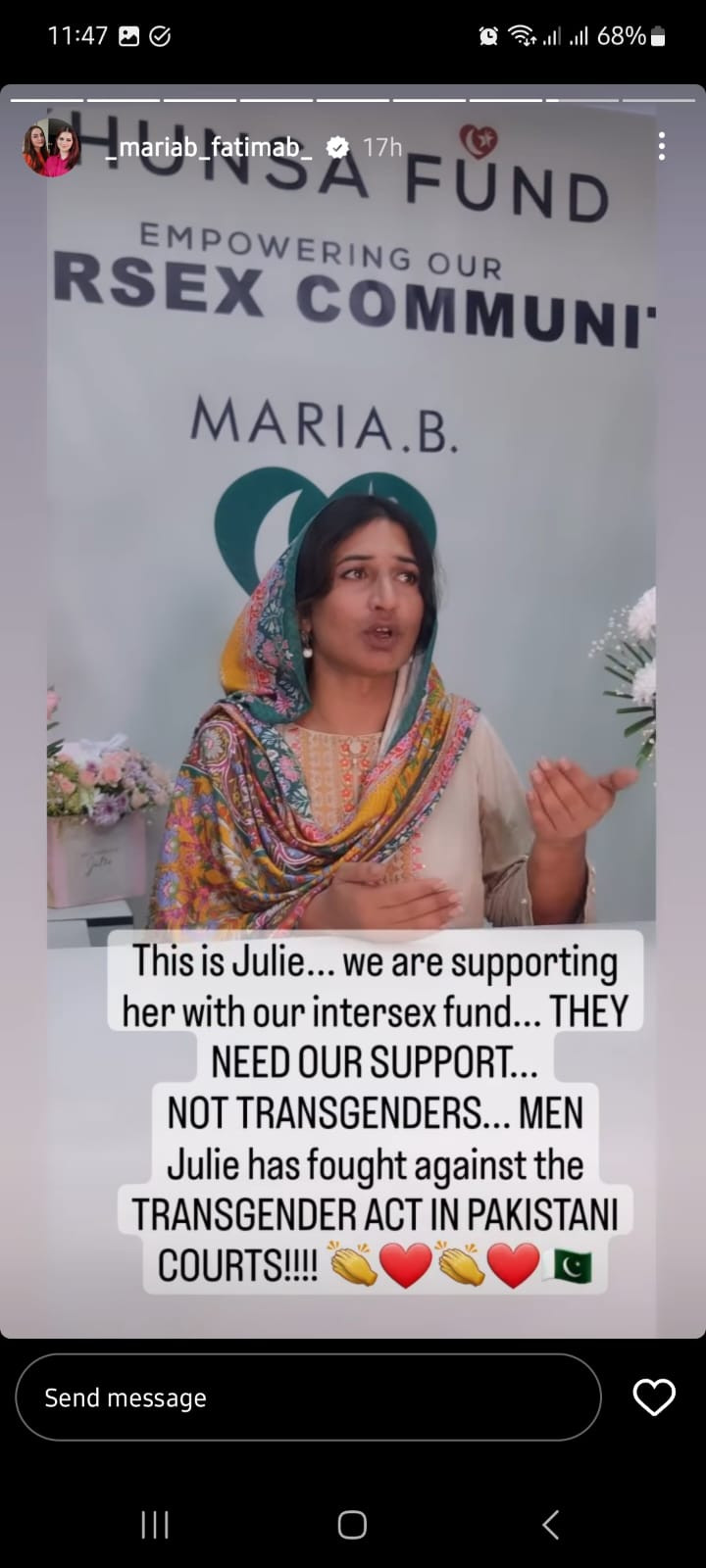 Her apology has been met with mixed reactions, with some members of the public calling for a boycott of her brand and others calling for her to do more to support the transgender community. Some have called for her to donate to organizations that support transgender rights in Pakistan.
Meet Sardara a Trans-Designer from Karachi with an U-Graduate Degree in Textile Design
Stay tuned to WOW360.