Pakistani drama serial 'Sar-e-Rah' made its debut on our TV screen on Saturday. Starring Saba Qamar, Muneeb Butt, Hareem Farooq, and others, the series highlights a very important message.
'Sar-e-Rah' – A Daughter's Fight for Her Family
Sar-e-Rah is the story of the eldest daughter Rania (Saba Qamar) who is very mature and responsible, she has a younger brother who is studying and their parents. Rania's father is a taxi driver and is the only income source of the family.
When her father suffers from a heart attack and is forced to rest, the family uses their savings to run the household. However, in dire need of money, they try to figure out how to earn. When Rania's mother asks the brother, Hatim to drive the taxi, his ego gets offended.
Hatim goes on to say how can she expect a 3rd year BBA bright student to drive a taxi and ruin his reputation, and that's when Rania decides that it's up to her, the daughter whose parents didn't even let her go to college or pursue studies after matric to earn.
She starts driving passengers learning how to negotiate and deals with different kind of people around Karachi. However, her fiance, who is also her cousin, disliked this act and frowned upon it. When things escalate and the boy's mother urges her to stop driving if she wants the relationship to continue, Rania chooses her family and their need over her relationship and end the engagement.
Tere Bin Drama Review: A Concoction of Egos, Narcissism and Misogyny
'Sar-e-Rah' – Breaking Stereotypes in Pakistan
Sar-e-Rah has multiple messages that just hit you right in right place. Towards the beginning of the drama in Sar-e-Rah's episode 1 we can see there's a wedding in the family. Rania's phupo, who also happens to be her future MIL is ranting about the dowry they arranged for her daughter's wedding, trying to show off and rub it to Rania's mother that they are well-t-do. She is heard boasting that Rania's fiance Faraz earns 80,000 PKR a month and gives all the money to his mother.
While going on about the dowry, Rania's phupo says 'a girl who doesn't bring dowry from her parent's house doesn't have any respect at her in-law's home' to which Rania replies, 'we shouldn't give our daughters to those people who respect them by looking at the dowry.'
There is another point in the drama where Rania hands her mother money for expenses and when her mother says I never thought one day you'll be earning, she says 'money has no gender, neither male nor female, anyone can earn them.'
This is when the mother has an emotional conversation with the father saying that the daughter who did not go to college, who we did not let study after matric, our 'good daughter' is now running this house, the daughter that we did and with is going good with us.
This beautiful message portrays that daughters are equal to sons, even if you have 4 daughters and no sons, those 4 daughters are enough to become your support and provide for the household so that their parents can have everything they want.
Verdict – 5/5
Sar-e-Rah so far is a must-watch treat for those who want something new yet meaningful to watch. Its a story of countless daughters and families who have found themselves in similar situations and can relate to it and is a much-needed break from toxic shows.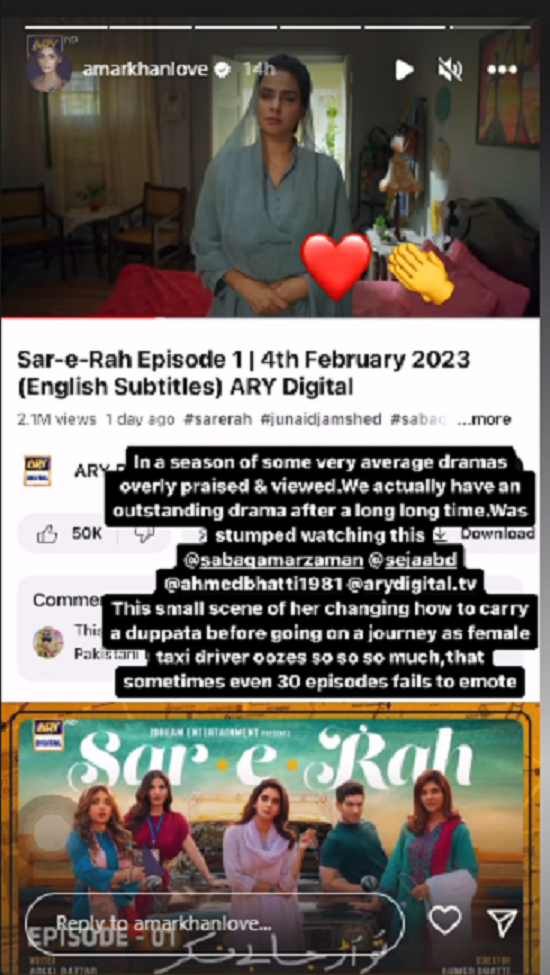 Absolutely loving @s_qamarzaman in #SareRah. What a gifted actress she is and what a wonderful role she's playing. A female taxi driver who has just had it with society's stupid stereotypes. Watch this one for her. #SabaQamar pic.twitter.com/YH6jYoOLFY

— Mahwash Ajaz 🇵🇰 (@mahwashajaz_) February 5, 2023
'Sar-e-Rah' – Cast, Crew & Timings
There are the following actors in the drama:
Saba Qamar as Rania
Muneeb Butt as Sarang
Saboor Aly as Rameen
Hareem Farooq as Mariyam
Sunita Marshal as Mizna
Junaid Jamshed Niazi as Haroon
Agha Mustafa as Faraz
Mikaal Niazi
Sania Saeed
Javeria Saud
Nazli Soomro
Mirza Zain Baig
Rashid Farooqui
Saba Faisal as Anjnum
Fazila Qazi as Rania's Mother
This drama airs every Saturday at 09:00 pm on ARY Digital.
Share your thoughts with us in the comments below.
Stay tuned to WOW360.
Mujhe Pyar Hua Tha Drama Review: Cringe, Cringe & More Cringe