Pakistani eateries are always a fave topic to gossip about when planning an outing or thinking about eating oneself. However, in recent times, one eatery has been getting negative attention, and they don't care. Swing is a well-known restaurant in Karachi, recently they ran a campaign to attract more male customers as it seems more -female-centric given its theme and feel.
The eatery used a snippet from the Bollywood movie 'Gangubai' based on the life of Gangubai Kathiawadi, an Indian social activist, prostitute and madam of a brothel. The scene shows the movie star Alia Bhatt who played Gangubai bhai in the said film, calling people to come to the brothel.
The restaurant edited their offer into the clip to make it look like a billboard on the building. We can also see that a man is walking by but stops, and smiles when he sees Alia, well, the offer by Swing.
They first released a teaser asking, 'aarahe ho kya?'
Followed by the clip and its bold caption that received massive backlash. The caption reads: "Aja na Raja – what are you waiting for?" the post read. "Swings is calling out all the Raja's out there. Ajao and avail a 25% discount on Men's Monday at Swings!"
Pakistani Brand Jam-e-Shirin to Take Appropriate Action After Placement Without Permission in Dua Zehra's Viral Interview
When things got out of hand and social media demanded an apology, Swing yet again did something that no one had expected it to do – be UNAPOLOGETIC!
Following this, they continued with two more posts inspired by the same film:
Social Media Reactions to Swing Karachi's Gangubai Ads
Popular Pakistani YouTuber  Daniyal Sheikh writes, "Ajaa na raja? What is this? It's promoting sexual abuse of women and literally making fun of women who are forced to be a prostitute. Try to be responsible,"
While actor Sana Sarfaraz asked, "Just wondering if you have any women working in your restaurant. Do they feel safe?"
Others also shared their two cents: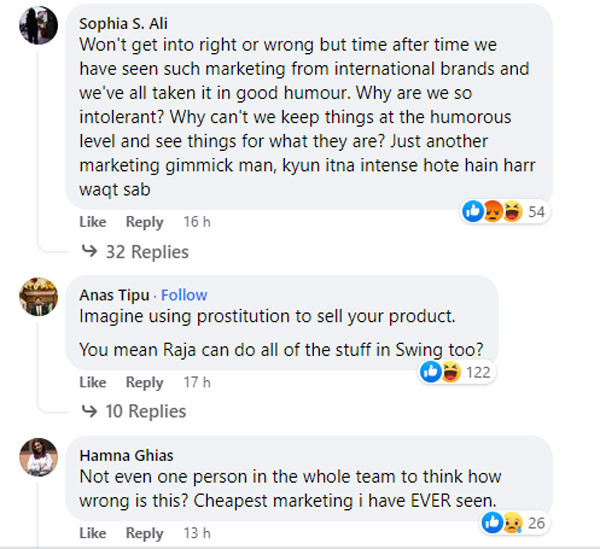 What are your thoughts on the campaign? Did Swing do the right thing or should they have revisited the campaign?
Let us know in the comments below.
Stay tuned to WOW360 for more news and updates.
Zara Turkey's Latest Ad Receives Massive Backlash & Outrage Over Disrespect of Food