Maham Aamir is a Pakistani actress who has been known for her roles in popular dramas such as Saaya and Ready Steady Go. She started her career with Sindh TV and since then worked her way up the ladder.
However, recently she took to social media to release frustration claiming that nowadays, all the industry cares about is how many Instagram followers a person has, and that talent is now a thing of the past.
She writes: 'Toh ab humari industry wahan pohaunch gai hai jahan pehle casting tou followers pe hoti he thi, per ab apko project k lia lock karne k bad mana kia jata hai k sorry jee followers kum hone ki wajha se apko nahi cast karsakhte… Koi baat nahi, lekin koi sath ye bhi bata de k jo date waste hui hai oska kia karna hai"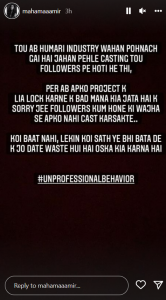 With Instagram's increasing popularity, and the introduction of Reels, which is giving tough competition to TikTok, the demand for followers has seen a boom not just by the industry, but by brands, PR personnel and even small businesses.
Even if an influencer or personality has purchased bots, the majority of the time people are willing to give them business over those who have organic reach, engagement, and clicks but fewer followers.
Maham is not the only personality to have spoken up about such behaviour in the industry. Not too long ago, veteran actress Meera Jee went on a rant that despite giving a big hit with her film Baaji, she has not been getting projects.
Moreover, nowadays, many groups on social media are filled with frustrated small business owners and entrepreneurs who are tired of receiving messages from individuals with small followings calling themselves 'influencers' in order to get freebies worth thousands from the brand.
Do you agree with Maham's sentiments? Share your thoughts with us in the comments below, until then, stay tuned to WOW360 for more news and updates.
Eva B Responds to Nida Kirmani's Statement that Rap is an "Art Form for the Marginalised & Not for the Elite"