Kashf Foundation and InfraZamin Pakistan have launched a groundbreaking Gender Bond to empower women and expand micro-finance in Pakistan.
The three-year bond aims to raise Rs2.5 billion through private placement and listing, attracting a wide range of capital market participants.
The Gender Bond follows UN Women's principles for empowerment, with InfraZamin providing a comprehensive credit guarantee. Proceeds will support women-led businesses, infrastructure development, and financial autonomy for underprivileged women.
---
---
In a momentous step towards fostering women's social and economic empowerment, Kashf Foundation, a renowned non-profit organization in Pakistan working towards women's empowerment has in collaboration with InfraZamin Pakistan (IZP), successfully launched a one-of-its-kind, gender-based bond known as the 'Gender Bond'.
This unique initiative aims to expand Kashf Foundation's micro-loan portfolio while also allowing it to advocate for gender equality in the country.
The 3-year gender bond will raise Rs2.5 billion under an initial private placement and OTC (over-the-counter) listing to capital market investors, making it eligible for a large number of capital market participants.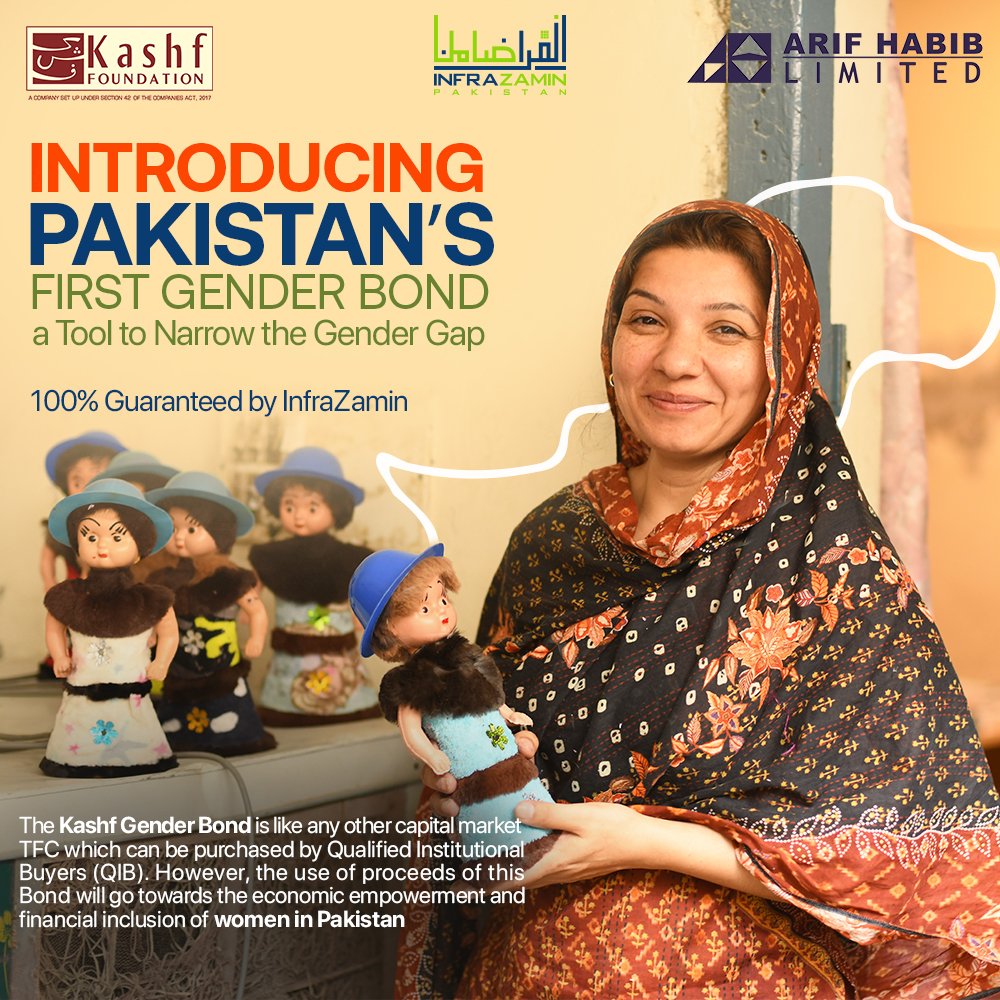 The Bond is Based on UN Women's Principles for Women Empowerment
The issuance of this bond, aptly named the 'Gender Bond,' is making history for Pakistan as it is the first of its kind in the country.
The gender bond is following the guidelines outlined by the Securities and Exchange Commission of Pakistan (SECP), which are based on the UN Sustainable Development Goals and UN Women's principles for women empowerment.
A renowned brokerage house, Arif Habib Limited is playing the role of the Financial Advisor for this ground-breaking bond that is created to help women-led businesses and empower women in the country.
Details of the Gender Bond
The bond benefits from a comprehensive credit guarantee provided by InfraZamin, covering 100 percent of the principal amount and offering a partial guarantee for interest instalments. With credit ratings of 'AAA' for the long term and 'A1+' by PACRA, the bond holds a strong credit profile. Additionally, it is attractively priced at a spread of 1.50 percent over the 3-month Kibor rate.
How is the Gender Bond Going to Help Women?
All the proceeds from the gender bond will be directed towards Kashf Foundation's microfinance lending portfolio which is exclusively working towards empowering over 30,000 women coming from households with low income to enhance the micro-infrastructure.
The bond is anticipated to strengthen Kashf Foundation's financial position the proceeds will offer important commercial capital to underprivileged women, enabling them to pursue their dreams of entrepreneurship, renovate their flood-stricken homes, expand schools in the lower-income rural areas and start women-led small businesses.
Such facilities when provided to women in a country like Pakistan where women are shunned for wanting financial freedom come as a momentous achievement. By providing this platform to women, women will gain much-needed financial autonomy and enhance their financial expertise. This gender bond will foster diversity and inclusivity and promote the advancement of bond capital markets.
The added guarantee provided by InfraZamin of 100% Principal and partial interest provides complete protection to the investors against default and credit risks, giving the venture a green light to investors. The guarantee provided by InfraZamin will play an important part in attracting private investors.
Maheen Rahman, CEO – InfraZamin Pakistan, shared her views on the launch of the bond and explained what this meant for the women of Pakistan.
"We are excited to the part of the first Gender Bond transaction in Pakistan and grateful to Kashf Foundation for their pioneering vision towards their long history of enabling women empowerment. As a country which sits near the bottom of the Gender Equity Index this transaction marks a significant leap forward in raising commercial capital directed to female empowerment and financial inclusion and represents an important milestone in the development and growth of the capital market."

 
Roshaneh Zafar, Managing Director – Kashf Foundation, believes the Gender bond will increase financial opportunities for women entrepreneurs,
"Expanding access to affordable finance for more women-led businesses will create employment opportunities and fuel sustainable economic growth in the country."
Follow WOW360 for all the latest news and updates