While Pakistanis are often seen coming out in support of their favourite celebrities, this time around, they are extremely disappointed in most of them.
As Pakistan continues to drown as a result of the monsoon rains, some of our beloved celebrities are having the time of their lives in Canada preparing for the grand scale event – HUM Awards 2022.
Netizens are outraged as to how these celebrities, instead of helping the 1/3 of the country's population who has suffered, are enjoying carrying out activities such as kayaking, bungee jumping, and shopping.
Moreover, social media is criticising them for not being proactive like Mufti Menk, Angelina Jolie, or even our very own Hadiqa Kiani who has been on-ground helping the survivors.
As a response, the trend #BoycottHumAwards started to pick up.
Social Media Reactions to HUM Awards 2022 in Canada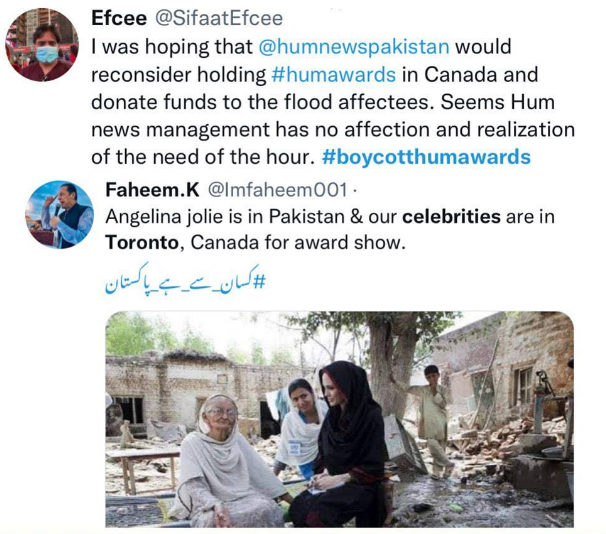 Pakistan Floods: "We Need to Rise to the Challenge" Mehwish Hayat Urges Helping Survivors & Rebuilding
#Shameful ppl, Pakistan under crisis, actors from abroad coming here. And they are running toronto, Dehari laganey k liye… #BoycottHumAwards
If @Celalel from ertughrul come here whose only one drama been aired and praised here. Y cant Those who are earning ,1/2 pic.twitter.com/lmFO8McYAJ

— نازش عباسی (@nazishabbasi) September 22, 2022
The celebs who have been spotted in Toronto for the HUM Awards 2022 are:
Iqra Aziz, Yasir Hussain, and Momin Saqib:
Survivours Share What its Like Being 9 Months Pregnant During Pakistan Floods
Saboor Aly
Adeel Hussain
Nomi Ansari
Zara Noor Abbas, Urwa Hocane (Urwa Hussain)
Pakistani Singer Hadiqa Kiani Visits Flood Affected Families, Distributes Relief Goods
Ushna Shah, Hareem Farooq, Ali Rehman Khan and Azaan Sami Khan
Hania Amir and Farhan Saeed
Osman Khalid Butt
Ahmed Ali Butt
Reportedly, other celebrities who will be a part of the extravaganza include Atif Aslam, Mahira Khan, Bilal Ashraf, and Ahsan Khan, among many more.
However, what most netizens don't know is that a percentage of the money generated from ticket sales will be donated towards relief funds. Actress Mahira Khan cleared the air in a video statement. Moreover, celebs like Khan have also urged donations using their vast platform to reach out to their fans with the appeal
What are your thoughts about this? Share them with us in the comments below.
Stay tuned to WOW360.
Syeda Aliza Talks About "Infidelity, blackmail, & degradation ' After Separating from Feroze Khan