While all of Pakistan's sister countries and foreign friends are helping the flood victims, the country's nationals are also donating whatever they can to their fellow brothers and sisters.
While tents, canned foods, clothes, and shoes, among other essentials, have been a priority, social media is calling NGOs and organizations to also consider the donation of menstrual hygiene products and clean garments.
Thousands of displaced women and young girls are having to use dirty clothes, leaves, and other means, meaning that they are putting themselves at higher risk of infections and diseases.
A debate also broke out on social media in which many netizens argued and defended their thoughts that pads are not important and will result as waste of money.
Social Media Reactions
Pads and medicines are now en route villages of Naushero Feroze. We have also bought cotton rolls for women which will be distributed tomorrow morning inshAllah. pic.twitter.com/BWmIpgAHAk

— Shanza Faiq (@Shanzaf) August 27, 2022
Men in the comments advocating that women should use clothes instead of pads! Wow. I didn't know men knew periods better than women who've had them hundreds of times in their lives. Applause

— Nishat (@Nishat64) August 27, 2022
Women affected by floods are using tree leaves as period pads and these men have the audacity to call menstrual products non essential?

— zaakra / sarah's lover (@zakraaaaa) August 27, 2022
Especially how hygiene literally becomes crucial during these times as infections spread exponentially

— kaeden (@wandasitcoms) August 27, 2022
Just thinking of thr condition as she is explaining ,gives shivers in my spine….not only infections..but will tht any person needs to take ths risk … unfortunately they dnt HV any other options ,thts y they r relying on leaves…

— Mahasyed (@Mahasye84766293) August 28, 2022
Lol if it happened to them they wouldn't be able to handle it. Men will solve it right away if such an issue plagues THEM, it's only when it affects women that they are suddenly nonessential problems. Their internal health matters are not a concern to these callous people.

— Mona (@starr___gazer) August 27, 2022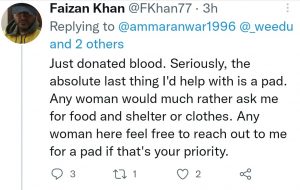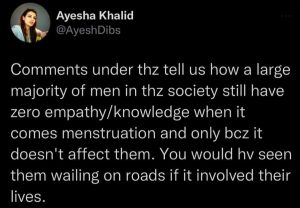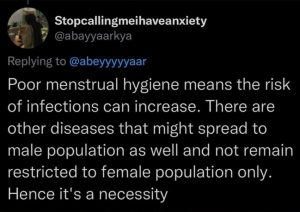 Anam Khalid and Bushra Mahnoor are amongst the women who are collecting the essentials through donations. Moreover, they've started a gofundme page titled 'Sanitary Pads for Baluchistan Flood Victims' where international donors can contribute to the cause and a project name 'Mahwari Justice'.
These ladies approach people or organizations that are helping organise non-food items and donate emergency kits to them. Each kit consists of new underwear and a sanitary pad packet.
Another campaign has been started by DASTAK Foundation. According to their social media announcement, the foundation will be donating 'dignity kits' which will include disposable and reusable sanitary pads, underwear, and sanitary napkins to flood survivors.
According to the foundation's post, while of course food, water, shelter, and clothes are amongst important essentials, the crucial hygiene needs of women and girls cannot be overlooked.
'This oversight and the absence of basic feminine hygiene products leaves women and girls feeling embarrassed and anxious in times of disaster, conflict, and crisis. Menstruation doesn't stop when disaster strikes; women shouldn't be forced to put their lives on pause due to period poverty.' Reads the caption.
It is highly important that the health of these men and women both are taken into consideration, while medicines and other items are essential, sanitary pads keep women and young girls safe from infections and dangerous diseases.
Donate to flood victims in Pakistan and play your part.
Stay tuned to WOW360.
ADC Nowshera Qurat Al-Ain Wazir & Team Evacuate Residents Going Door to Door