Due to the rising water level due to the floods in the Kabul River, Nowshera, the 78th largest city in Pakistan and the 9th largest city in the province of Khyber Pakhtunkhwa, was on red alert.
Residents evacuated their homes with their most valuable belongings, most of them spending their nights on the roadside. As the floods continue to wreak in Pakistan, ADC Nowshera is doing everything she can to help the residents through this thought time.
With the help of her dedicated team, ADC Nowshera Qurat-al-Ain Wazir went door-to-door in an attempt to rescue families. Her efforts along with her team are what helped keep the loss of life and damages at a minimum during the emergency.
She went door to door with Law enforcement officials, evacuated houses, shifted people to the safest places and also went to mosques for public announcements. Her extraordinary commitment to her duty saved many lives and the city.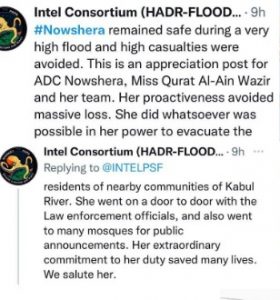 Several pictures and videos of her and the team have surfaced on social media showing their hard work and dedication to the cause.
Pakistan has faced a terrible disaster for the past few weeks as the continuous monsoon system brings nothing but havoc to the country. At least 1000 individuals, including children, women, and men have passed away, moreover, millions have been displaced after losing their homes.
According to the latest statistics provided by OCHA Humanitarian Advisory Team (HAT) from 13th-26th August, at least 116 districts have been affected with 66 districts officially declared as 'calamity hit', since June 1300+ have been injured, and the humanitarian situation is expected to get worse as communities and infrastructures are increasingly becoming unstable with the ongoing rainfall and floods.
An estimated 790,000 livestock has been destroyed, 218,000 houses have been engulfed, and other homes have suffered minimum damage of 500,000, followed by 2mn acres of crops destroyed. This means that 1/5 of Pakistan is in trouble and every 7th Pakistan is in need of dire help.
Pakistan Monsoon 2022: Celebrities Urge Nation to Donate for Baluchistan & Swat Floods
We hope and pray that we overcome this crisis as one united nation.
Stay tuned to WOW360.