We have always seen rules and regulations in schools and other educational institutions across Pakistan to maintain a proper system and to teach students about the importance of discipline. However, during an event at NCS Peshawar, social media was taken aback.
Reportedly, NCS Peshawar hosted a recreational event where a singer who was wearing 'revealing clothes' was invited. Moreover, videos of her dancing 'vulgarly' have gone viral.
The video shows a female singer dressed up in a tight black revealing outfit. The dress shows parts of her body as she dances and sings on the stage. A crowd is gathered to watch her on the stage performing.
Netizens took to social media to bash the institute, asking them how could they allow the singer to wear such attire and dance in front of a male audience in a vulgar way.
This ignited extreme negativity as the cultural and religious values of people in Pakistan generally do not align with such practices and people had something to say about the incident.
#Peshawar pic.twitter.com/CkxG7G1xWy

— Muhammad Faheem (@MeFaheem) October 20, 2022
Mixed Social Media Reactions on Singer's Vulgar Dressing and Dance at NCS Peshawar
This state of Peshawar University is beyond belief. Where will our children reach in the state of Medina? pic.twitter.com/ODwnvfu8Vn

— Majid_Ali_Mughal 🔺 (@MajidMughal01) October 20, 2022
I don't know what's they need of this kind of stuff in universities
What's the need of concerts in uni.
Gee hum ni TU students ko enjoy bhe karna ha
Dear enjoy your own time in home not in educational institution instead spending these money on concerts improve the labs etc

— Hasnain Musa Khan (@musa_hasnain) October 20, 2022
University me in cheezon ki Kya zaroorat it's beyond me comprehension.

— Hamza (@Hamza38620419) October 20, 2022
It's not okay. It's religiously inappropriate. It's culturally inappropriate. What on earth made them do this stuff ? Like we don't live in New York or London. These people need to learn that whatever they're doing has an impact and they should carefully take decisions.

— Usama (@AmbivertK831) October 20, 2022
Ghalat hai jo b hai

— saud khan (@saudso770) October 20, 2022
Peshawar ki university tou Lahore aur Islamabad ki universities se bhi do haath agay nikli 😳

— fizzey (@fizzeyimran) October 20, 2022
Mahenoor Soomro Breaks Silence Over Rumours of Marriage with Bilawal Bhutto Zardari
I appreciate the presence of such western pop singers in #Peshawar 👏🏻

Everyone's enjoying the concert in a decent manner. All is well.

But hypocrite "Moral Brigade 111" will tell you otherwise! https://t.co/Ovcds62sCh

— Mona Alam (@MonaAlamm) October 21, 2022
Only art and modernisation can save our youth from terrorism and make us equal to world and Lahore Islamabad.

P.s Pashtuns are not conservatives." #PeshawarUniversity #Peshawar pic.twitter.com/9o7DbbtEch

— Faiqa Bangash (@faiqa_tweets) October 21, 2022
All those who believe that #Pakistan is a fundamentalist Islamist nation where Mullahs are trying to recreate Riyasat e Medina , can have a look at this performance in #Peshawar and breathe easy🫣 pic.twitter.com/DQoX5Ii7Qg

— s tanwar (@sushtany) October 21, 2022
This is indeed against our cultural norms and values however social change is inevitable due to modernisation fuelled by cultural invasion. Such scenes might be new in an educational institute however they are common in pre-wedding parties.

— Umar Toru (@ToruUmar) October 20, 2022
The director of NCS University Peshawar in his video message said that a musical concert was organized at the end of the event where a foreign singer donned a dress against the moral values and customs of Pakistan.
He apologized for the incident. The director added that the event was completely hosted and organized by a foreign organization, the university just provided the venue for the event.
Provincial Minister for Higher Education KP Kamran Bangash said that a show cause notice has been issued to the university. University has been directed to submit the response within three days. In case of failing to respond to the notice, the affiliation of the institution may also be terminated.
نجی ادارے NCS میں غیر اخلاقی پروگرام کے انعقاد پر اُن کو نوٹس جاری کردیا گیا۔ اگر تین دن کے اندر جواب نہ دیا گیا تو ادارہ کا الحاق بھی ختم ہوسکتا ہے۔ pic.twitter.com/A440DQRldg

— Kamran Bangash 🇵🇰 (@kamrankbangash) October 20, 2022
An inquiry has been sort from the university administration over the incident and a notice has been issued to them to submit their answer in 3 days: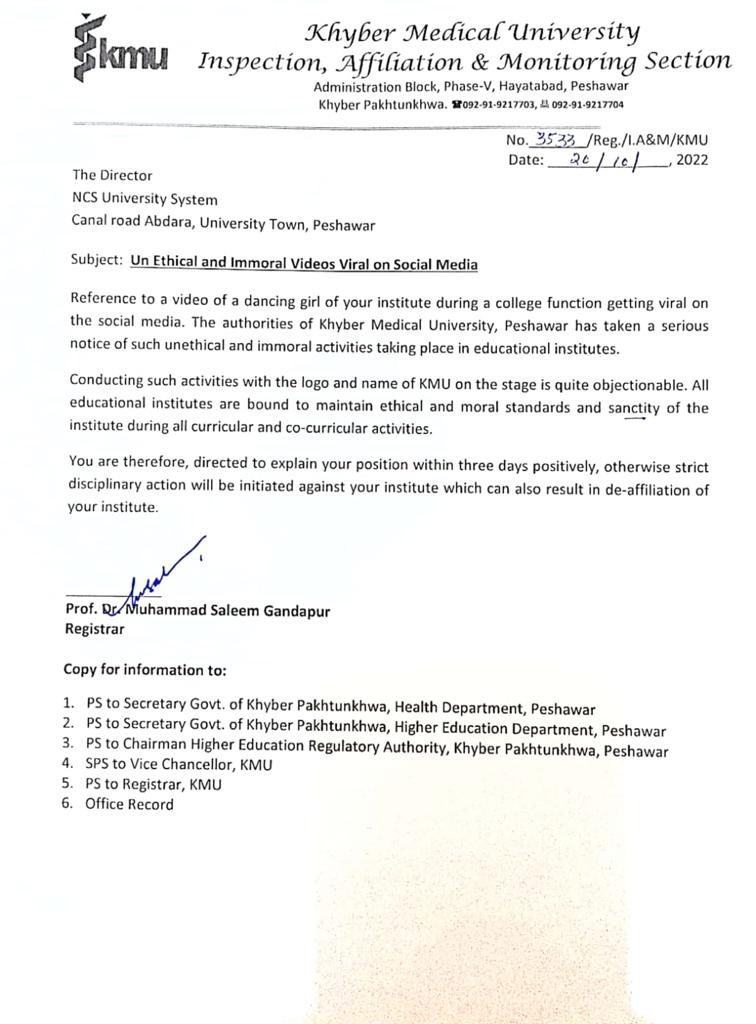 What are your thoughts on this? Share them with us in the comments below.
Stay tuned to WOW360 for more news and all the latest updates.