Have you ever accidentally sent a message to the wrong contact, or accidentally uploaded a selfie from your company's account? 
We think that something similar happened today with JS Bank! Something fishy was recently seen on the commercial bank's official Twitter and Facebook platforms.
Social media was quick to observe that the bank's official Twitter handle @JSBLPak and Facebook had shared unusual movie/drama dialogues on its official platforms.
This was extremely strange because the bank has never posted something like this ever before. However, after a couple of hours, the tweets were deleted. 
Screenshots started to buzz on social media and in no time, everyone joined the conversation trying to get to the bottom of what just happened.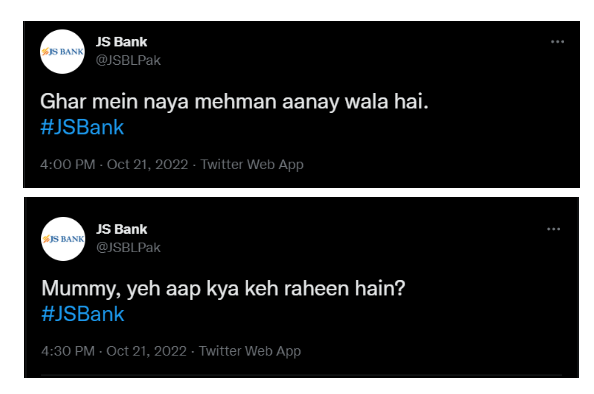 Netizens assume that the person who is in charge of social media accidentally posted thinking it was their personal account.
So far, no one has claimed responsibility and the bank has not issued any statement clarifying what happened all of a sudden.

Here's what social media thinks:
Netizens React to JS Bank's Hilarious Social Media Posts
Social media is still unable to make out what in the world is happening!
They did, didn't they!
 Say what??
Did someone's child get a hold of the phone? Looks like it!
That's another way to put it!
While we may never know what really went down here, because the original tweets have been removed, (but the screenshots are still circulating), we think it's safe to assume that it was an honest mistake (or was it?).

Nonetheless, JS Bank was finally able to nip this in the bud and control the situation before it was too late. 
Stay tuned as we further investigate this mystery.