Ms Marvel's episode 5 is here and boy-oh-boy was it a rollercoaster adventure! Before we get into the juicy bits, we have to admit that Marvel has gone out of its way to make a show that has focused on the smallest of details.
In the opening of the last episode, we spotted a naan with Ms Marvel's name, reflecting the Pakistani culture and heritage, this time, Marvel replaced its famous 'Blinded by the Lights' opening with 'Tu Mera Chaand, Main Teri Chaandni' and it was LOVE!
Not to forget that FAWAD KHAN has finally made his much-awaited MCU debut with a bang! Social Media is loving every bit of it!
The Begining of a Love Story
Moving forward, the episode starts with a clip dating back to Pakistan and India's first Independence. However, we see that the struggle for the dream of an independent country really started in 1942.
The frame then starts with Mehwish Hayat aka Aisha running through a jungle as a British soldier is chasing her. When the man screams for her to stop or else he'll shoot her, she throws a dagger right into his chest.
On the other hand, we finally get to meet Hasan (Fawad Khan) who is an activist, and is heard giving a speech to his fellow countrymen, be they Muslim, Hindu, or Sikh, all can live in a British-Free India if they come together for peace without riots. That is when Aisha lays her eyes on Hasan for the first time ever.
We then see Mehwish peacefully sleeping under a tree, when a concerned Hasan tries to wake her up. She then has her first interaction with him, he offers her food and water, and a warm place to sleep. Eventually, the two start to form a special bond.
The Partition & Sacrifice
As they become parents to a beautiful girl, Kamala's nani (Sana), we see how Hasan is worried about the rising tensions in the country with bloody protests and riots breaking out. We then see a neighbour, Rohan bringing milk for the family, upon which Hasan is highly upset as no one is willing to buy roses from him nor willing to sell milk to his wife, this gives us a deeper sense of the troubles the Muslims of the sub-continent went through.
Ms Marvel Episode 4 is All Desi & Nails All the Things we Love about Karachi, City of Lights
Eventually, Najma finds Aisha, who is still persistent in going home. However, Aisha, now at this point has mixed feelings. Aisha uses the riots as an excuse to convince Hasan to leave with her, and they make their way with the others towards the platform. Hasan realizes Aisha is afraid of something and confronts her about the mysterious woman whom she met (Najma).
Aisha then shows Hasan the magical bangle and asks Hasan to make sure no matter what happens, to make sure that Sana gets on the train to safety. Throughout the scene, we see chaos, fear, tension, panic, tears, and a plethora of emotions on all Muslim's faces as they try to escape fearing for their life.
Aisha and Hasan get separated after she hands their daughter to him and asks him to look after her as she is not safe. Najma confronts Aisha, and stabs her for 'betraying them' and choosing Hasan over her family. Aisha tries to warn Najma that the plan will not work, but it's too late, she gets left behind as Hasan and Sana also get separated.
Kamala at this point is trying to make sense of what is happening, and eventually finds dying Aisha, who is relieved that the bangle worked and brought Kamala through time. Aisha asks Kamala to protect Sana and get her on the train while protecting the bangle from Najma. And with that, Aisha takes her last breath.
Kamala is able to find Sana, and uses her powers to reunite her nani with her great grandfather, Kamala then realizes it was her who made the magical stars her nani refers to in the last episode.
Episode Director Sharmeen Obaid Chinoy right before the release of the episode shared that this one is very close to her heart and that she wanted Kamala Khan aka Ms Marvel to feel the emotions of what those people went through during the partition.
The End of the Vilan
Eventually, Kamala comes back to her present time.
However, the series of events opens the veil, but when the ClanDestines try, they perish, Najma sacrifices herself for her son, and after she dies her power finds its way to him.
Meanwhile, Kamala's mom and nani find her and her mom realizes she is the vigilante that has been on the news and brings them closer together. Another sweet treat Marvel gives us is the iconic song 'Tu Jhoom' by Adida Parveen Ji and Naseebo Laal at the end of the episode for the perfect mic-drop!
Social Media Celebrates Fawad Khan's MCU Debut
As a BONUS – here's how social media reacted to Fawad's presence in the MCU!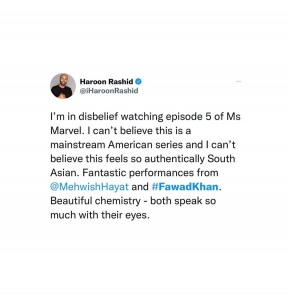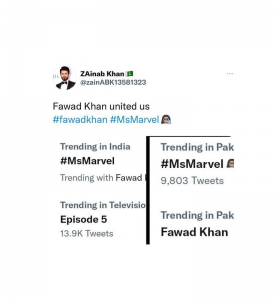 Let us know what you think about the episode in the comments below.
Stay tuned to WOW360 for more news and updates.