The news of a missing newborn from Modern Hospital has sent shockwaves across the entire country. The parents have been desperately pleading with the hospital and its administration to help them locate their missing child.
According to reports, the mother was expecting twins, a fact that was confirmed by ultrasound and other medical records. However, only one child was handed over to the now-grieving parents during the delivery.
This heartbreaking incident has sparked immense anger among parents all over Pakistan, as well as among the family and friends of the victim, directed towards the Modern Hospital for this grave mistake.
Videos of the family pleading for justice have gone viral on social media, garnering widespread support.
Watch the video clip below:
Help a mother

Lets raise voice & help Sehrish Faraz
in severe distress, currently in "The Modern Hospital -Gulshen e Iqbal" she has proves of carrying a twin for 9 months. reports & all by the hospital, now one of her baby is missing since birth, Please share it further & help. pic.twitter.com/aeTbDQpxgc

— KarachiDC (@KarachiDC) July 22, 2023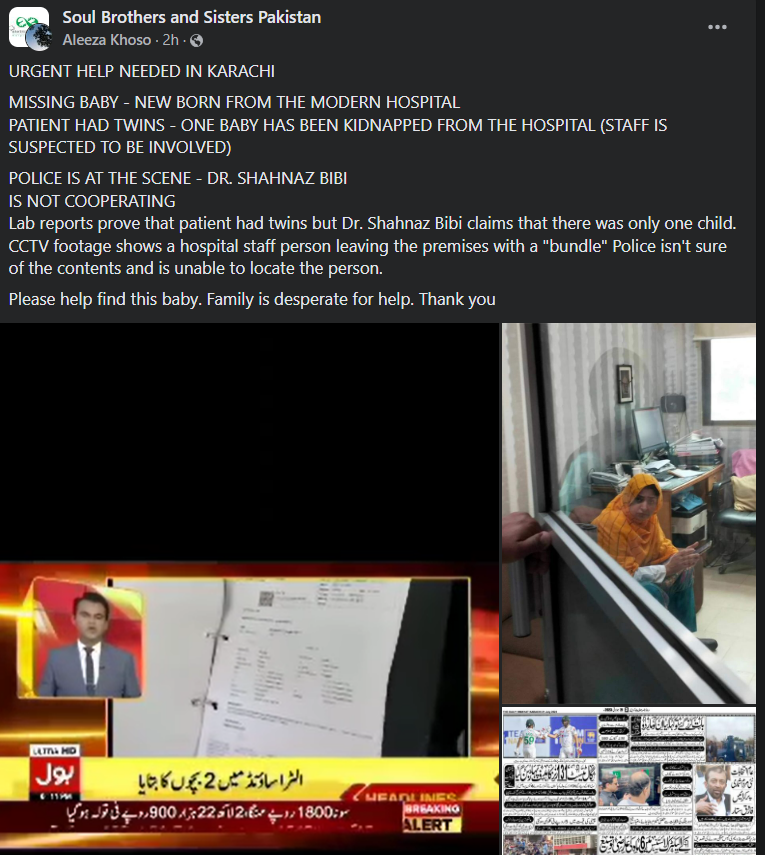 Regrettably, this is not an isolated incident. A baby girl was abducted from Jinnah Hospital, Karachi just a few days ago. The infant belonged to Mohammad Ismail, a resident of Yusuf Goth, and was taken by an unidentified woman. The kidnapping occurred while the newborn's mother was taking a nap, and the woman managed to deceive the security guard by pretending to be a relative.
Adding to the concern, the hospital's CCTV cameras were reportedly not functional, leading to a lack of footage. Nevertheless, the police have initiated a swift investigation into the kidnapping, assuring the public that every possible effort is being made to locate the missing newborns and ensure the safe return of all the children to their families.
In response to the allegations, a spokesperson from JPMC, Jahangir Durrani, revealed that a suspicious woman had been seen with the affected family for the past two days. Durrani stated, "The woman had advised the family to take the newborn baby to NICH for a checkup, despite the hospital's doctors not recommending it."
According to Durrani, the CCTV footage shows the affected family leaving with the suspicious woman and the baby girl, only to return later. At NICH, they were told that they needed a letter from JPMC's doctors to proceed with the checkup, which they deemed unnecessary as the baby was in good health.
 Preventing Kidnapping & Trafficking of Newborns from Hospitals
For Hospitals:
Enhanced Security Measures: Hospitals should implement strict security protocols, including surveillance systems with functional CCTV cameras in all critical areas, especially maternity wards. Access control measures, such as restricted entry and mandatory identification checks, can also be put in place.
Staff Training and Awareness: Modern Hospital staff among other hospital staff should be trained to identify and handle suspicious individuals or activities. They should be made aware of the potential risks and signs of kidnapping or trafficking, as well as the appropriate actions to take in such situations.
Tagging and Identification Systems: Employing reliable and tamper-proof tagging systems for newborns can help ensure their safety. This can involve the use of electronic tags or other identification methods that alert the hospital staff if an unauthorized attempt to move the baby is made.
Strict Verification Protocols: Before handing over a newborn to their parents or guardians, hospitals should follow thorough verification processes to confirm their identity and relationship to the child. This can involve cross-checking identification documents and conducting interviews with the parents.
For Parents:
Vigilance and Awareness: Parents should remain vigilant and attentive to their surroundings while at the hospital. If they notice anything suspicious or unfamiliar, they should immediately report it to the hospital staff or security personnel.
Accompaniment and Support: Whenever possible, parents should have a trusted family member or friend accompany them during their stay at the hospital. Having an extra set of eyes can provide an added layer of security and support.
Communication with Hospital Staff: Parents should maintain open communication with the hospital staff, asking about security measures and understanding the procedures in place to protect newborns. Establishing a good rapport with the medical team can lead to a safer environment for the baby.
Reporting Suspicious Activities: If parents encounter any suspicious individuals or witness unusual behaviour within the hospital premises, they should report it to the hospital authorities immediately. Quick reporting can aid in swift action and potentially prevent a kidnapping or trafficking attempt.
Share your thoughts with us in the comments below.
Stay tuned to WOW360.