WARNING – Spoiler Alert! If you have not seen Ms Marvel Episode 3 – 'Destined',   yet then we are sorry (not sorry) for the spoilers!
First of all, let's rewind a bit back to episode 1. There is a part after Kamala Khan comes across that bangle that triggers her powers, while talking to her bestie Bruno she mentions that she is trying to figure out who she is.
She asks if she is an Asgardian, an alien, or something else. Turns out… she's a Djinn (Jinn)!
Kamala's grandmother, Aisha, played by the beautiful Pakistani actress Mehwish Hayat, is a Djinn in the story. Ms Marvel Ep. 3 starts with a throwback to the story of the bangle. We see that a group of the unseen are trying to dig and find something precious, we then find out that  Aisha and a group of other Djinns are exiled from their world and forced to live in another.
Moreover, in an attempt to back back to their home, they are trying to find the keys (bangles) that can make it happen. However, they need both bangles to make it work, whereas they only know the whereabouts of just one. We also see that Nimra Bucha, who made her appearance in episode 2 as Kamran's mother is also a Djinn and Aisha's friend.
In the throwback, we further see Najma (Nimra) and Aisha (Mehwish) are being attacked, in order to help their group, Mehwish decides to take the risk and puts the bangle on her wrist. They hug one another and make a promise to meet again after they are safe, but since then, no one knows what happens to Aisha.
We then come back to the present where Najma asks Kamala to help send them back home to where they belong. As expected, Kamala panics and visits bestie Bruno for advice, and to try to understand if time-travelling across dimensions was even a possibility. Bruno explains the consequences and the danger of the objective Kamala were trying to reach.
Hence, she tells Kamran that she needs more time, but Najma finds the message and gets angry, she decides if Kamala doesn't help them reach home, she will make her, and if needed cause her harm. We later see that Aamir's reception is shortly disturbed as Kamala pull's the fire alarm to get everyone to run to safety as the evil group of Djinns tries to get a hold of her.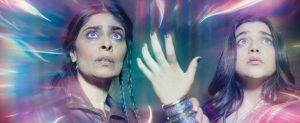 At this point, we do not know much about Aisha, however, when fighting, we do get to see that both Najma and Kamala see a vision of a train that reads 'Karachi', could Aisha be there? Moreover, this raises the question, who is her great grandfather? Rumours suggest that role will be played by the one and only super handsome, Fawad Khan. We are yet to see if that is the case.
Until then, we hope you enjoy the remaining episodes of Ms Marvel.
Stay tuned to WOW360 for more news and updates.