Mehwish Aftab is making history as the youngest fencing coach for girls in Karachi, Pakistan, challenging gender norms in sports coaching.
Fencing, a centuries-old combat sport, has evolved into a gender-neutral discipline, with women like Mehwish making significant strides in the field globally.
Despite facing challenges due to limited resources, Mehwish aspires to represent Pakistan on the international stage and dreams of winning a gold medal in fencing to bring recognition to the sport in her country.
---
---
Mehwish Aftab is breaking barriers by becoming the youngest fencing coach for girls in Karachi. The hardworking young lady has an iron will and is proving that women in Pakistan can achieve great heights in the sporting field if they have the right passion and determination for it.
Fencing is a centuries-old combat sport that has evolved into a modern Olympic discipline. It involves two athletes, known as fencers, engaging in a strategic swordfight with the goal of scoring points by touching their opponent with the tip of their weapon. Fencing requires a combination of agility, speed, and tactical intelligence.
The unique sport has gained popularity worldwide as a gender-neutral sport. Historically perceived as a male-dominated activity from the medieval times, it has slowly progressed into becoming inclusive, with women making significant strides in the sport globally. Fencing provides a platform where gender does not limit one's potential for success.
Mehwish Aftab – The Rising Fencing Star
In the bustling city of Karachi, a young Mehwish Aftab is breaking barriers and defying stereotypes within the sport of fencing. Mehwish, with her determination and passion, is leading the way for other Pakistani girls. At a tender age, she has achieved a remarkable feat by becoming the youngest fencing coach in the country.
Mehwish is currently teaching fencing to other young girls at the Karachi Fencing Academy, an affiliation of the Sindh Fencing Association. In 2019 Mehwish was introduced to fencing in a camp at her school, although having limited fund to pursue fencing, she was given a chance by the coach in-charge and that is where her journey began.
The young fencer belongs to a low income household, her father earns his living by driving a rickshaw and Mehwish says she always wished to help her father by earning money for her family. Fencing became her way to support her family and at the same time excel in the sport to an international level.
"After school I teach fencing and later on help my mother in household chores and also assist my younger siblings in their education"
Challenges Faced in Fencing
Due to the low funds available Fencing is not yet a popular sport in the country. Mehwish also mentions that there is limited equipment provided to them in the academy where she trains young girls.
"I train the girls in batches. The first batch uses the uniforms and equipment and then the second batch gets their turn. A lot of our time is wasted in this manner."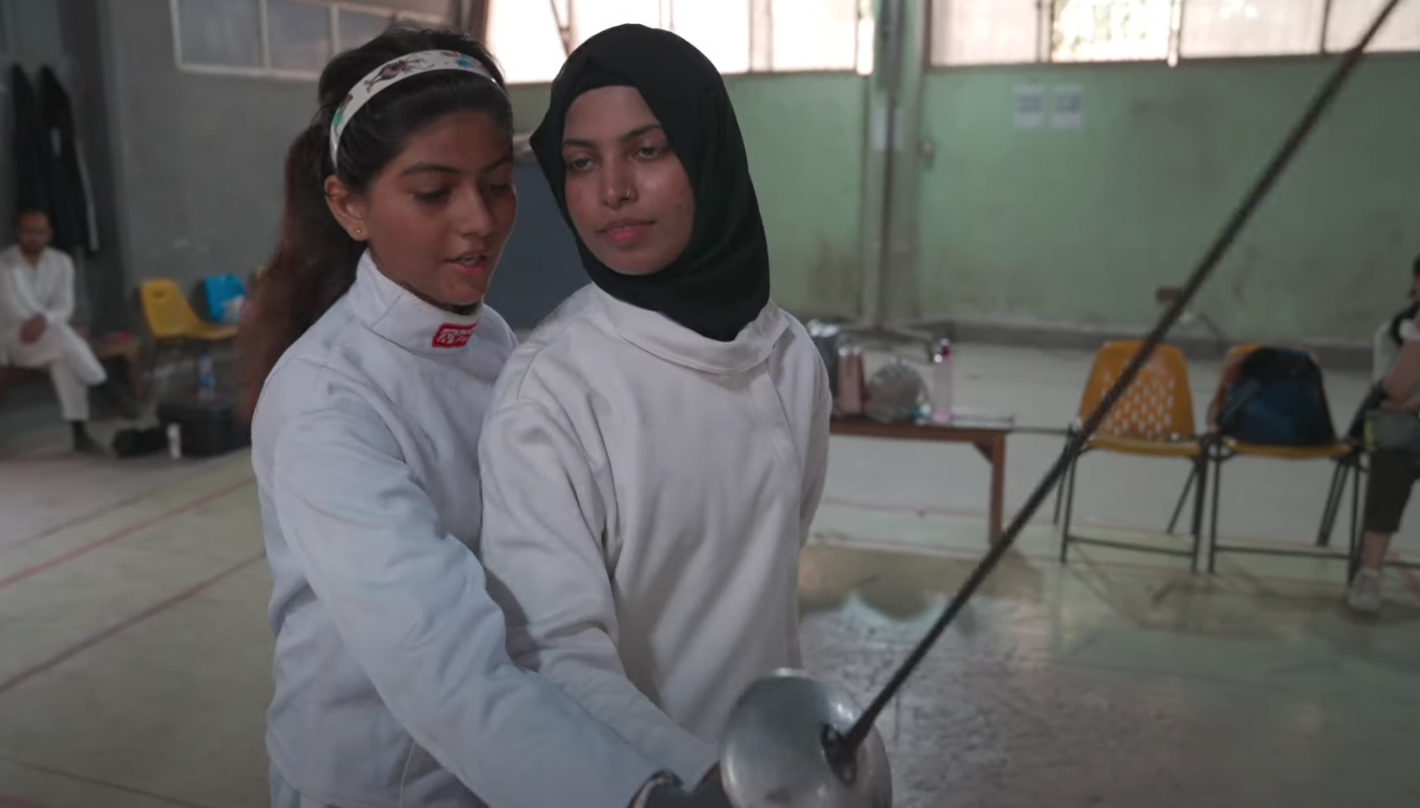 Eyeing Gold at International Competitions
Mehwish Aftab's ambitions reach far beyond the borders of Pakistan. She aspires to represent her country at international fencing competitions. Aftab wants to showcase the potential that exists within Pakistan's female fencing community. Her dedication to compete on the global stage exemplify the power of sports in transcending cultural and gender barriers.
Mehwish says,
"It is mine and my father's dream that I will one day bring international recognition and fame to the fencing sport in Pakistan by winning a gold medal at an international competition."
Follow WOW360 for more.