Pakistani sportswomen defy societal biases and excel in their respective fields, inspiring a new era of female athletes in the country.
Noreena Shams overcame challenges and disguised herself as a boy to pursue cricket, while Mallak Faisal Zafar introduced figure skating to Pakistan and achieved international success.
Dr. Humaira Farah made history as Pakistan's first female cricket umpire, while Samina Baig conquered Mount Everest, breaking gender barriers in mountaineering.
---
---
"It's a man's world." These words are frequently heard by many women in Pakistan. However, a group of incredibly resilient Pakistani sportswomen exists in our nation for whom this phrase is a misleading statement.
While young Pakistani girls are often discouraged from participating in sports and athletics, there are numerous remarkable women who have defied all odds and dared to dream big. These professional female athletes are the true source of pride for Pakistan, as they have fought against societal biases and deserve to be celebrated.
Take a look at our list of exceptionally inspiring women whose remarkable achievements in sports prove that anything is possible with determination.'
Pakistani Sportswomen Who Are Changing the Narrative
1. Noreena Shams, Squash
Noreena Shams, aged 23, is a prominent squash player and sports activist hailing from the Northwest region of Pakistan.
This area witnessed clashes between Pakistani security forces and the Taliban in 2009, and unfortunately, Shams' house was struck twice during those turbulent times.
Raised solely by her mother after her father's untimely demise, Shams faced unique challenges on her path to sporting success. At 15, she resorted to disguising herself as a boy to pursue her passion for cricket.
For an entire year, Shams played in the national junior team, concealing her true identity until it was eventually revealed. Reflecting on her journey, she shared, "Being a woman without male support in the male-dominated sports world presents a different set of challenges. People don't take you seriously, and some even try to exploit the situation."
Shams further revealed that it took her eight years to convince her mother of her unwavering commitment to a career in sports.
However, despite the obstacles she faced, Shams persevered and steadily advanced in her career. Today, she holds memberships in various sports bodies and federations.
2. Dr. Humaira Farah, Pakistan's First Female Umpire
Dr Humaira Farah, a trailblazer in her field, holds the distinction of being the first female umpire appointed by the Pakistan Cricket Board (PCB). With an impressive track record of officiating over 150 matches, Dr Farah brings a wealth of experience and expertise to the cricketing arena.
Prior to her umpiring career, she showcased her skills as a national hockey player, proudly representing the Pakistan Railways' hockey team. In addition to her sporting achievements, Dr Farah has also earned a PhD in Sport Sciences, further demonstrating her dedication and passion for sports.
Dr Farah embarked on her umpiring journey in 2005 when there were no women umpires in the field. Overcoming societal barriers and gender biases, she successfully completed the rigorous PCB panel 1 and panel 2 umpiring courses, setting the stage for her groundbreaking career. Her remarkable journey serves as a fascinating testament to the challenges and opportunities women encounter in pursuing such professions within Pakistani society.
Breaking new ground in the history of Pakistan cricket, Dr Farah proudly represented her country at the international level. She made history as the first female umpire to officiate in the Women's Asia Cup 2022, a prestigious tournament organized by the Asian Cricket Council in Bangladesh in October 2022.
3. Mallak Faisal Zafar, Ice Skating
Mallak Faisal Zafar, widely known as Pakistan's Ice Princess, is a trailblazing figure skater who has not only introduced the sport to her homeland but has also achieved remarkable success on the global stage.
At the tender age of 12, Mallak clinched the prestigious Gold Medal in the Basic Novice Girls II category during the two-day 24th International Eiscup Innsbruck 2019 held in Austria. This remarkable accomplishment firmly established her as a rising star in the world of figure skating.
Residing in Dubai, Mallak has passionately represented Pakistan in various figure skating competitions, including events held in the picturesque region of Gilgit-Baltistan.
Her dedication, talent, and determination continue to inspire both aspiring athletes and women in sports across Pakistan. Mallak's exceptional achievements have opened doors for other Pakistani women to aspire to greatness in sports, paving the way for a new era of female athletes in the country.
4. Naseem Hameed, Track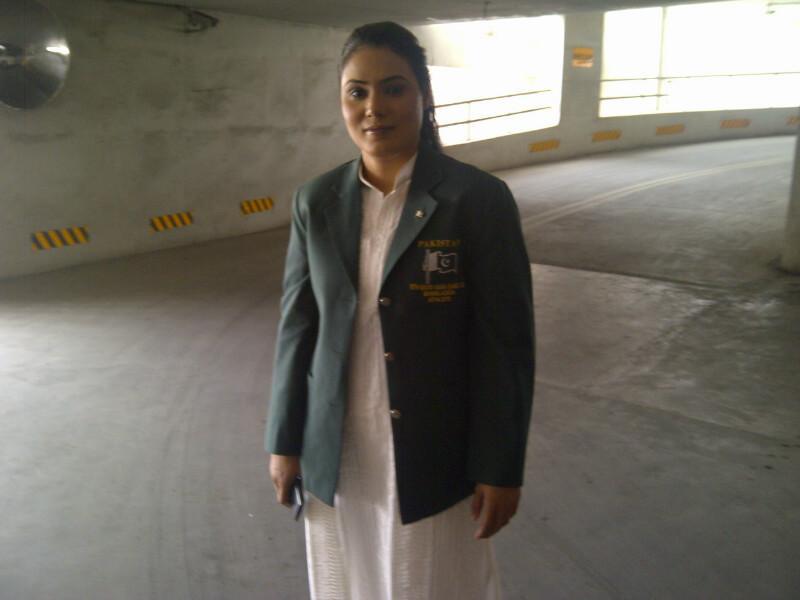 Naseem Hameed's lightning speed on the track has earned her the title of the fastest woman in South Asia. Born in Karachi, Pakistan, Hameed has carved a niche for herself in the world of athletics. Her breakthrough performance came in 2010 when she clinched gold in the 100-meter race at the South Asian Games.
This historic victory propelled Hameed into the spotlight, inspiring a new generation of young girls to pursue their athletic dreams. Her exceptional talent, combined with her unyielding determination, serves as a beacon of hope for aspiring female athletes across Pakistan.
5. Samina Baig, Naila Kiani – Mountian Climbing
Samina Baig is a mountaineer who has conquered some of the world's most formidable peaks, including Mount Everest. Hailing from the Hunza Valley in Pakistan, Baig's journey to the summit of Everest was a testament to her resilience and unwavering commitment.
As the first Pakistani woman to achieve this extraordinary feat, she has become an inspiration for women not only in Pakistan but also around the globe. Baig's incredible mountaineering achievements have not only shattered gender barriers but also highlighted the immense talent and potential within the country.
Her counterpart Naila Baig has also set world records and has made a name for herself in no time. She is a banker by profession, the first Pakistani woman mountaineer to climb six peaks above 8,000 metres, the first woman from Pakistan to summit Mount Annapurna, and purely awesome!
6. Mahoor Shahzad, Badminton
Mahoor Shahzad, a 24-year-old badminton player set to represent Pakistan at the Tokyo Olympics, is determined to make it big. She is the nation's first badminton player to qualify for the Olympics and is ranked among the top 133 women players in the world.
Shahzad was invited to numerous international sporting events last year but was unable to attend due to the COVID-19 pandemic. She told DW that getting selected for the Olympics has been "a dream come true" and that she is thrilled to represent Pakistan on such a coveted international platform.
7. Bismah Maroof, Sana Mir – Cricket
Bismah Maroof and Sana Mir are two prominent names in Pakistani women's cricket who have left an indelible mark on the sport. Maroof has played a pivotal role in the development of women's cricket in Pakistan.
Born on 20th July 1991 in Lahore, Maroof made her debut for the national team at the age of 15, showcasing her exceptional skills and potential from an early age.
Maroof is a left-handed batswoman known for her elegant stroke play and sound technique. She has displayed consistent performances throughout her career, scoring crucial runs for the team in various formats of the game. Maroof's ability to anchor the innings and build partnerships has been instrumental in Pakistan's successes on the international stage.
Sana Mir is a legendary cricketer who has become a source of inspiration for aspiring female cricketers not only in Pakistan but around the world. Born on 5th January 1986 in Abbottabad, Mir is known for her incredible achievements and her tireless efforts to promote women's cricket.
Mir is an off-spin bowler who has bamboozled numerous batswomen with her guile, flight, and accuracy. Her ability to extract turns from the pitch and deceive opponents has made her a formidable force in international cricket. Mir's contributions to the ball have often played a crucial role in Pakistan's victories.
While there are many more amazing women in the world of sports, we will be sure to update this space from time to time acknowledging their efforts, until then, stay tuned to WOW360.