Pakistani sports icon Noorena Shams is more than just a good squash player, she is an icon for women's empowerment and a symbol of pride for this nation.
Shams has been chosen as a youth ambassador for Total Parco Pakistan. She took to social media to announce this great news.
She wrote:
'Total PARCO Pakistan Limited (TPPL) welcomed Noorena Shams as the new 'Youth Ambassador' in a Memorandum of Understanding (MoU) Signing Ceremony that took place on January 12, 2023, at TPPL's Head Office.
Committed to the shared goal of youth empowerment, diversity, and inclusion, Noorena will work collaboratively with TPPL to promote opportunities for the Youth so they are equipped with the tools they need to reach their full potential and become independent contributing members of society.
Total PARCO stands committed to fostering a culture of Inclusion and Equal Opportunities with a special focus on Youth aimed at creating a sustainable future for Pakistan.'
Hailing from Khyber Pakhtunkhwa, Shams has had to overcome a number of hurdles to reach the height of success and fame.
Not only has she represented Pakistan in a number of competitions, but Noorena has also spoken at the Human Rights Council of the United Nations about issues of harassment in sports.
Noorena Shams started cycling at the age of 10 and was soon participating in all kinds of events, she then gave up sports to focus on her studies, but her school has been bombed hence she had to discontinue them.
She was the first-ever cyclist to win a silver medal for Pakistan in the Junior Olympics.  Shams won silver in cycling at the Junior Olympics and is the youngest South Asian to do so. 
Noorena then went to Peshawar to continue her education and there she started to watch the boys play cricket at the academy.
One day I visited that academy to seek admission and I somehow convinced the coach who, after giving me a boy's haircut, introduced me to the other boys there as Noor-ul-Islam.
"My teammates started calling me Noori. Even after they realised that I was a girl, nobody there made fun of me or humiliated me and I kept on playing cricket for nine to 10 months while touring various cities for matches," she said.
"Still, I continued playing in school and took part in athletics. By the time I finished my O-levels, I had bagged 63 medals in different athletics disciplines at school-level competitions. A few from district, national and international competitions, too," she says.
Noorena Sham's Achievements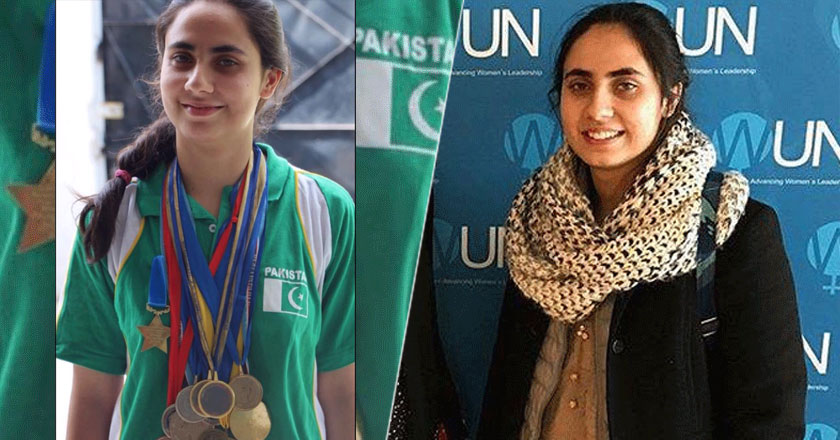 Female Athletes Victims of Online Abuse, Accounting for 40% of All Abuse: World Athletics
Noorena Shams has played different sports and has won 63 gold medals, 24 silver medals and 5 bronze medals. As a squash player, Shams has been among the Top 40 Asian Junior Squash Players and is currently ranked 209 in the world. She is currently World Number 212 by the Professional Squash Association. She is coached by Munawar Zaman, Shahzad Mohibullah Khan, Adil Khan and Tariq Khan. 
On the other hand, Shams was listed among the 100 Inspirational Women by Paparazzi Magazine in 2016. She was on the list of 50 Influential Ladies of Pakistan in 2016 and was listed among the 24 Inspirational Figures of Pakistan in 2016 by the UNDP.
She was also featured in the "BEAT ME" video by UNWOMEN and was awarded a Government Pendent of Recognition in 2016. Shams works against harassment in sports and against harassment of female Muslim athletes around the world.[12] She delivered a TEDxTalk in 2016. Shams received the Gul Jee Art Award several times. She is a 3-time All Pakistan debating champion.
She has credited her father as her inspiration for debating, however, she has not competed in debating since 2014. Shams was also invited by Malala Fund to address the UN Commission on the Status of Women in 2017, focusing on women's economic empowerment. 
More power to you Noorena!
Stay tuned to WOW360.
5 Pakistani Feamale Athletes That Deserved The Spotlight in 2022