Afsheen Javed is the first female kickboxer in Bannu, a conservative city in Pakistan's Khyber Pakhtunkhwa province, and she faces numerous challenges in pursuing her passion for the sport.
Bannu's traditional gender roles and societal expectations make it difficult for Afsheen to gain acceptance and support in her pursuit of kickboxing. She faces judgment and resistance from people around her and has to balance her training with her cultural norms.
Despite the hurdles, Afsheen remains determined and optimistic about making her name in the world of kickboxing.
---
---
A female kickboxer in Bannu, a city situated in the Khyber Pakhtunkhwa province in Pakistan is making waves for her utmost determination to the sport. Hailing from one of the most conservative parts in the country, Afsheen Javed is the first female kickboxer in Bannu. Her journey towards gaining recognition in the sports is secondary while her primary concern is gaining acceptance from the society she currently resides in. As the first female kickboxer in Bannu, Afsheen Javed's journey in undoubtedly filled with utmost challenges and multiple hurdles.
Afsheen's Journey as the first female kickboxer in Bannu
In a society where traditional gender roles and expectations are deeply ingrained, pursuing a male-dominated sport like kickboxing can be met with a lot of resistance and prejudices. In a recent interview Afsheen shares her daily struggles as she fights through judgement from the people around her. Bannu is a highly traditional city where one would hardly see any women on the streets.
Recently, in August 2022, the only women-only public park in the city was also shut down after multiple objections from the people of Bannu. Keeping this in mind, Afsheen is the beacon of change that the city highly needs, doing what she loves she is making her name in a male dominated sport in a city where women do not have the liberties or freedom to do any such things.
Afsheen's journey may be full of hurdles but the boxer is optimistic to make her name in the world of boxing. She narrates a day in her life where she wears a tracksuit underneath her fully covered burqa on her way to her training academy where she trains with a male trainer. Afsheen shares what people had to say when they found out she was out learning kickboxing,
"What will your family say? What will your brothers and father say to you?"
Women's Martial Arts and Kickboxing in Pakistan
Javed believes the interest in women's kickboxing and martial arts is increasing all over Pakistan, however, she faces special challenges in Bannu due to the issue of 'purdah' and internalised gender roles and the lack of freedom for women in the city. Afsheen is thankful for a supportive family and thanks her father for supporting her fulfil her dream.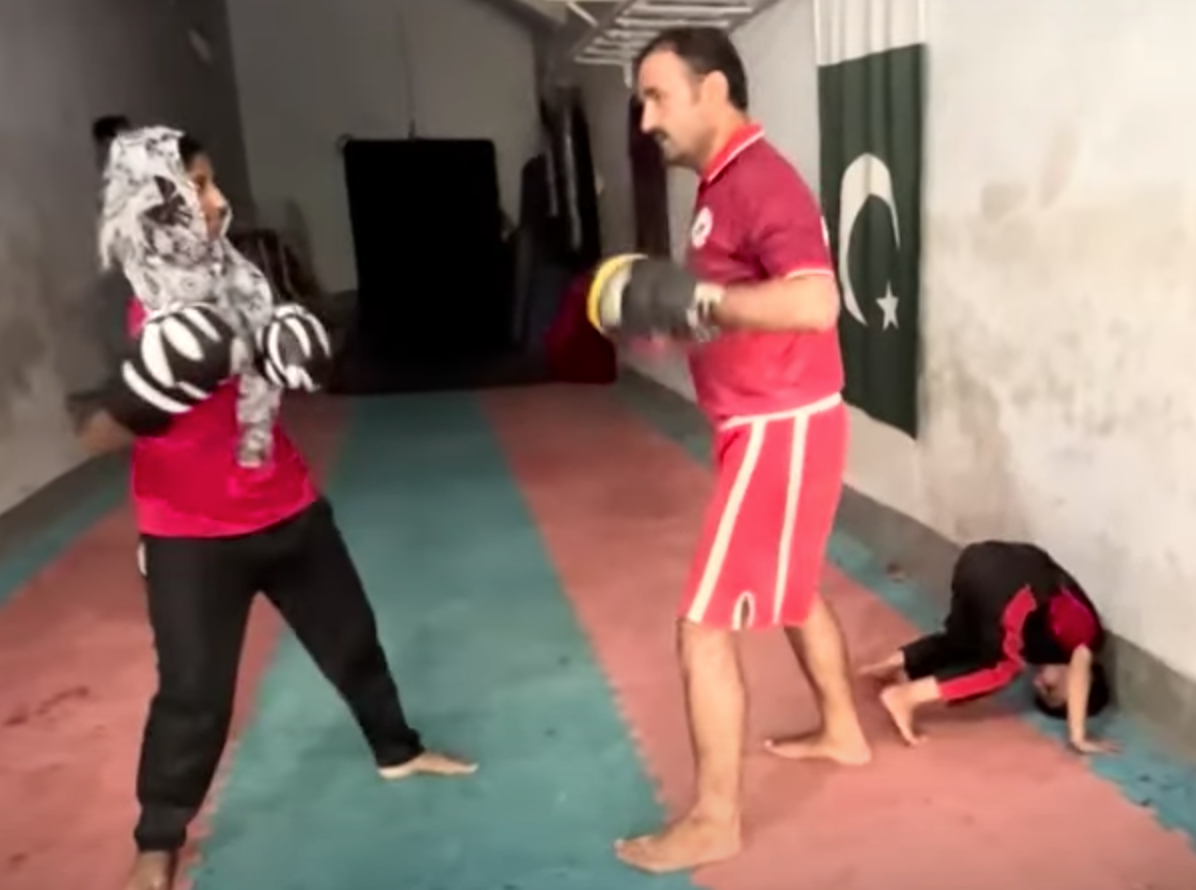 Afsheen has been regularly competing in various state and national level competitions and won medals for U-21, U-16 and U-23 national championship levels.
"My neighbours say I should stay home, finish my graduation and get married and that sports is not for girls."
Despite these obstacles, Afsheen Javed's determination and courage in pursuing her passion for kickboxing demonstrate the power of resilience and breaking barriers in a male-dominated field. Her journey can inspire other young women in Bannu and beyond to challenge societal norms, pave the way for more inclusive opportunities in sports, and prove that gender should not be a barrier to following one's dreams.