Bibi Zahra, the first and only female rickshaw driver in Quetta, is breaking barriers and inspiring others with her determination and courage.
Rickshaw driving in Quetta was predominantly male-dominated until Bibi Zahra's arrival, challenging gender norms in the profession.
Despite facing resistance, Bibi Zahra's passion for driving and empowering her community has made her a symbol of courage and change.
---
---
In the bustling city of Quetta, a remarkable trailblazer has emerged, breaking barriers and defying societal norms. Bibi Zahra, the first and only female rickshaw driver in Quetta, has captivated hearts and inspired minds with her unwavering determination and courage.
These three-wheeled vehicles serve as a primary mode of transportation for thousands of locals and tourists alike. However, until Bibi Zahra's arrival, the rickshaw driving profession had remained male-dominated, with women rarely venturing into this line of work.
Determined to challenge gender norms and carve her path, Bibi Zahra embarked on a journey that would make history.  Equipped with unwavering resolve Bibi Zahra began her journey to get away from her suffocating life. As a mother of 5 daughters, she had been constantly facing a lot of pressure to give birth to a son.
she set out to become a rickshaw driver. Overcoming scepticism and discrimination, she became the first woman in Quetta to achieve this feat. As the only female rickshaw driver in the city, she faced immense resistance from the conservative segments of society.
However, her unparalleled passion for driving and serving her community propelled her forward. Her rickshaw and story have now become a symbol of empowerment, and people from all walks of life started supporting her cause.
Bibi Zahra was forced to leave her home after her in-laws sent her back for giving birth to a baby girl. Because she did not want to be a burden on her already financially-constrained family, her rickshaw was the only way to do so.
Before she started to drive her rickshaw, she tried her luck to run her household through other means, including starting a dhaba, however with little luck on her side, she had to resort to other means of income.
Not only was it difficult to keep the dhaba open for long hours but she also found it difficult to provide safety for her business as it was robbed 4-5 times.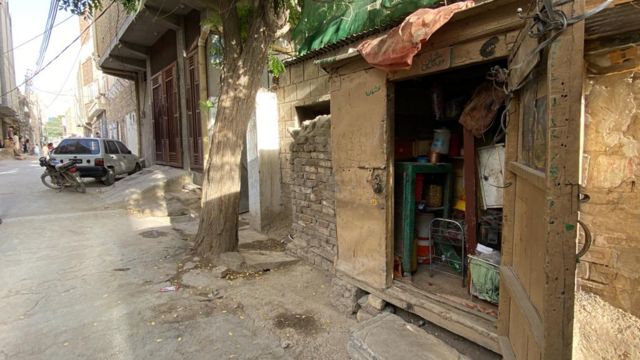 At a point in time, she even tried to sell food from this small area right in front of her house, whether it rained or the weather was too cold, she kept going.
After she decided to close the business, she then started driving a motorbike to drive her girls to school along with some other children in the neighbourhood. Soon after, she said she was blessed with a rickshaw that became her mode of income.
Bibi Zahra shared that lots of women personally come to her house to be taken to their destinations as they feel safer with her. But on the other hand, when men see her driving, they get completely shocked that how can I woman drive a rickshaw?
She also added that she is grateful that men have not discouraged her but in fact, have appreciated her for showing courage.
Kudos to women like Bibi Zahra who are a strong pillar in the community.
Stay tuned to WOW360.