Balenciaga has recently been in the spotlight for its out-of-the-box creations, from a trash bag-inspired pouch to water-bottle slippers, the brand has done it all. But this time around, they made the spotlight for a different reason, an Iranian girl named Mahsa Amini.
Mahsa Amini was tortured and killed in Iran for wearing her hijab incorrectly. Her death sparked a revolution in the country and across the globe. Women took to the streets to protest by cutting their hair and burning their hijabs, chanting 3 words – Jin (woman), Jiyan (life), Azadi (freedom).
Woman, Life, Freedom or Woman, Life, Liberty is a popular political Kurdish slogan used in the Kurdish independence movement which aims to recognize the importance of women. This slogan has become an integral part of the lives of Iranian women who are risking their lives fighting for freedom.
Many more girls like Mahsa have lost their lives to this cause. To show solidarity with the women who stood up for each other, Balenciaga not only cleared out its entire Instagram feed but also posted the slogan and a caption along with it reading;
Balenciaga, Kering, and Kering Foundation have always supported the fight for women's fundamental rights and freedom. We stand with all Iranian women, in memory of Mahsa.
Why Senior Journalist Ayaz Amir's Daughter-in-Law Sara's Brutal Murder Reminds Us of Noor Mukadam
American makeup artist and owner of Huda Beauty, Huda Kattan, has also been vocal about the situation. "My heart is with all the brave women in the world fighting for their rights to represent themselves, with and without hijab. It's been heartbreaking to see women being stripped of their rights to wear hijab and now to see women being beaten to death for not wearing it. This is all oppression," she wrote on Instagram.
During one of the protests, Nika Shakarami, 16, went missing in Tehran on 20 September after telling a friend she was being chased by police.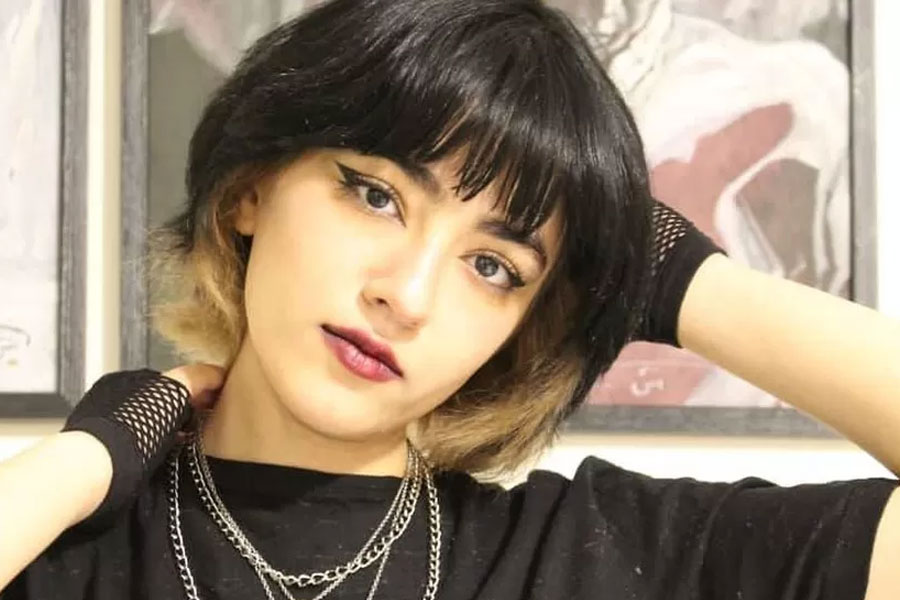 Will The Perspective of Weak/Evil Female Characters Ever Change in the Pakistani Entertainment Industry?
Her body was later discovered, with a broken nose and bashed-in skull. A source close to the family revealed to BBC that they are being forced to make false statements under pressure. Her aunt stated that she fell off a building in an interview, whereas her uncle also issued a 'forced statement' on television.
The source told BBC Persian that these were both "forced confessions" that came "after intense interrogations and being threatened that other family members would be killed".
Atash and Nika's uncle, Mohsen, were detained by authorities after Atash posted messages online about her niece's death and spoke to the media. The televised statements were recorded before they were released, according to the source.
her death certificate issued by a cemetery in the capital, obtained by BBC Persian, states that she died after suffering "multiple injuries caused by blows with a hard object".
Nika's Instagram and Telegram accounts were also deleted after she went missing, according to Atash.
Forced TV confessions of protestors on Iran's state TV is nothing new especially after the death of #MahsaAmini, but this time the evidence was noticed. In tonight's news broadcast, the shadow of a person can be observed in the background whispering 'say it you piece of dirt'. pic.twitter.com/jqUdUTQ4qw

— Siavash Ardalan (@BBCArdalan) October 6, 2022
A Swedish member of the European Parliament, Abir Al-Sahlani,  lopped off her hair during a speech in the EU assembly in solidarity with anti-government demonstrations in Iran ignited by the death in morality police custody of 22-year-old Mahsa Amini.
"Until Iran is free, our fury will be bigger than the oppressors. Until the women of Iran are free we are going to stand with you," Iraqi-born Abir Al-Sahlani said in the parliament in Strasbourg, France, on Tuesday evening.
Then, taking a pair of scissors, she said "Jin, Jiyan, Azadi" – Kurdish for "Woman, Life, Freedom" – as she snipped off her ponytail.
Mahsa has become an icon for the women of the world. We hope that she and the other girls who have lost their lives unfairly get the justice they deserve. Moreover, we also hope that the women of Iran and other countries get their fundamental rights.
Stay tuned to WOW360.
Newly Married Amena Bibi Shot Dead by Husband During Fajr Prayers Over Studies