Sustainability has become an important objective in today's world where we are experiencing climate change, the pandemic and other factors affecting our environment. 
Whether it is in the food we consume or the clothes we wear, a sustainable lifestyle should be kept in the forefront
Lets dive into the details regarding sustainable fashion – what it means and why has it gained recognition.
What Does Sustainable Fashion Mean?
Nowadays while purchasing clothes, women not only keep a garment's material in their mind but also where it comes from, it's production and it's afterlife. They pay attention to the entire garment supply chain.  For instance if you use bamboo based fibers solely believing the fact that it's sustainable – there's no point of you following sustainability neither you're contributing to a healthy environment if you don't look into the depths of that entire bamboo supply chain and figure out that it's sustainable in every possible way.
The Purpose Of Sustainable Fashion
The purpose of normalizing sustainable fashion is to pursue growth and profit while also giving life to a deeper value of wealth and economy and stressing upon the need for clothing brands to manufacture environment friendly garment – keeping in mind social improvements for the well-being of society. Sustainable fashion aims to increase the lifecycle of materials and at the same time reducing the amount of waste which is harmful for the environment. Another goal for sustainable fashion is to promote 'green consumer' for people to practice environment  friendly consumption.
Pakistan Brands Setting A Bar With Sustainable Fashion
1. Generation
Generation has been working towards achieving an environment friendly society since the past couple of years. They came up with a campaign 'Sohi Dharti' which shed light on major issues prevalent in our society such as air pollution, deforestation and lack of water. In this campaign customers were available to purchase leftover fabric from their factory outlets to make a completely new outfit out of it – following sustainability and being mindful.
2. Misha Lakhani
Misha Lakhani came out with 'Miraka' in which every fabric is made using traditional craft and weaving methods such as zardozi and aari. This collection not only focuses on sustainability but also plays a huge rule for female empowerment and Pakistan's cultural heritage.
3. Sapphire
One of the Pakistani brands that focus on sustainability is Sapphire. They came out with shopping bags praising Independence Day which were seed-infused and biodegradable. The aim was to make Pakistan free from waste and more of green – the purpose of this bag was to plant more trees using the seeds infused in that bag which can be planted in soil. The trend instantly took over social media and the brand received appreciation to come up with an environment friendly initiative.
4. Rizwan Beyg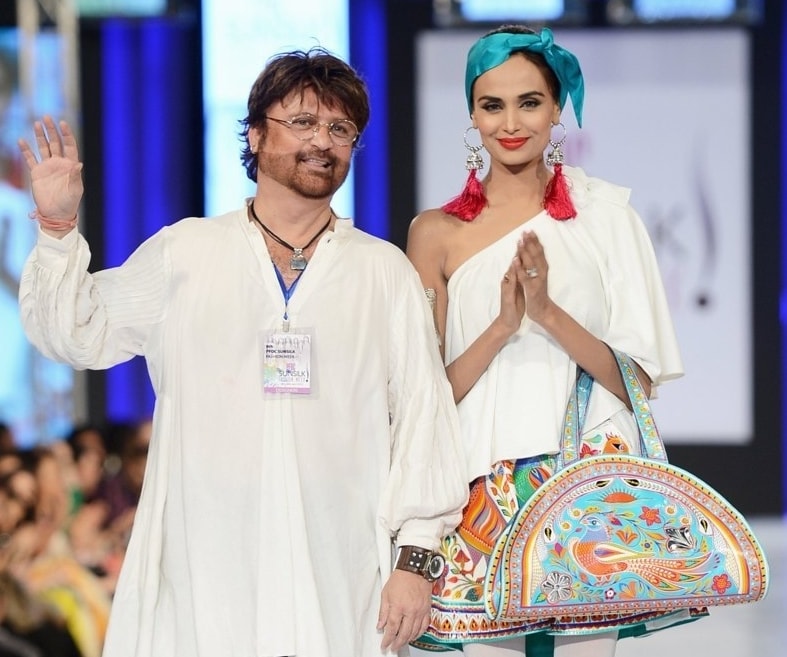 One of the most renowned Pakistani designers for succeeding at producing sustainable and ethical outfits that are traditional yet fashionable at the same time is Rizwan Beyg. He truly believe that textile manufacturers should focus on ethical fashion in order to follow sustainability and lasting fashion altogether. The famous Pakistani designer's exceptional work also made it to Buckingham Palace and Princess Diana's closet.
5. Koel by Noor Jehan Bilgrami
Koel by Noor Jehan Bilgrami is known for excelling in sustaining Pakistan's traditional wear. The brand known for working with highly skilled manufacturers  and craftspeople – from hand-woven to block prints and natural dyes made out of minerals and plants. The brand came into being in 1977 and is now run by daughter Sarah Farooqui who continues to create elegant and sustainable pieces.
Other Brands Promoting Sustainable Fashion
Popular brands like Stella McCartney and Rag & Bone focus on eco-friendly and sustainable fashion – they make sure to use cruelty-free, ethically manufactured and organic cotton, wool and recycled cashmere.
Rag and Bone came up with recycled denim by collaborating with Cotton Incorporated Blue Jeans Go Green that encourages consumers to get their old faded denim jeans to store for donation which is then recycled and transformed into insulation purposes for building houses.
To sum up the importance of sustainable fashion – we have to understand that a supply chain is an ecosystem itself that should be sustained for the consumers to see it's real impact on the environment. 
What are your thoughts on this? Share with us in the comments.
Stay tuned for more articles and updates.